Project 2021 is a district-wide capital project proposal that is in the early stages of development. For a brief overview, please see the West Onondaga County Journal coverage of the project by clicking HERE.

At this time, the Board of Education and Community Advisory Committees are reviewing financial status reports, available capital reserve funds, and community voting timelines. The Board recently voted to establish November 14, 2017 as the vote date for the project. Before that date there is a great deal of work to be done! For example, administration and the architects have been meeting with students and teachers to gather their input on areas that should be addressed or considered in the project. These suggestions will be added to a draft list of priority items to be addressed in the proposed project. On April 3, the community will be invited to participate in a discussion about the upcoming budget and Project 2021. This will be one of a number of community forums that take place prior to the November 14 vote. The information generated from these forums will then be reviewed with our community advisory committees and with the board who will ultimately determine what will be included in the final design.

Check back to this site often for updates and important documents. Also check the Board of Education Strategic Planning webpage (see the Board of Education tab on the left) as our Strategic Planning Advisory Committee minytes and documents are stored there for your review.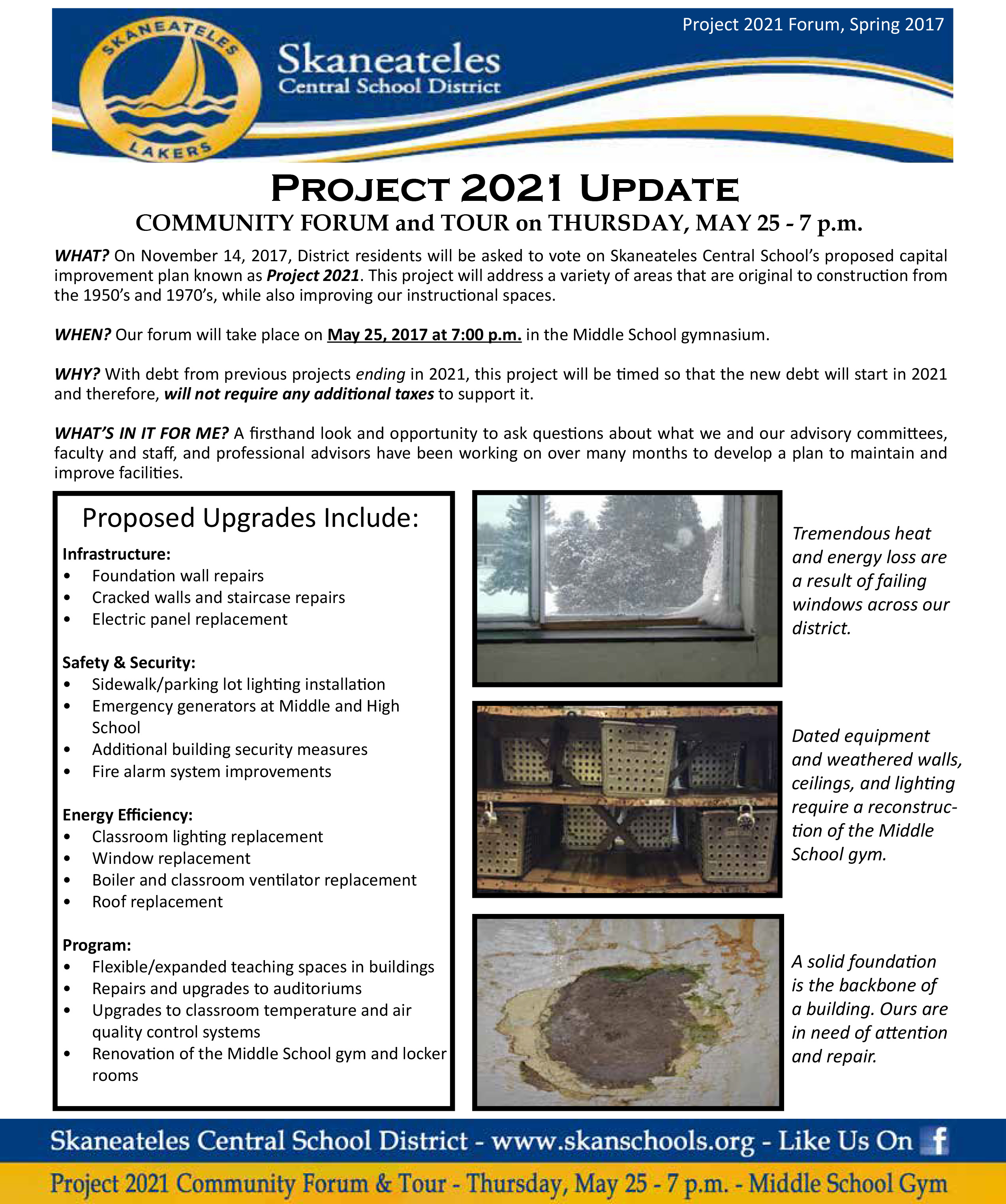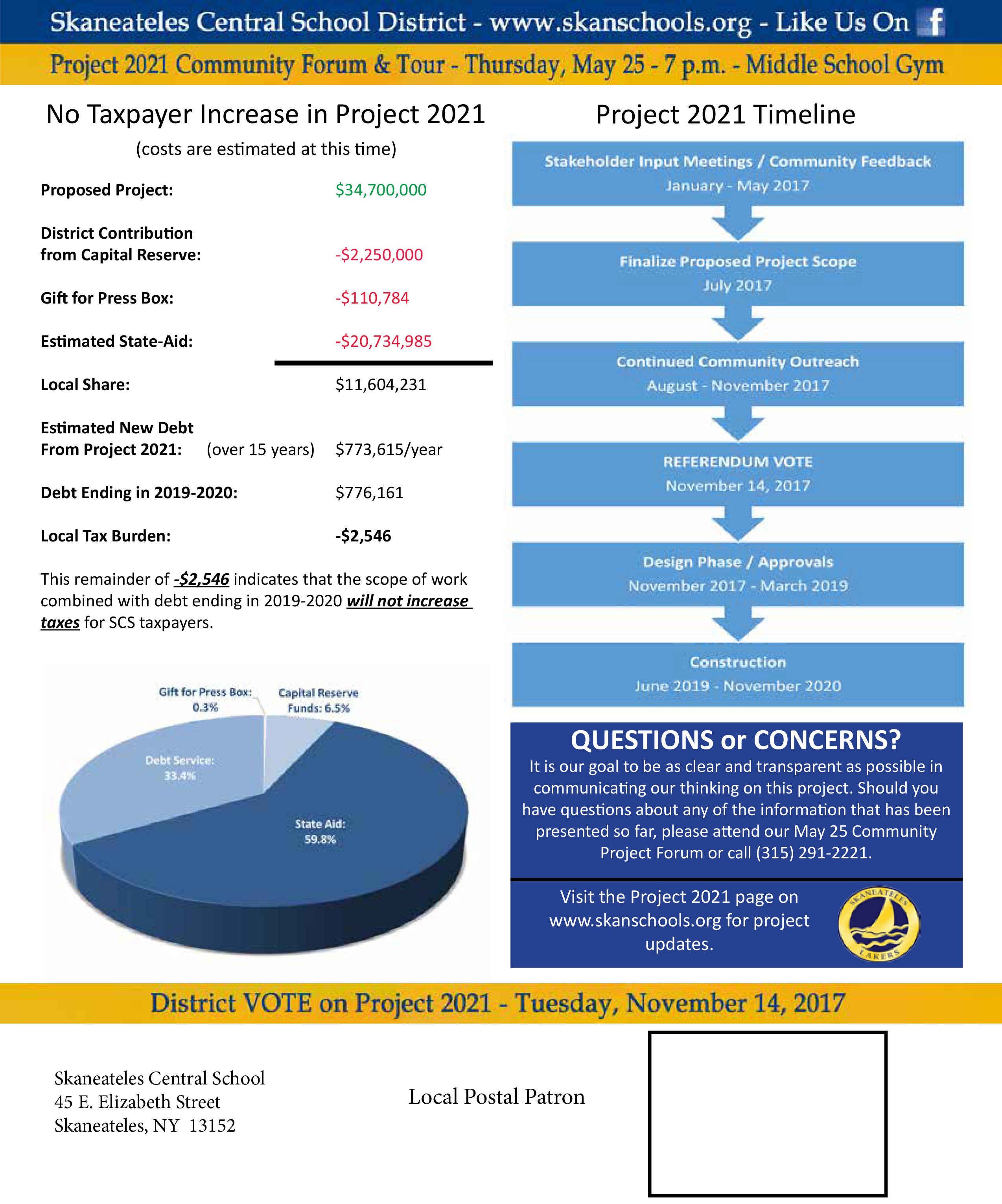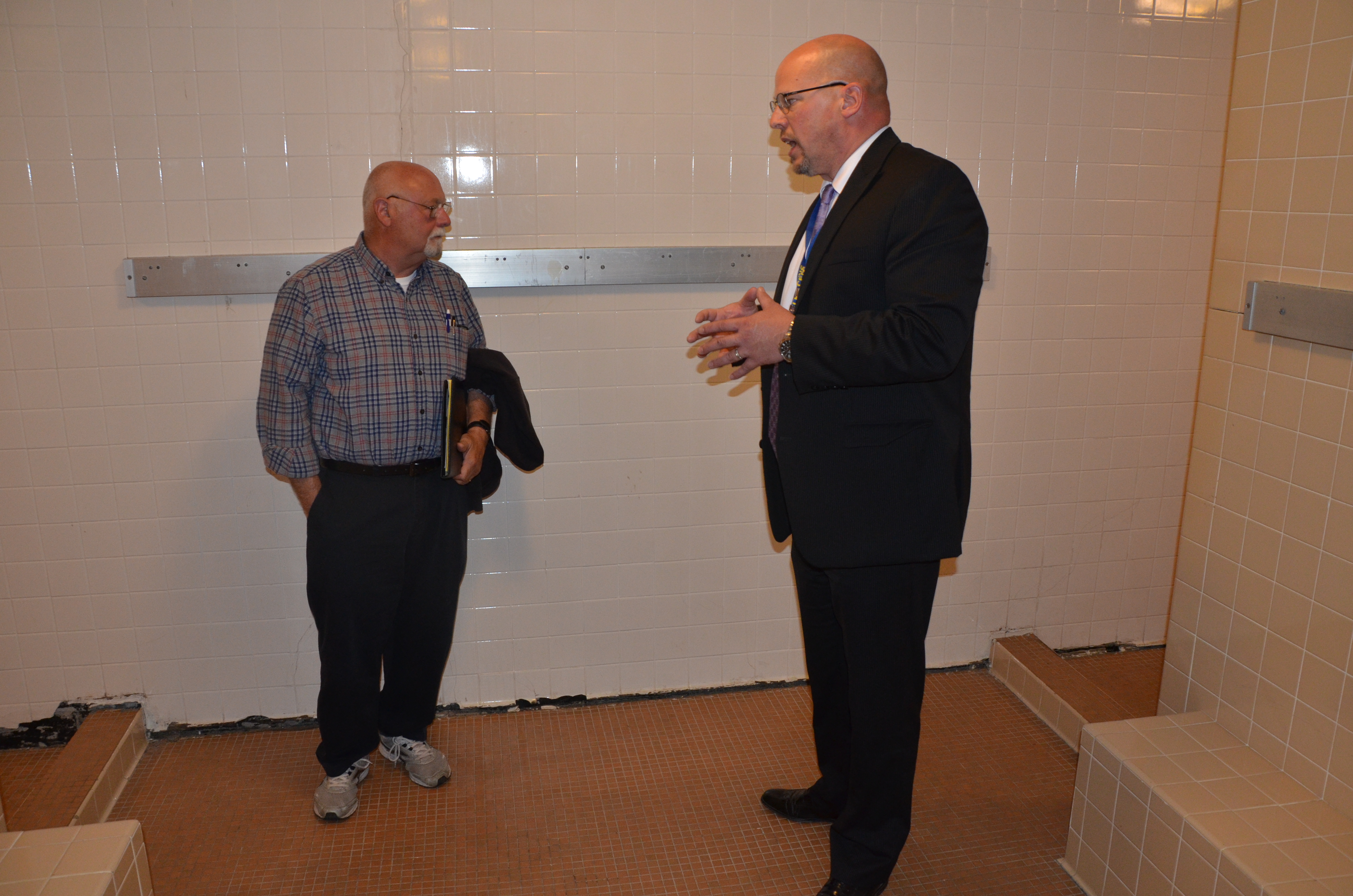 MAY 26 - Project 2021 Forum and Tour addresses no tax impact and building needs... Click

HERE

to read more!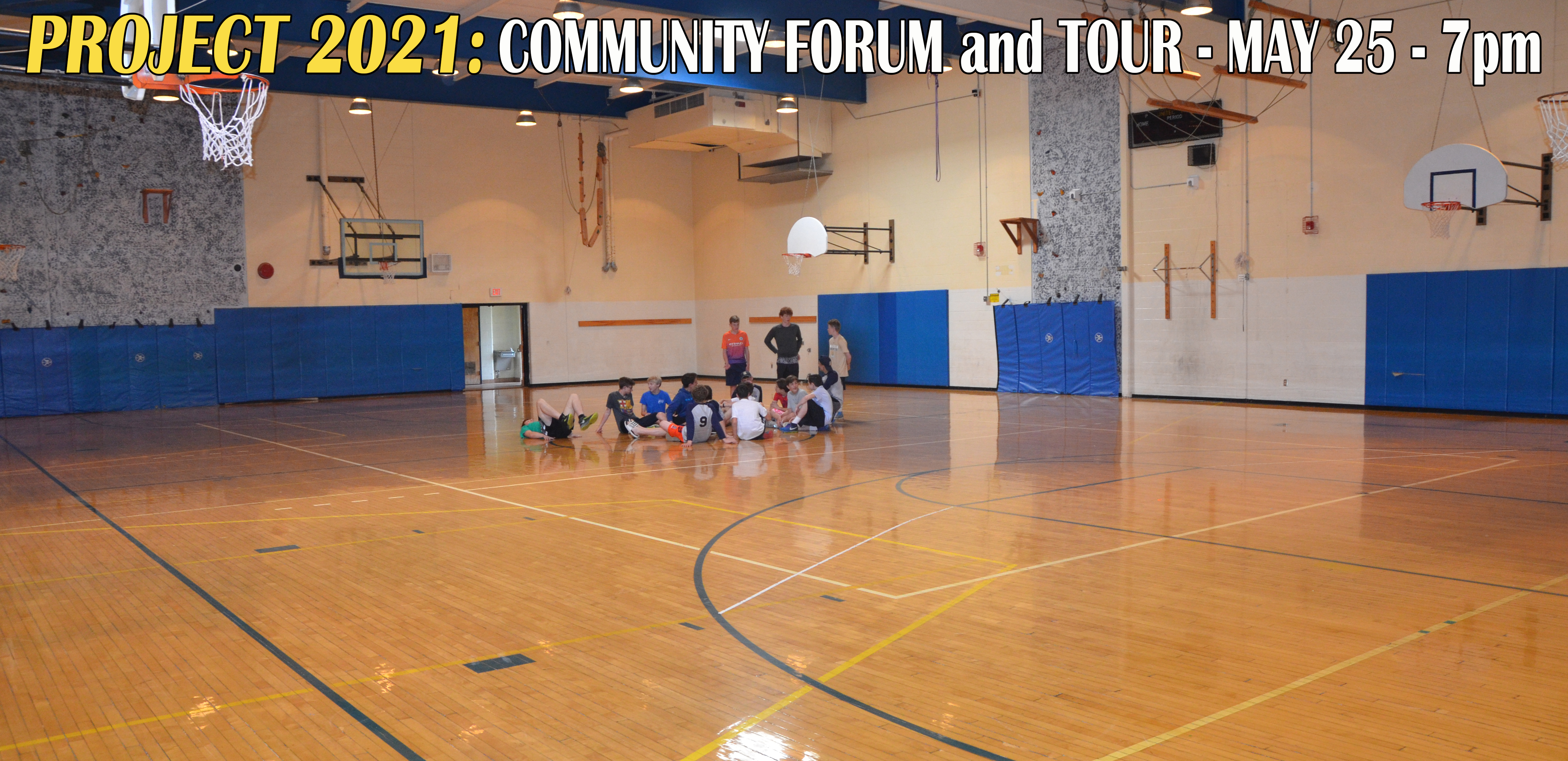 MAY 18 - The Skaneateles Central School District will hold a Project 2021 Community Forum and Tour on Thursday, May 25 at 7 p.m. in the Skaneateles Middle School gym... Click

HERE

to learn more.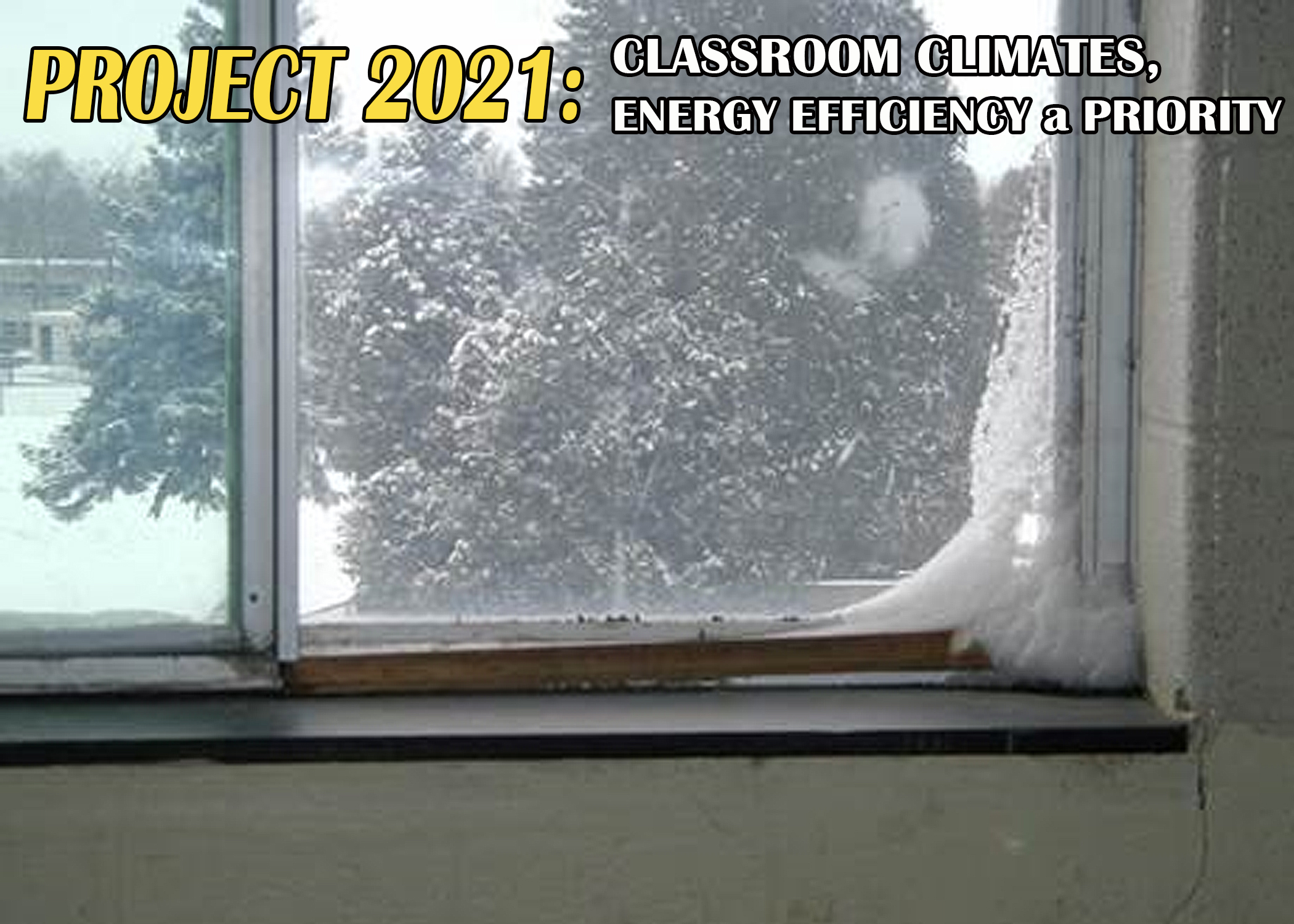 APRIL 26 - Among the listed priorities in Project 2021, which will go to a district wide vote on November 14, is improved classroom climates and energy efficiency. Click

HERE

to learn more!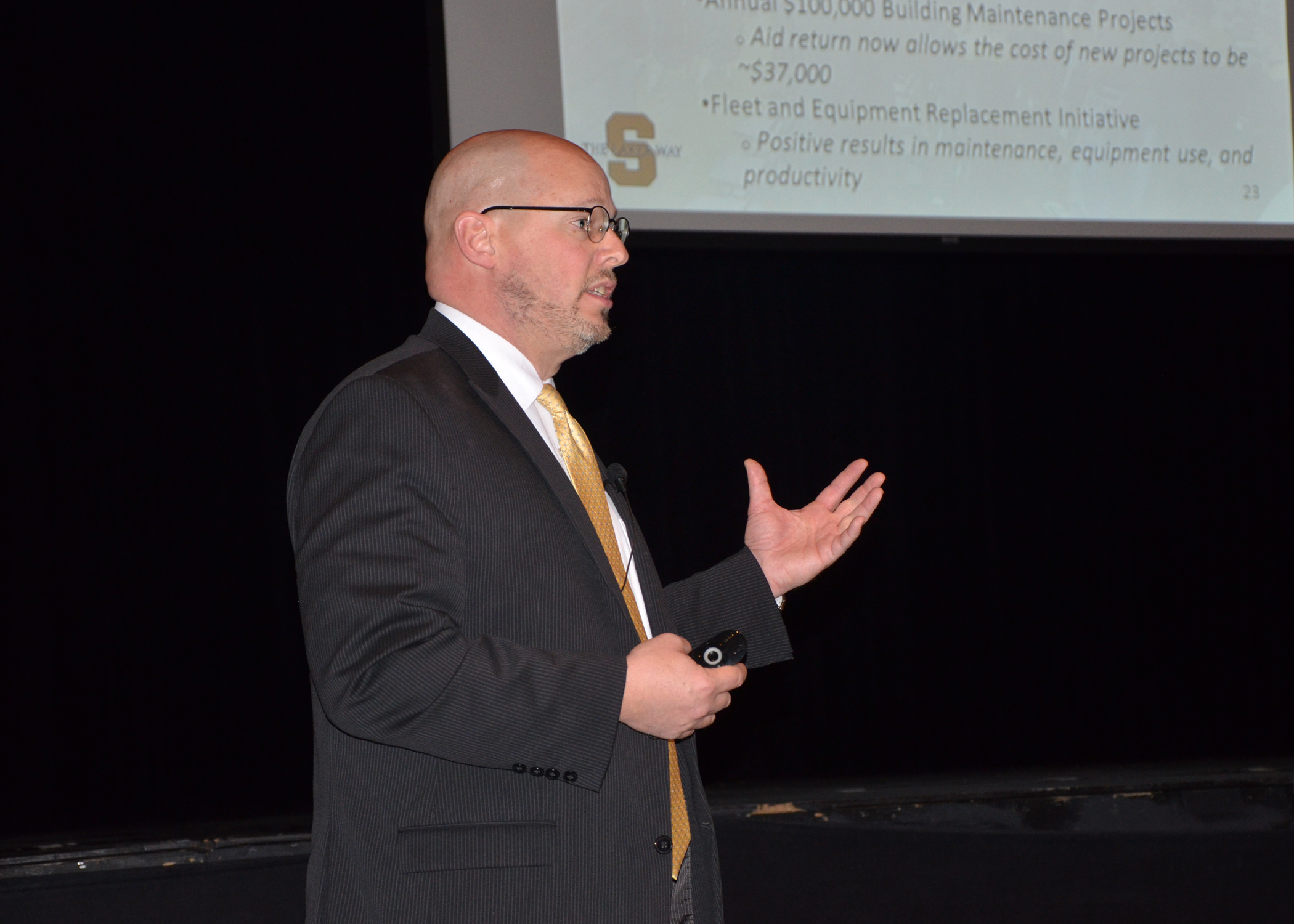 APRIL 4 - Superintendent Ken Slentz addressed attendees during April 3rd's Community Forum in the Skaneateles High School Auditorium in regards to projected enrollment, the 2017-18 budget, as well as an overview of the Project 2021 timeline. Click on the video below to watch the presentation. Click

HERE

to read more!
MARCH 16 - After a successful round of shareholder meetings with faculty, staff, and students - the community is next on the Project 2021 agenda. Read about plans for community input, including another State of the District Community Forum set for Monday, April 3 -

HERE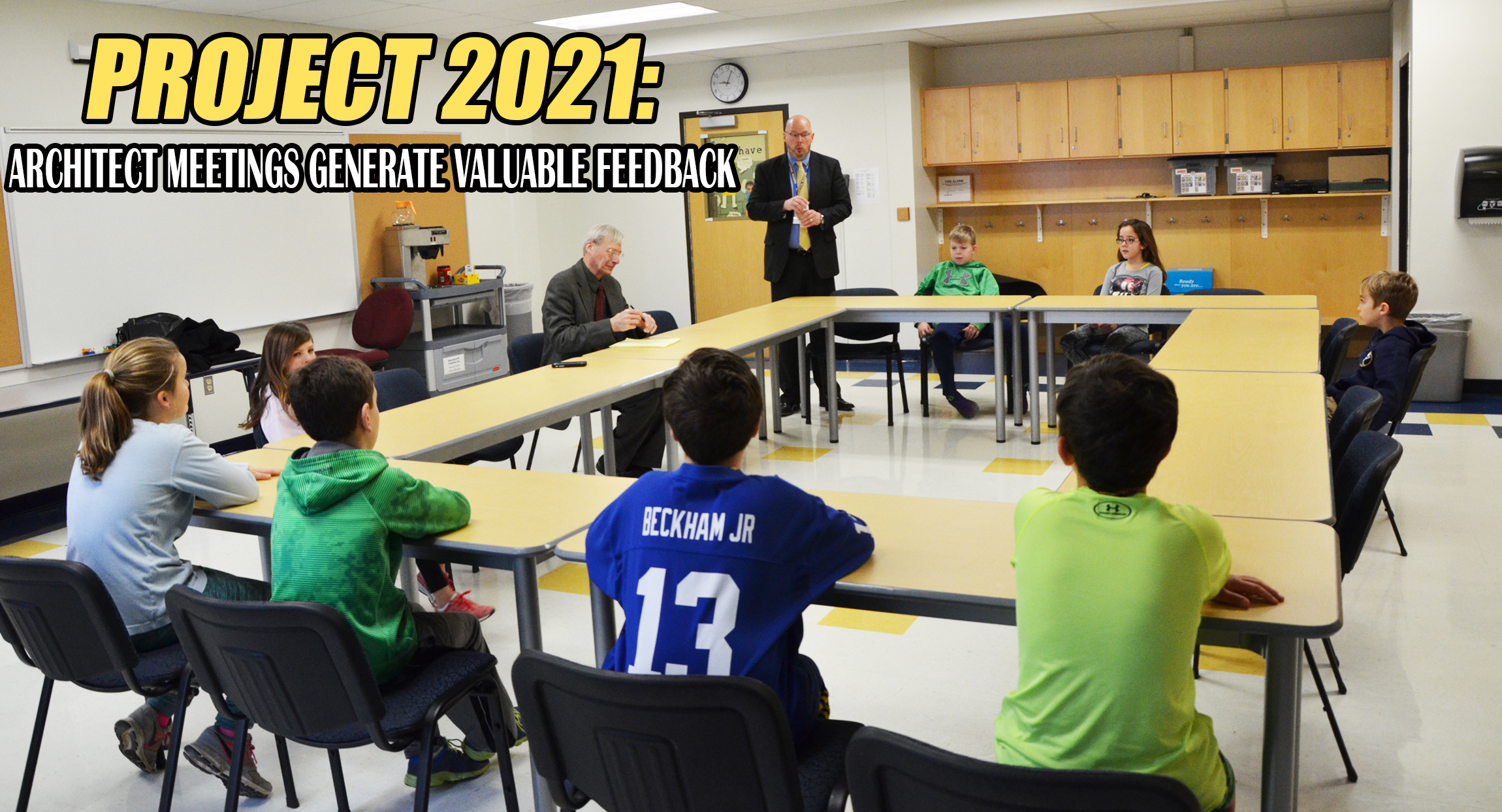 MARCH 10 - Skaneateles Central School's proposed Project 2021 continues to move forward with a series of architectural feedback sessions taking place in the last week through the entire SCS campus. Superintendent Ken Slentz and BCK Architest Stephen Somogy had a chance to meet with faculty, staff, and students and were able to generate valuable feedback on plans at all schools...

READ MORE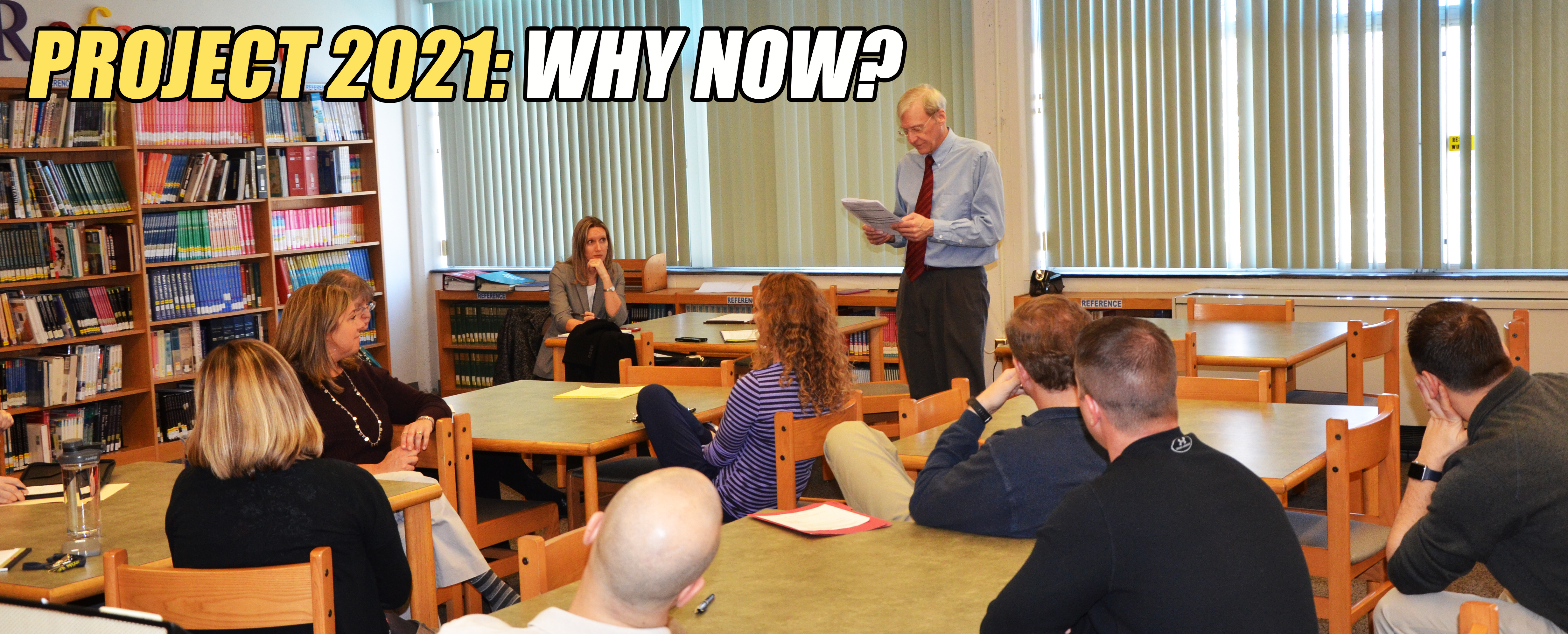 MARCH 2: With a focus on proactive building maintenance and modern learning, the Skaneateles School District's proposed Project 2021 continues in its planning stages, heading toward a district vote in November of this year. Recently Stephen Somogy of BCK-IBI made the first of four visits in the coming week to discuss the needs and desires of staff members at SCS.

READ

more about why the timing is right for Project 2021.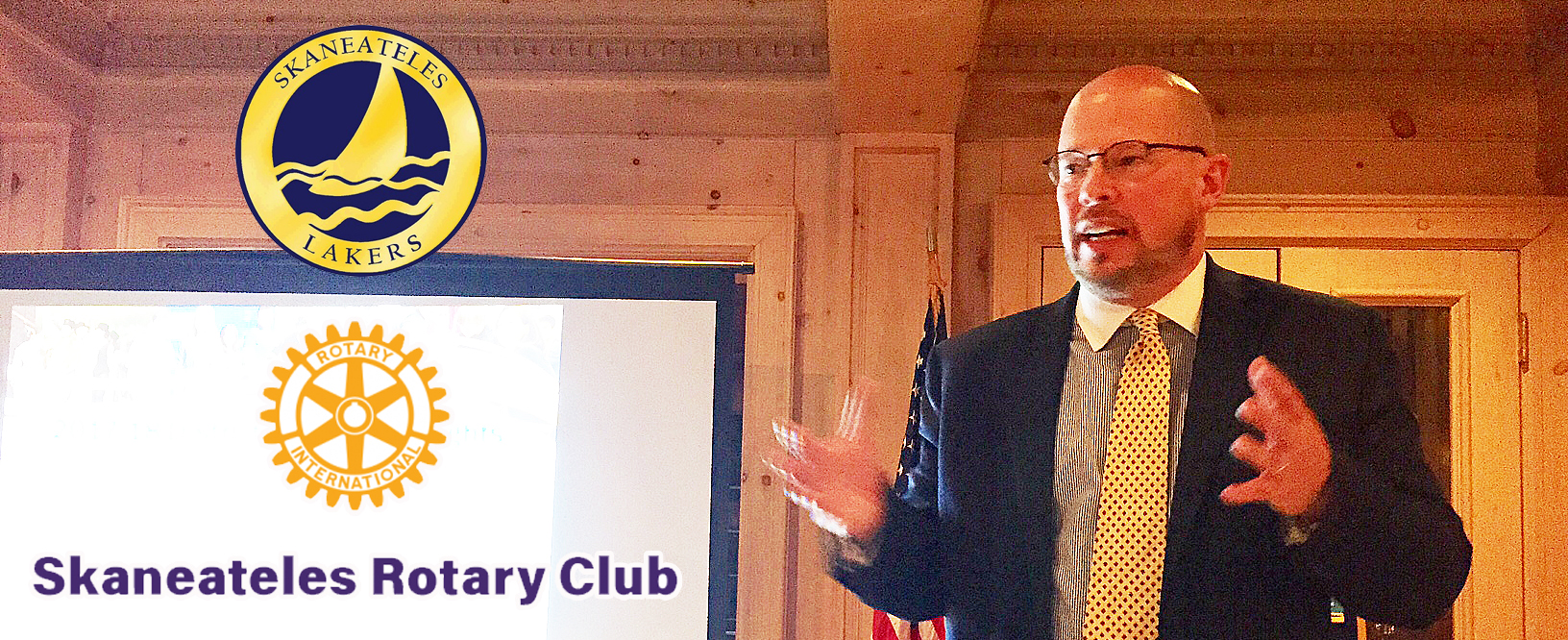 MARCH 1: Skaneateles Central Schools Superintendent Ken Slentz recently spoke before the Skaneateles Rotary Club in regards to the future of SCS. A part of the conversation centered around Project 2021...

READ MORE



FEBRUARY 27: Community Member Perspective- Strategic Planning at Skaneateles Central... Click the highlighted

LINK

to read a letter from Skaneateles community member Ed McGraw, detailing his perspective and thoughts on the SCS strategic planning process to this point, as well as "Project 2021".
FEBRUARY 16: Skaneateles Central Schools recently issued a Project 2021 mailer, outlining the proposed project. View the mailer below: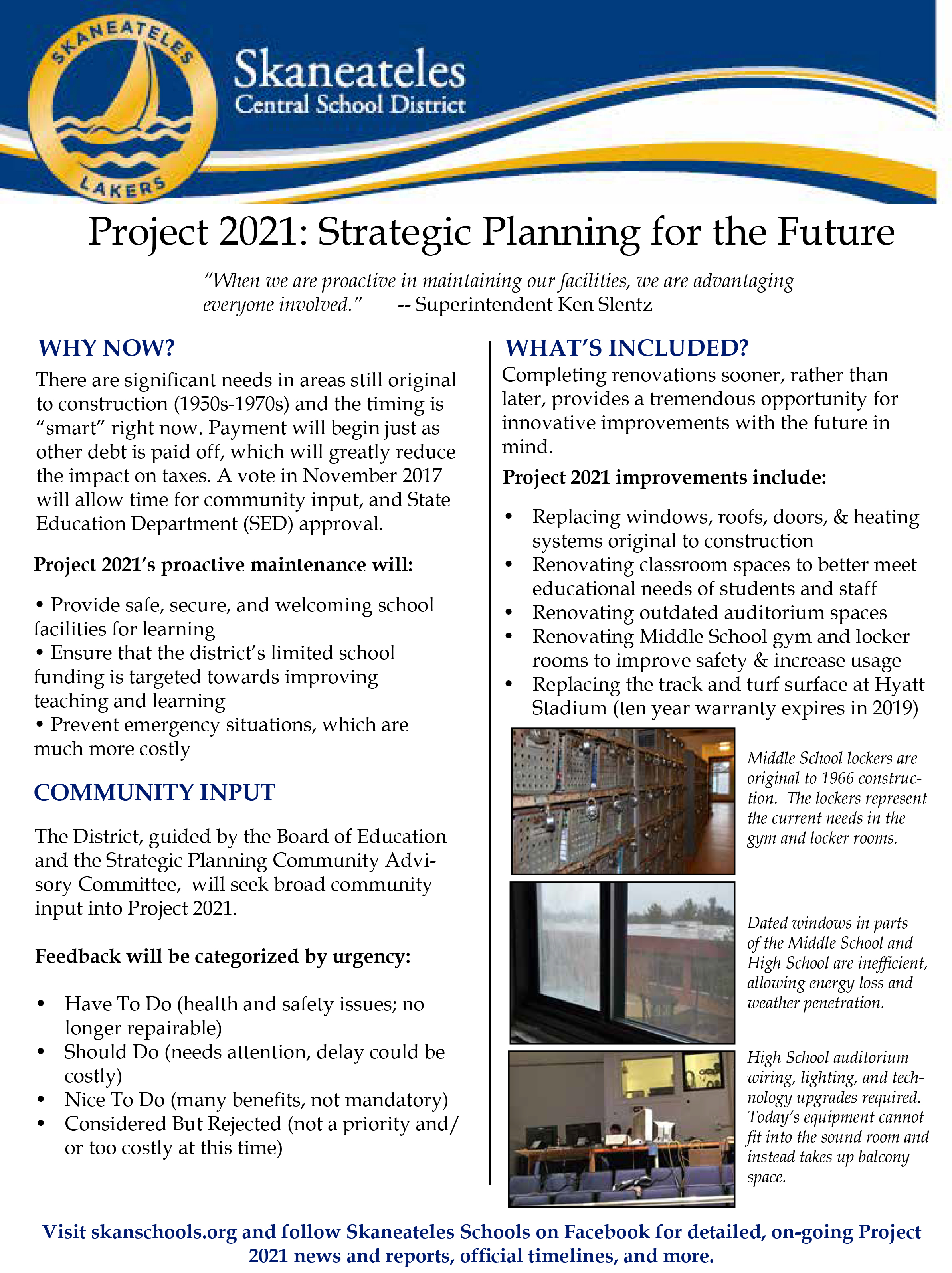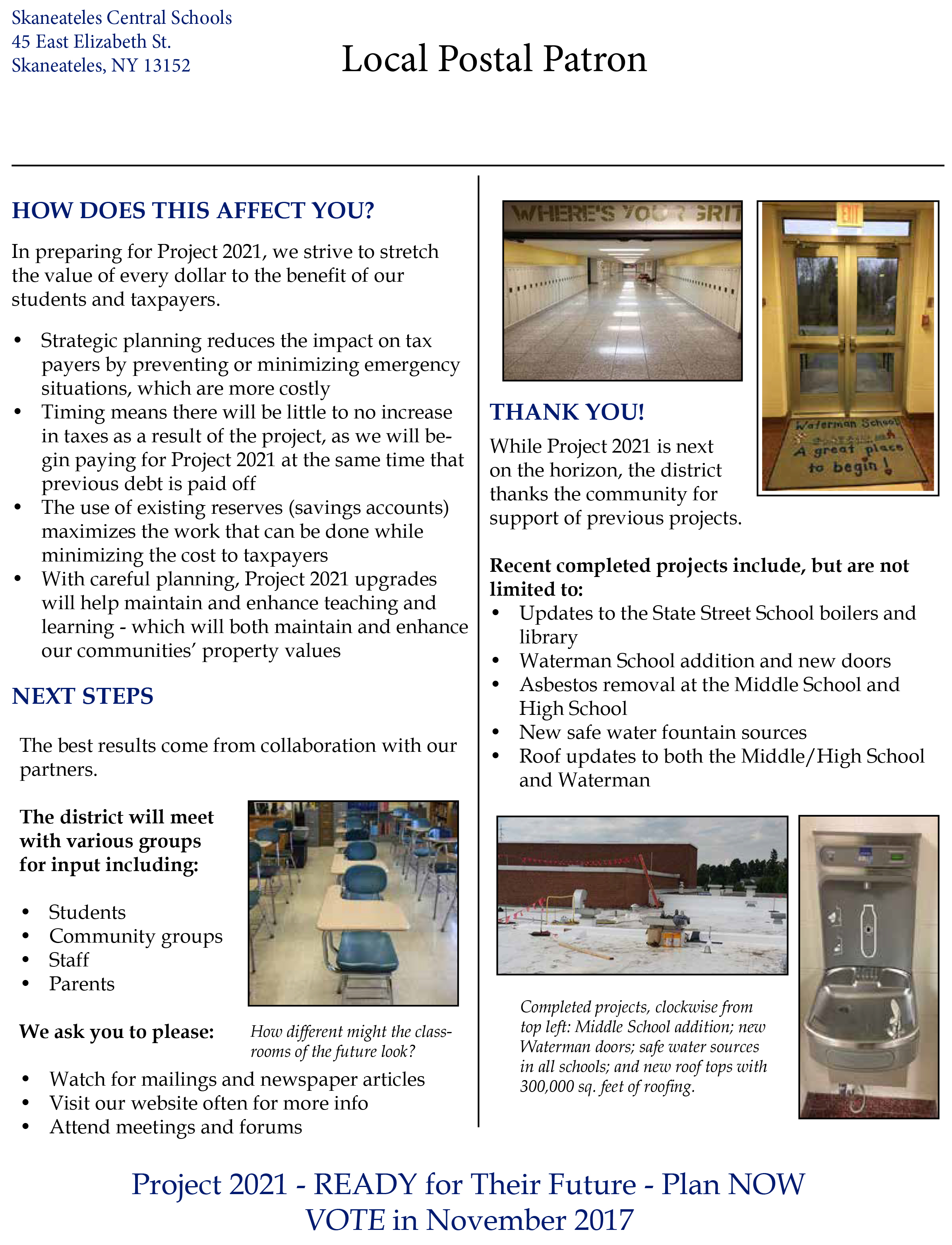 Community Forum 1/25/17

UPDATED 010117
Downloads