Forum Provides Budget, Project 2021 Insight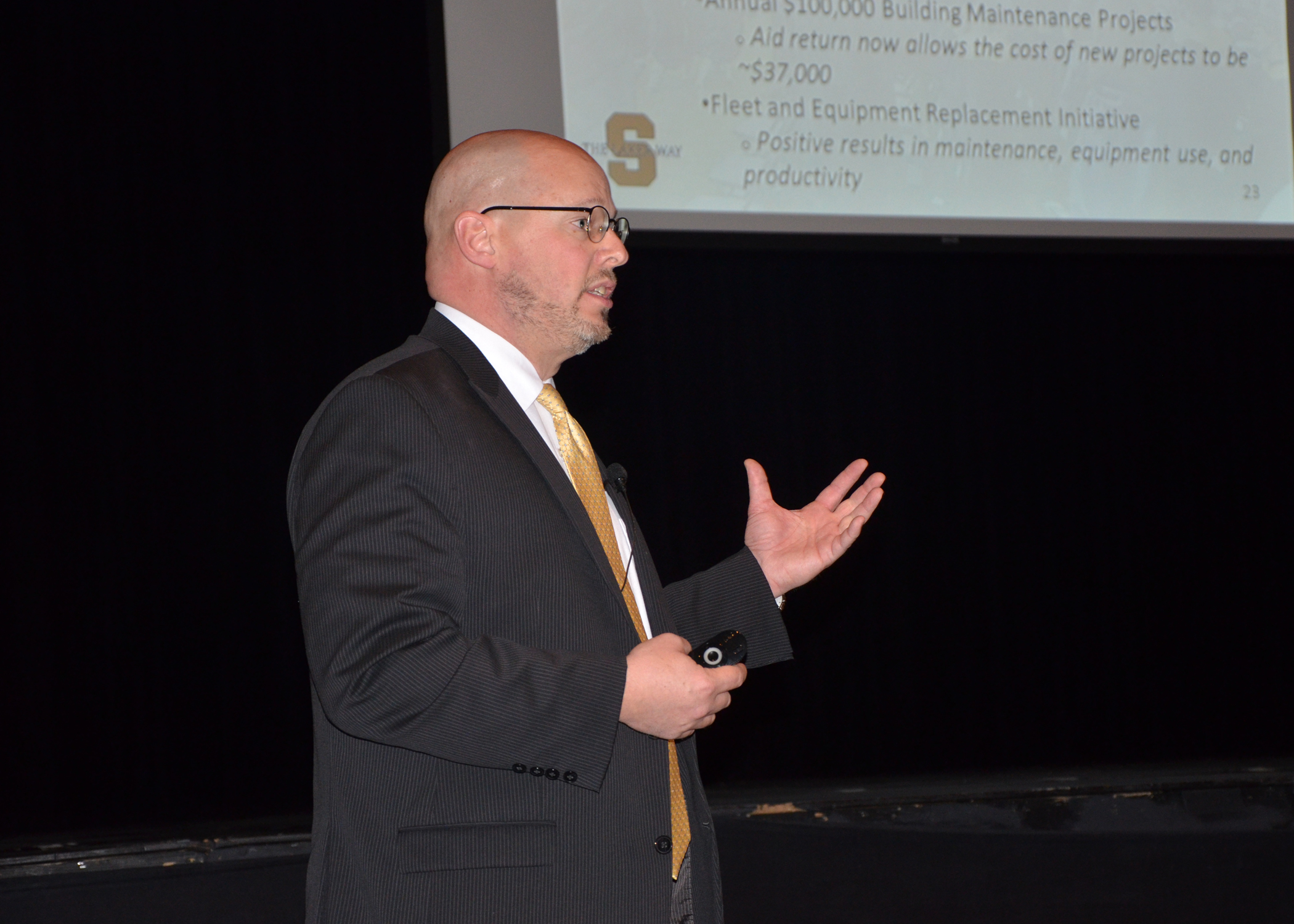 SKANEATELES, NY (April 4, 2017) – Skaneateles Central School's Superintendent Ken Slentz addressed attendees Monday evening in the Skaneateles High School Auditorium in regards to the districts projected enrollment, preliminary 2017-18 budget, and Project 2021 as a part of the district's second community forum of 2017.

Slentz opened the forum with a look into past, current, and projected enrollment numbers for the district.

While the overall enrollment is projected to continue to trend down into 2018-2019, Slentz noted that in each of the last three years the actual enrollment came in at an average of 2.267% higher than projected.

While previous talks have centered on potentially closing a building within the district due to decreased enrollment, Slentz said that is not an option at this time.

"We have had a number of kids coming in and our enrollment has only gone up from the projections," said Slentz. "I want to be very clear, it's (enrollment) still going down in the aggregate, just not going down as fast. But, this means that we cannot predict the trends yet. If we cannot predict it, it is very inadvisable of us to start cutting programs and closing buildings. The data is simply too wildly inconsistent."

While the data does not support a move of this nature, neither does the district's current building usage.

Currently the Waterman Primary School, which houses grades K-2, is at its capacity as far as usable space. The State Street Secondary School, housing grades 3-5, is not far off while the middle and high schools will see their remaining usable space consumed as BOCES classes expand within the district.

"Even though there is an understandable lament that our buildings are not as full as they used to be, they are by no means as empty as some would think," said Slentz. "Waterman is completely full. State Street offers some flex space. The middle and high schools currently have flex space that is about to be taken up."

Slentz transitioned from enrollment and building usage to a preview of the 2017-18 budget, which will be presented before the Board of Education for the first time on Tuesday, April 4, moved for adoption on Tuesday, April 11, and put to a vote on Tuesday, May 16.

Slentz, Business Manager Joe Butler, and Assistant Business Administrator Christine DeMass gave an overview of the four propositions that will be a part of the 2017-18 budget plan including the general fund budget as Proposition I, the second year of the Bus Replacement Plan as Proposition II, a 10 year capital reserve for future building projects as Proposition III, and a 10 year capital reserve for the repair and maintenance for the district's athletic fields as Proposition IV.

With the budget process still in its preliminary stages, district followers are encouraged to explore www.skanschools.org and visit the budget page for an expansive listing of documents showing the process and particulars as the budget unfolds.

"This year's budget design reflects an increasing alignment to our strategic plan which is being developed by the Board of Education, our community advisors, and administration," said Slentz. "The ultimate goal of the plan is to better ensure the readiness of each student when they graduate. Our investments, initiatives, and professional learning, then, must start at the very beginning with our youngest learners, and must explicitly include our neediest learners."

A key note and question from the audience highlighted that the proposed Project 2021 plan is not a part of the May 16 budget vote. The vote for Project 2021 will take place on November 14.

"Due to State Education Department processes and the construction processes involved, you can see the length of the Project 2021 timeline," commented Slentz. "Because of this we needed to snap a line as far as projected completion and work backwards for a vote date. Looking back through that timeline we will be ready for a vote on the project November 14."

The Project 2021 timeline referenced above was presented to close the forum on Monday evening, highlighting the project's progress to this point.

Building surveys and stakeholder meetings with faculty, staff, and students filled the first three months of the project from January to March. The stakeholder meetings proved valuable in gaining input on the district's needs from those closest to it in regards to enhancing the teaching and learning environment within all four schools.

Monday's community forum was the first in a series of community sessions to gather feedback, which will continue to be scheduled through April and May.

These feedback sessions will ultimately lead to finalizing a scope for the project in the month of July that district officials believe best fits the needs of Skaneateles Central Schools.

The majority of the current needs consist of boilers, roofs, and windows, which are in need of preventative maintenance or replacement.

Other items of note are the renovation of the middle school gym and locker room which are original to 1972 construction as well as renovating the small locker rooms in the Waterman Primary building to free up space.

On November 14 the community will be able to vote on Project 2021 and if passed it will move immediately to the design phase through May of 2018 before moving to SED approval in June of 2018 with projected construction to begin in June of 2019.

The project's estimated completion in November of 2020 will fall directly in line with a large piece of retired district debt, leaving little to no tax impact on those in the district in relation to Project 2021.

While the majority of the Project 2021 plan revolves around preventative maintenance and replacement of items crucial to the central operating system, the project also leave an opportunity to look to the future in terms of classroom concepts.

BCK architect Steve Thesier presented a virtual tour through an innovative conceptual classroom, highlighting features that could potentially be brought to Skaneateles Central Schools utilizing the district's current footprint.

Items like flexible folding walls to enhance classroom space, raised desks, enhanced teaching corners, use of outdoor spacing, virtual accessories, along with windows and architectural spaces to utilize increased lighting and natural elements were all part of the presentation.

Slentz finished Thesier's presentation noting that while Project 2021 is maintenance based, it puts the district on the doorstep of future innovations in teaching and learning.

"Students today are active creators," said Slentz. "If we do this right and well, when our students graduate from Skaneateles they will look at the world as a set of problems to be solved. Our job is to maximize the number of opportunities that we can for our kids because this generation of student is not competing with their next door neighbor for entrance into colleges, or kids throughout New York State, they are competing on a global level."

Keep in touch with events and happenings in relation to the Skaneateles Central School District by visiting online at www.skanschools.org or following the district's Facebook page at www.facebook.com/Skaneateles.Schools/.

Detailed information on Project 2021 is continually outlined on the Skaneateles Central Schools website under the Project 2021 quick link.