Project 2021 Architect Sessions Generate Positive Feedback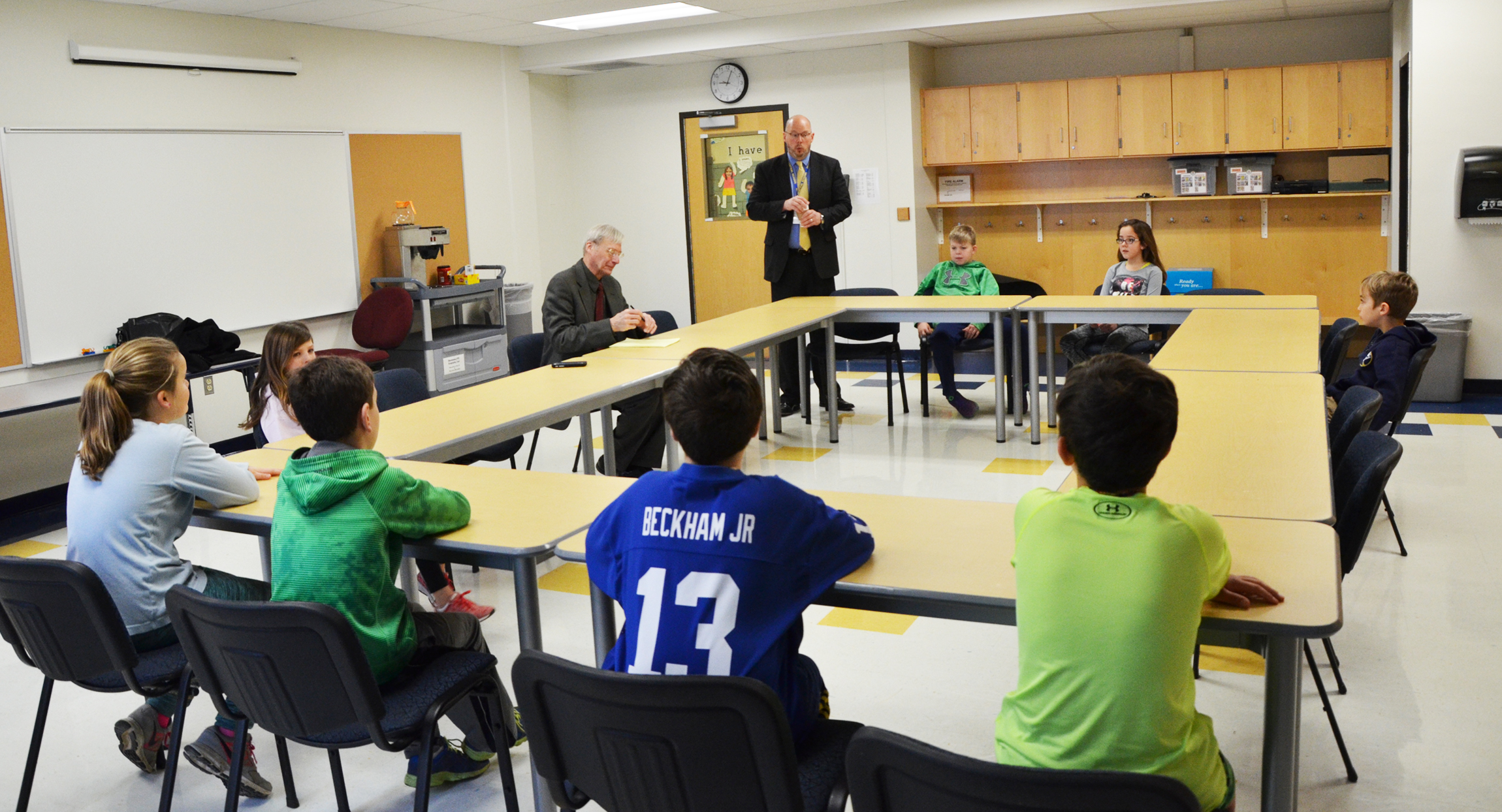 PHOTO - Skaneateles Central Schools Superintendent Ken Slentz (standing) and BCK architect Stephen Somogy (seated to Ken's right) met with a group of eight State Street School students on Tuesday to gather their feedback on how SCS schools could be improved to better the teaching and learning process. (Dan Kapuscinski photo)
SKANEATELES, NY (March 10, 2017) – Skaneateles Central School's proposed Project 2021 continues to move forward with a series of architectural feedback sessions taking place in the last week through the entire SCS campus.
Led by Skaneateles Central Schools Superintendent Ken Slentz and BCK architect Stephen Somogy, the sessions with faculty, staff, and students not only outlined proposed work to be completed but allowed valued feedback from school shareholders in regards to the project.
"We wanted to go to our team and ask them specifically what our larger instructional spaces and schools as a whole need to look like for us to really maximize our instruction and learning," said Slentz. "While 65% of this project addresses areas such as windows, boilers, roofs, things that unless you are specifically looking for them, you may not notice – we wanted our faculty, staff, and students to have the opportunity to think ahead and generate a list of their needs. Some will go toward Project 2021, some to the next project, and the next. We are building a long term facilities plan."
With meetings taking place at Waterman Primary, State Street Intermediate, Skaneateles Middle and Skaneateles High Schools, a host of needs were addressed ranging from renovating auditorium and gym spaces, to boiler repairs and needs, to safety items such as parking lot reconstruction and improved lighting.
The majority of needs mentioned pertain to items that are still original to school construction, ranging from the 1950's to the 1970's, such as the Middle School gym lockers which are original to 1966 construction.
However, the past week's feedback sessions allowed the architectural team to dig deeper.
"We're here to ask faculty, staff, and students about ideas for the schools because they are so close to it and work here every day," said BCK Architect, Stephen Somogy. "There are always things that we do not know about, or may not be on our original scope of work. We certainly added to our list."
Common themes throughout the meetings ranged from improved electrical needs and storage, to more opportunities for technology enhanced and project based learning.
Student sessions provided an entirely different perspective as a group of eight State Street School students sat down with Slentz and Somogy on Tuesday.
"We asked the students about ways they thought we could improve the classrooms and technology to make learning more fun, and we let them know that if they can dream it we want to hear it," said Slentz. "We want our learning spaces to be welcoming; we want the students to want to be there. Their creative ideas did not disappoint."
The students generated a variety of ideas from more interactive classrooms with smart boards, to mobile desks and chairs to promote group work.
More imaginative ideas also flowed including slides from all upstairs classrooms to the playground as well as a rotating gym floor that can convert from a basketball court to a soccer field.
Ranging from the practical to the wildly imaginative, the 30-minute session with students proved valuable for both Slentz and Somogy.
Community feedback will also be welcomed on the project at an upcoming State of the District Community Forum to be held in the Waterman School Auditorium on Wednesday, March 22 from 7 to 8:30 p.m.
The forum will be hosted by Superintendent Slentz as he addresses topics such as the 2017-18 budget, Project 2021 and a Q&A in regards to district events.
A district vote on Project 2021 will take place in November of this year.
Keep in touch with events and happenings in relation to the Skaneateles Central School District by visiting online at
www.skanschools.org
or following the district's Facebook page at www.facebook.com/Skaneateles.Schools/.