Project 2021 Community Forum on October 25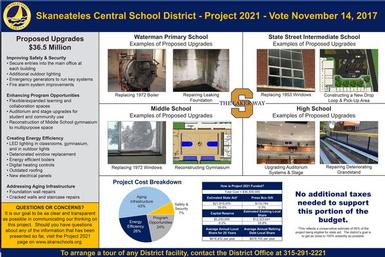 SKANEATELES, NY (October 23, 2017) – The Skaneateles Central School District will present another Project 2021 Community Forum on Wednesday, October 25 in the Skaneateles High School Auditorium, beginning at 7 p.m.
The Forum will include a question and answer session, as well as an opportunity for guests to tour campus.
The Forum and Tour will provide an opportunity for district residents to ask questions in regards to Project 2021 and look inside what the district's advisory committees, faculty and staff, and professional advisors have been working on for many months to maintain and improve Skaneateles Central School's facilities.
With a scope summary for each building now in place, the October 25 Forum will provide additional details on plans within the proposed capital project.
On November 14, residents of the Skaneateles Central School District will be asked to vote on Project 2021. The vote will take place at the Skaneateles Central Schools District Office, located at 45 E. Elizabeth St., from 7 a.m. – 9 p.m.
For more information on the upcoming Forum, please call the District Office at (315) 291-2221.
Keep in touch with events and happenings in relation to the Skaneateles Central School District by visiting online at www.skanschools.org or following the district's Facebook page at www.facebook.com/Skaneateles.Schools.