Project 2021: Why Now? Proactive Planning Provides Key Timing for Projects, Budget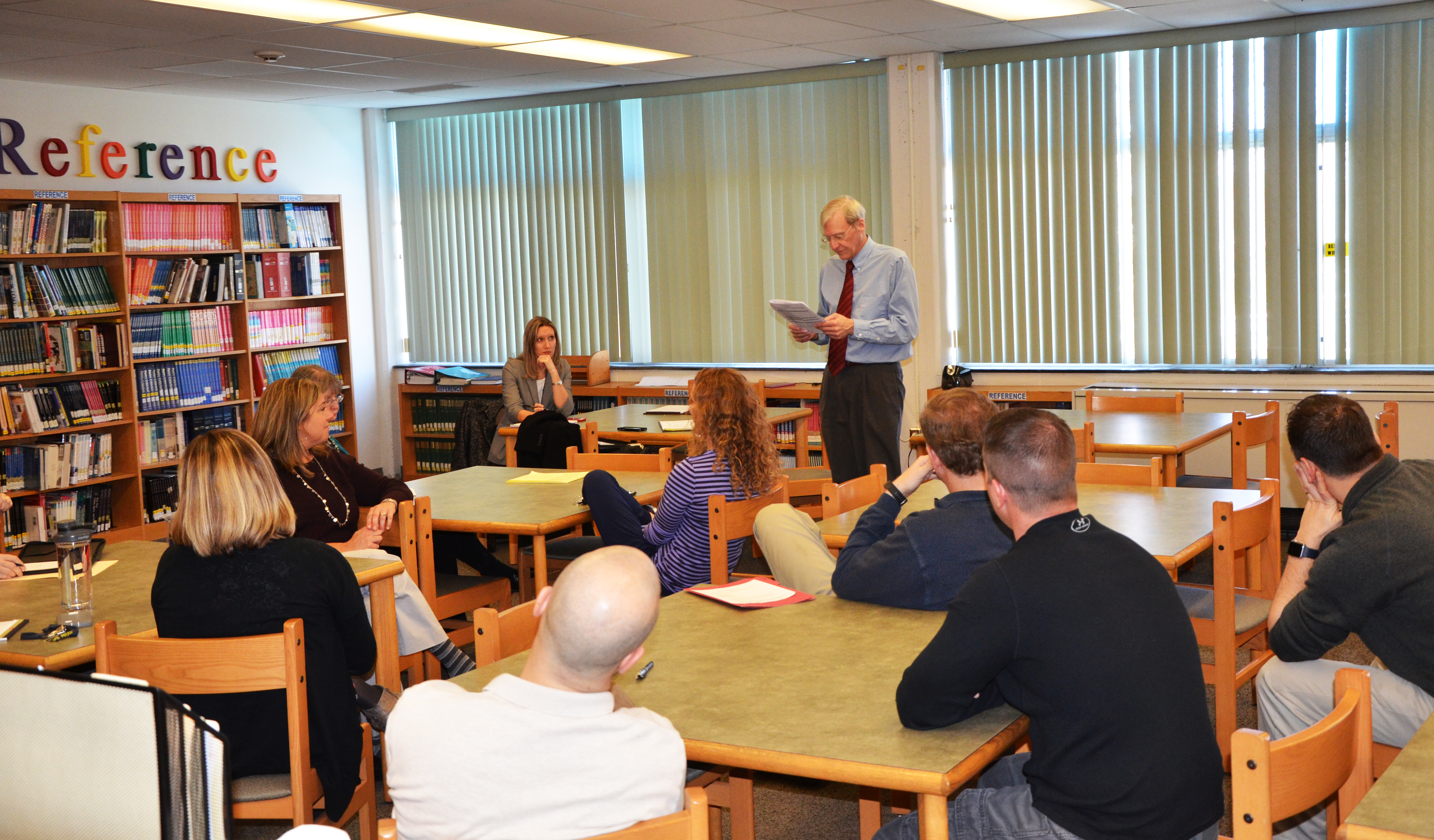 PHOTO - Stephen Somogy, an architect with the BCK-IBI Group, met with staff of the Skaneateles Middle School on Thursday to learn more about the school's needs and desires in relation to improved teaching and learning. The meeting is the first of four scheduled in the coming week with various district stakeholders to continue the proactive planning for the district's proposed Project 2021. (Dan Kapuscinski photo)
SKANEATELES, NY (March 2, 2017) – With a focus on proactive building maintenance and modern learning, the Skaneateles Central School District's proposed capital project known as "Project 2021" continues in its planning stages, heading toward a district vote in November of this year.
Initial steps have already been taken with architects and engineers on site, conducting building and grounds surveys, as well as meeting with administration and staff to determine potential key areas to be addressed.
These swift actions taken by administration are in line with the scope of the entire project, which is to be timely and proactive; keeping the best interests of Skaneateles students in mind.
"When we are proactive in maintaining our facilities, we are advantaging everyone involved," said Skaneateles Central School District Superintendent, Ken Slentz.
District officials believe there is no better time than now to look to the future, utilizing "Project 2021" as the platform to move Skaneateles Central Schools to a higher level in terms of facilities and modern learning.
There are significant needs in district buildings that are original to construction from the 1950's and 1970's. Completing renovations sooner, rather than later, provides a tremendous opportunity for innovative improvements with the future in mind.
The proactive maintenance plan proposed in "Project 2021" will provide safe, secure, and welcoming school facilities for learning into the future, as well as aim to prevent potential future emergency situations as a result of degrading building components.
Getting ahead of potential building maintenance issues with "Project 2021" also ensures that the district's limited school funding can be targeting accordingly.
A key element in regards to the timing of "Project 2021" is in relation to current debt, which will expire in 2021, allowing payment for the $25-$30 million project to begin on its own time, thereby creating no additional burden on tax payers.
"Ensuring that we have safe, secure, and healthy learning environments is critical for us to be able to maximize the impact of our teaching and learning. Balancing high expectations for our students and ongoing need for innovations in teaching with the burden on our taxpayers is critically important to us," said Slentz.
Keep in touch with events and happenings in relation to the Skaneateles Central School District by visiting online at
www.skanschools.org
or following the district's Facebook page at www.facebook.com/Skaneateles.Schools/.