Board of Ed Approves Proposition for 2021 Vote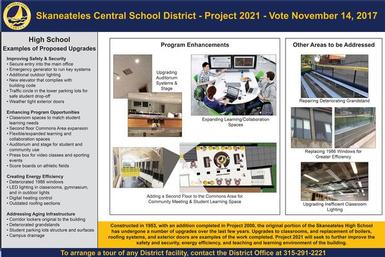 SKANEATELES, NY (September 26, 2017) – On November 14, 2017, residents of the Skaneateles Central School District will be asked to vote on the next capital construction project in the district. At their regular September meeting, the Board of Education unanimously approved the general scope of the project, the not-to-exceed total of $36.5 million, and the appointment of Ashley McGraw architects of Syracuse to complete the design and construction phase. Local resident Edward McGraw will be the project lead for Ashley McGraw.
"At first, this was a difficult decision to make given the total cost of the project", said board president Susan Greenfield Murphy. "But this really gives us our best bang for our buck because we can do $36.5 million worth of desperately needed work for just over $12 million because of state aid and our reserves. With good interest rates and being able to keep our payments right where they are now, this just makes sense to me."
"This is simply an investment in the future of the district", said board vice president Julie Abbott- Kenan. "We own these buildings and we have the responsibility to take good care of them. It is our job to ensure that our students and staff have great environments for teaching and learning, while also balancing the costs to be shouldered by the taxpayer. By taking advantage of the roughly $22 million worth of state aid that we are eligible for, and by using the reserves and bequest gifts that we have set aside, I feel strongly that this project accomplishes that balance."
In advance of the November 14 vote, the district has provided information through newsletters, letters from the Board President, information on social media and the district website, has conducted two community forums including a tour, and last week the district begin releasing videos on each building with perspectives from students, teachers, and administrators.
"This is truly an exciting opportunity for the school district", said superintendent Ken Slentz. "We will continue to communicate as often and as clearly as possible about the details of the project including the finances and the timeline as we want residents to be as informed as possible when they cast their vote on November 14."
On October 25, the district will hold another community forum which will include a question-and-answer session. Prior to that time, the district has encouraged anyone with questions or who would like a tour of the buildings to contact the district office at 315–291–2221. Residents can also review information on the project at http://www.skanschools.org/districtpage.cfm?pageid=933 or contact the superintendent email at Kslentz@skanschools.org.