District News
<< Previous Next >> Viewing 341 - 360 of 441 stories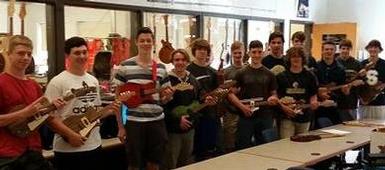 Mandolin Project:

Thirty beautiful mandolins have been produced this semester in two different Computer Integrated Manufacturing (CIM) classes at Skaneateles High School. Fifteen students in each of two classes created and customized their own instruments. CIM is a Project Lead the Way (PLTW) class that teaches students about manufacturing. It is an honors level class for students, offering college credit at RIT. The musical instrument project has been done for about 10 years and has created hundreds of playable musical instruments, according to Matthew Slauson, engineering and technology teacher. "Students do many of the manufacturing tasks including design, costing, coding, simulation, wiring, component building, ...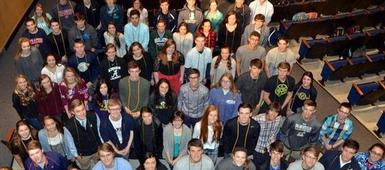 Cord ceremony celebrates achievement:

Sixty-eight Skaneateles High School seniors recently received special cords that they will wear at graduation this year. Fifty-three of those students had a 90 GPA or higher and fifteen had a GPA of 95 or higher. The 90 and 95 GPA recognition system is new this year and was board-approved in December 2015. This expands what was once recognition of the Top 20, and celebrates all students who worked hard to achieve an average of 90 or above. As a result, there are more students receiving honors/cords: 68 at 90 and above … with 15 of those at 95 and above. They will wear cords at graduation that distinguish them as graduating with "Honors" or "Honors with Distinction." At a gathering in the auditorium, students ...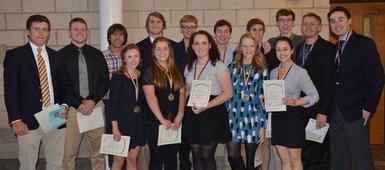 Honors Convocation celebrates achievement:

Honors Convocation is one of the ways we recognize students and their achievements. Juniors and seniors were recognized for a variety of things at Honors Convocation in the Commons recently. From the program, here are the awards and recognitions along with the names of the students. (For more photos, scroll to the bottom of this story). Commended students in the 2016 National Merit Program: Sam Clymer, Jack Van Slyke, Vincent Viego Scholarship winners for Academic Excellence through the New York State Education Department: Evan Bille, Sam Duggan, Aimee La France and Vincent Viego Seniors earning Distinction Awards from individual departments: The Senior Distinction Award in Art: Nicole Barry ...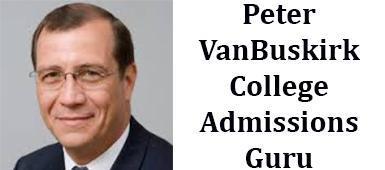 College Workshop to be held Sunday, May 22nd at SHS!:

A special workshop with college admissions expert Peter Van Buskirk is being offered to juniors from Skaneateles High School and other districts from 2 to 6 p.m. on Sunday, May 22 in the high school. Cost of the workshop is $250. Signups will be taken through Saturday. Van Buskirk is offering a drawing that awards free one-on-one consultations valued at $125 for one in every ten participants of the workshop. The workshop "What's My Story?" will help students learn how to present themselves in the college admissions process, which they will begin in the fall. The workshop will: Provide an understanding the college admissions process Help students develop a personal theme for an application Offer guidance on how to write a powerful and compelling ...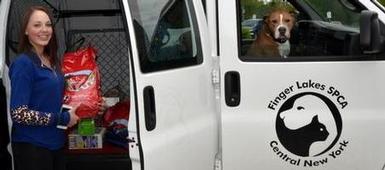 English assignment helps local SPCA:

When Andy Tidd asked his tenth grade English students to take on a real world project as part of a lesson, Madison Dubach knew she wanted to do something to reduce suffering in animals. She wrote a report that made it into the local paper in an attempt to increase awareness about animal abuse and neglect. Next, she set out to engage the community in doing something about it. She began collecting supplies for the Auburn-based Finger Lakes SPCA, which helps animals recover from abuse and neglect. "They are not funded by local governments but rely on the donations made by community members," she said. "They are in dire need of supplies to continue supporting these homeless animals." This week, the SPCA made a trip to Skaneateles High ...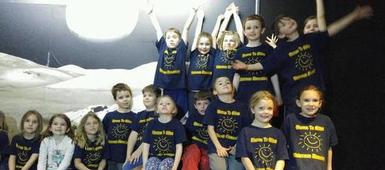 Voters approve all propositions:

Voters approved all four school district propositions on the school district ballot Tuesday and also approved the proposition from the village library that was seeking funding for the first time ever. The library proposition was included on the ballot by NYS law but is totally separate from the district budget. Voter turnout was high. Here are the results: Total ballots- Proposition 1 – General Fund Budget 954 Yes; 298 No 76.5% Proposition 2 - Bus Replacement 973 Yes; 283 No 77.5% Proposition 3 - Transportation Center Capital Project 944 Yes; 322 No 74.5% Proposition 4 - Capital Reserve 941 Yes; 281 No 77% Board Election (two incumbents for two seats) Tom Lambdin: 1047 Margaret Usdansky Niebuhr: 900 Skaneateles ...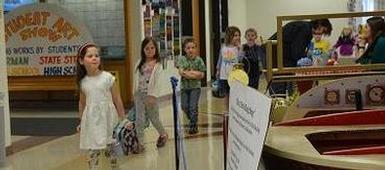 Today: budget vote, art show and more!:

The flying car from Chitty Chitty Bang Bang is one of many interesting things on display at Waterman School today during the District Budget Vote and Board Election today (polls close at 9 p.m.). Waterman students are enjoying the display as they travel their school hallways. The vote is in the Waterman School auditorium. One need not be a registered voter but only a district resident (owner or renter) within the last 30 days to vote. The annual school budget vote and board member election is the first school election in many decades in which lever voting machines are not used, as the law allowing their use expired last December. As a result, Skaneateles will return to a paper ballot system. There are four School District Propositions on the ...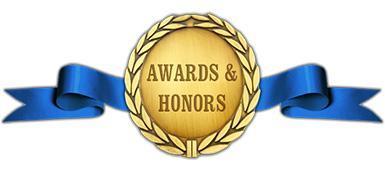 Message to Parents of Seniors:

Dear Senior Parents, I would like to clarify the two different invitation letters that you or your Senior son/daughter may have received earlier this week. The first letter went to Senior students who earned an overall 90 and 95 GPA up through the 3 rd marking period inviting them to a gathering on the 16 th during homeroom to receive their "Honors" and "Honors with Distinction" cords which will be worn at Commencement. The 90 and 95 GPA recognition system is new this year and was board-approved in December 2015. It serves to expand what was once a recognition of the Top 20, to shine the spotlight and celebrate all students who worked hard to achieve at high levels (90 and above). As a result, there are more students receiving honors/cords: ...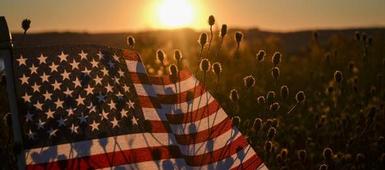 Student art on display Tuesday and Wednesday:

Check this out! There will be a Student Art Show in the Waterman School gym during the budget vote all day tomorrow. Voting is from 7 a.m. to 9 p.m. in the Waterman School auditorium. The art show will continue for part of the day Wednesday as well. Come out and see the works of artists from elementary school through high school. These are a few examples from the high school.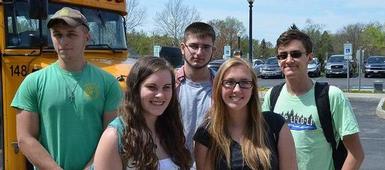 Five inducted into NTHS:

Five Skaneateles High School students were recognized for meeting strict academic standards when they were inducted into the National Technical Honor Society at Cayuga Onondaga BOCES Wednesday evening. Congratulations to Joe McIntyre, Nikki Bennett, Josh O'Hara, Kayla Ramsden and Lucas Wingfield. The National Technical Honor Society currently serves approximately 200,000 members and awards over $160,000 in scholarships to its members annually. NTHS honors the achievements of top Career and Technical Education students, provides scholarships to encourage the pursuit of higher education, and cultivates excellence in today's highly competitive, skilled workforce.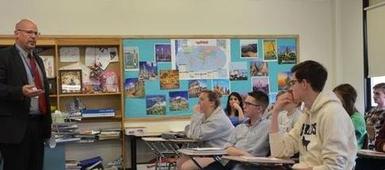 HS seniors encouraged to vote May 17:

Superintendent Ken Slentz visited students in Participation in Government classes to encourage those who are 18 to exercise their right to vote. They will have an opportunity to do so from 7 a.m. to 9 p.m. Tuesday, May 17, in the Waterman School auditorium. It is the annual Budget Vote and Board Election. "Many of your fellow students around the world will never have this opportunity. Don't take this right for granted," Slentz said. "Be an informed voter," he said as he outlined the school district's four propositions (which include the annual budget, a bus purchase request, a capital improvement project and the creation of a reserve fund). He also explained that voters will see a proposition for the Skaneateles Public Library, ...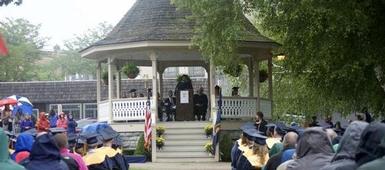 Students shine spotlight on budget, wellness and future:

Students and staff have collaborated to give residents snapshots into this year's budget process. This short video, the fourth in a series created by students in Corey Riley's music technology class, is about Wellness and why it is a focus of everything we do. Student Malcolm Lombardi interviews Superintendent Ken Slentz. https://ensemble.cayboces.org/Watch/j8ZAg76T Watch for one more video this week. Previously posted videos can be seen on our website under "District Videos." Throughout the series, residents can hear pointed questions answered by Slentz about the 2016-17 budget and the overall health of the Skaneateles Central School District. With this video series, everyone wins: the students get experience in producing videos with important and timely ...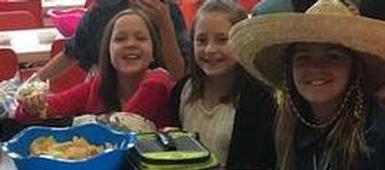 Celebrating May with a Fiesta:

Fifth graders at State Street School celebrated Cinco de Mayo with a lively Fiesta on Friday, May 6. Classroom work took on a different flare as students cooked, did projects and played games related to Cinco de Mayo. There was music, dancing and a lot of smiling going on. The cafeteria was decorated with Mexican craft projects that the students created over the past few weeks, including mirrors, mosaics and Day of the Dead Skulls. "We also had the showcase full of the Mexican Sugar skulls we made with the support of the Elementary PTC," said fifth grader teacher Heather Buff. Friday morning, students rotated into five different rooms to make guacamole, salsa, tissue paper crafts, Embossed Tin Suns and 'Gods Eyes', said Buff. Then, the entire fifth ...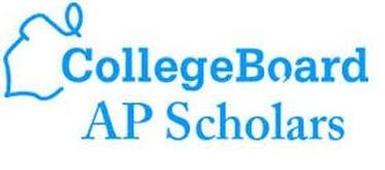 Seniors have AP Scholar status:

As they complete their final round of Advanced Placement testing this month, 28 Skaneateles High School seniors already have earned AP Scholar Awards in recognition of their exceptional achievement on the AP Exams during high school. As they take this year's AP exams, or awards will be given. College Board's Advanced Placement Program (AP) provides willing and academically prepared students with the opportunity to take rigorous college-level courses while in high school and to earn college credit, advanced placement or both for successful performance on the AP Exams. AP Exams are administered each year in May and represent the culmination of college-level work in a given discipline in a high school setting. The College Board recognizes several levels of achievement based on students' ...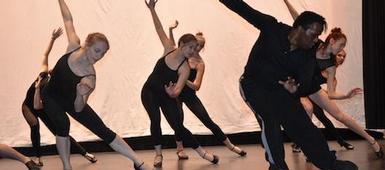 Students shine with professional dancers at Saturday concert:

Skaneateles Middle School and High School students have had the opportunity to watch and perform with professional dancers this week, as Sean McLeod and his NYC Dance Company have been doing an artist-in-residency here. The Skaneateles Education Foundation teamed up with the MS and HS Drama Departments to bring "Sean McLeod's Broadway: A Project for Community" here. Students have joined the talented and enthusiastic performers on stage. Students will perform alongside this internationally-acclaimed producer and choreographer and his dancers during a concert at 7 p.m. May 7 in the High School Auditorium. In addition, high school students will perform a selection from their musical, Chitty Chitty Bang Bang, directed by Music Director ...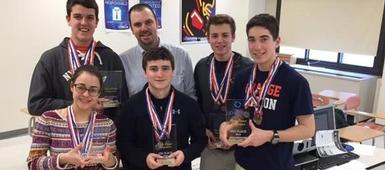 Senior places third in international competition:

The five who won at states and went to Nashville with Mr. Mulroy. The group that won regionals and went to states. Christopher Niebuhr upon winning As if it wasn't astounding enough that five Skaneateles High School students made it all the way to the International Career Development Conference in Nashville during the first year of the DECA Club in Skaneateles, the team did well – and came home with a medalist. Team member Christopher Niebuhr performed at the top of the competition, first making it to the finalist category and then winning a third place medal in Principles of Finance. Niebuhr, a senior who ...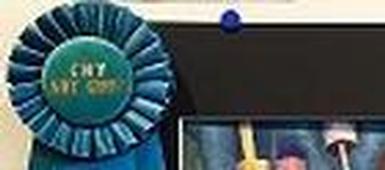 High School Senior Exhibit:

Two Skaneateles High School seniors had work in the Central New York Art Guild's 2016 High School Senior Exhibit at the Edgewood Galleries in Syracuse. Marysa Corona and Finan Malcolm's artwork was selected and on display. Corona got top honors for her painting "Maine," said art teacher Tracy Hale. "Marysa received the CNY Art Guild's Steve Von Hendy Watercolor Award. Congratulations to both artists for a very creative year," said Hale.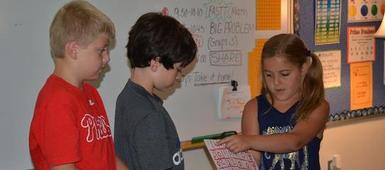 SCS earns "Reward School" status:

Skaneateles Schools have again been recognized in the top 20 percent of schools in the state named by the State Education Department as Reward Schools . In addition this year, State Street School earned the additional designation of a High Progress School (in the top 10% of the state) because of its continued marked progress on state assessments. The State Education Department determines the accountability status of each school through a variety of means including 3-8 assessments and Regents exams. Skaneateles' three eligible schools (excluding Waterman, which doesn't give assessments) have been identified as Reward Schools for High Performance while State Street School earned the additional designation. Superintendent ...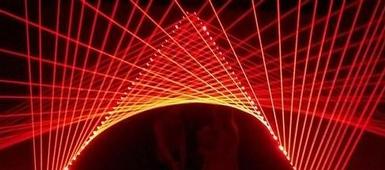 Ithaca trip takes art students around the world:

Skaneateles High School art teacher Jessica Sawchuk recently took 25 students in grades 9 through 12 on a creative journey that spanned countries and centuries. On a visit to the Johnson Museum at Cornell University, students saw, felt, discussed and interacted with the works of ancient and modern artists. The students were from her studio art, advanced art, independent study and ceramics courses. "Sometimes you lose sight of why you make art to begin with. There can be deep historical and spiritual reasons," said Sawchuk. She hopes students understand this through seeing and experiencing the art created by other people – from decades/centuries ago to the present . "I hope it opens their minds and gives them something more to work with. I hope ...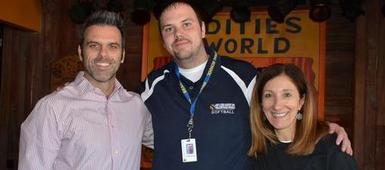 Business teacher repeats history at Dinosaur:

Students learn entrepreneurship at Dinosaur Dan Mulroy went back to Dinosaur BBQ on Wednesday and ended up in a "sandwich." He stood between the students he escorted there from his business classes in Skaneateles and the teachers who had inspired him when he was a student at CNS High School. He enjoyed being sandwiched between the past and the future, he said, because he still remembers the impact that the visit had on him when he was in high school. Mulroy first visited Dinosaur 13 years ago as a junior in high school. During the visit, he was inspired by the legendary John Stage, who started the restaurant with some buddies in 1988 (in just one location). Now, the restaurant spans from here to NYC on the east to Chicago to the west. Mulroy wanted ...
<< Previous Next >> Viewing 341 - 360 of 441 stories