District News
<< Previous Next >> Viewing 341 - 360 of 617 stories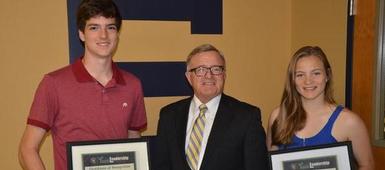 Kush, Wulff Earn Youth Leadership Recognition:

SKANEATELES, NY (June 9, 2017) – New York State Senator John DeFrancisco presented Skaneateles High School seniors Sophie Kush and Alex Wulff with Youth Leadership Recognition Awards on Friday morning at Skaneateles High School. The Youth Leadership Recognition Awards recognize outstanding young students who will become future leaders in the state of New York. The program is designed to highlight and celebrate well-rounded students who excel academically and have exhibited leadership through extracurricular or volunteer activities. Kush and Wulff were presented with a congratulatory letter, a handshake and chat with Senator DeFrancisco, and an official certificate of recognition. Kush, the Class of 2017 Salutatorian, will attend Brown ...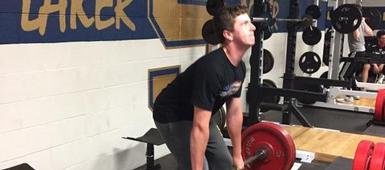 Summer Wellness Program Opens June 26:

The Skaneateles Summer Wellness Center will open for Summer hours on June 26. Below are the hours of operation... Monday: 8-10:30am ... 5:30-7pm Tuesday: 8am-Noon Wednesday: 8-10:30am ... 5:30-7pm Thursday: 8am-Noon Friday: 8am-Noon Jill and John King (NSCA Certified Strength and Conditioning Specialists) will be the strength and conditioning coaches for the center. The center is FREE and open to ALL Skaneateles students in grades 6-12.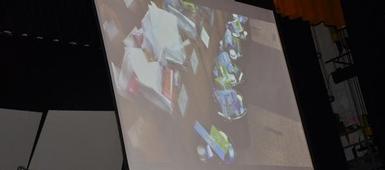 Windows Videos Hit Big Screen for 'Oscars' Viewing:

SKANEATELES, NY (June 8, 2017) – Videos from the Skaneateles Middle School Windows Project hit the big screen on Thursday morning in the Skaneateles High School auditorium as a part of the project's annual 'Oscars' viewing. Students, faculty, staff, and community members all gathered to celebrate the hard work of the eighth grade class, and also learn more about several members of the Skaneateles community. Since 2004, social studies teacher Jim Ryan has put eighth grade students to the task of interviewing local community members on video as a way to not only enhance their technical skills but to also better understand the meaning of civil participation and to simply tell very compelling stories. The Windows Project works to bring the past ...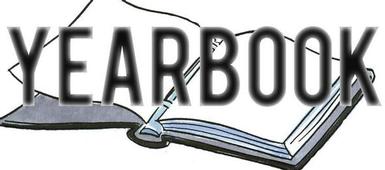 High School Yearbooks Have Arrived:

Yearbooks have arrived! Be sure to pick up your yearbook in the library. If you have not purchased one, you can buy one this week for $64.90. Cash or check made out to "The Comet."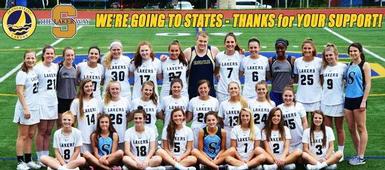 Track, Lacrosse Teams to NYSPHSAA Championships:

PHOTO - Members of the Skaneateles High School Boys & Girls Track and Girls Lacrosse teams have advance to the NYSPHSAA Championships. Pictured are (First row, left to right) Grace Dower, Emma Conan, Riley Brogan, Abbey Logan, Angela Krause, Kyla Sears, Mae McGlynn, Christiana Ciaccio, (Second row, left to right) Gabi Welch, Rachel Pinney, Grace Kush, Maggie Newton, Mary McNeil, Mikaela Terhune, Sarah Bailey, Kylee Gillmore, (Third row, left to right) Sophie Kush, Olivia Nye, Mia Grasso, Emma Goodell, Emily Baldwin, Alison Weiss, Taylor Hill, Chase Corcoran, Jessica Patalino, Abby Kuhns, Raenah Campbell, Olivia Navaroli, Hope Allyn, and Maddie Peterson. (DeAnn Sears photo) SKANEATELES, NY (June 6, 2017) – Skaneateles High School will be represented ...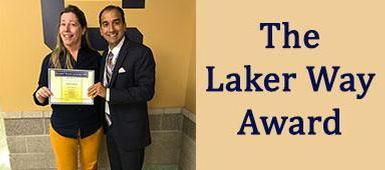 Look who was "Caught Giving Their Extra Ten Percent":

We're all doing it, but please join us in congratulating the staff member who was nominated for The Laker Way award for May 2017! Sandi Taylor I would like to nominate Sandi Taylor. Sandi, again, orchestrated an amazing Prom for our students. The countless hours of preparation and guidance that she dedicates to our students is remarkable. And while doing all of that, she was also putting together the performances for the talent show... and teaching 6 classes with 5 preps, and juggling chainsaws. :)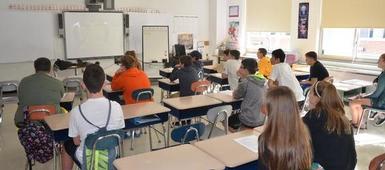 8th Graders Experience Career Day:

PHOTO - Skaneateles Middle School 8th graders enjoy a video presentation by New York State Trooper Kylie Black about their special K9 unit. (Dan Kapuscinski photo) SKANEATELES, NY (June 2, 2017) – The Skaneateles Middle School 8 th grade class took part in Career Day on Friday, as students were introduced to different careers through energetic community members. Following a group meeting in the Skaneateles High School Auditorium, where high school principal Gregory Santoro addressed all students as their future principal, the students broke up into several groups to visit and learn what several community members do for their careers. As a part of the meetings, students also gained knowledge on how each individual got to this point in their ...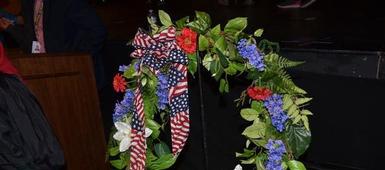 SCS Honors Veterans with Memorial Day Assemblies:

SKANEATELES, NY (May 31, 2017) – Skaneateles Central Schools honored our country's veterans on Friday of Memorial Day Weekend, with two separate assemblies held during the day. The day started on Friday morning at Waterman Primary School as Skaneateles veterans Jack Moran and Bill Knoll joined the school's morning meeting. Moran and Knoll were invited to speak to students about the significance of Memorial Day and its origins. The duo also explained what members of the American Legion do to honor our service people and how Skaneateles remembers the day with a parade and ceremony. Later in the afternoon the annual Skaneateles Middle School Memorial Day Assembly took place in the Skaneateles High School auditorium, honoring more than 30 Skaneateles ...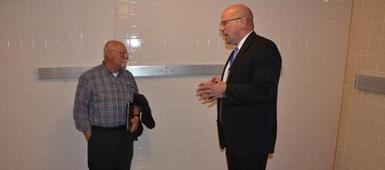 2021 Tour Addresses No Tax Impact, Building Needs:

PHOTO - Skaneateles Central School District Superintendent Ken Slentz provided tours to district residents wishing to learn more about the district's proposed capital improvement project known as Project 2021. SKANEATELES, NY (May 26, 2017) – The Skaneateles Central School District held a Project 2021 Community Forum and Tour on Thursday evening in the Skaneateles Middle School gym to provide a firsthand look into the project's progress, financial implications, and building needs. Skaneateles Central School District Superintendent Ken Slentz presented on the proposed project, which will go to a district wide vote on November 14. "The timing of the forum is sequential," said Slentz. "We will continue to do this into the fall, ...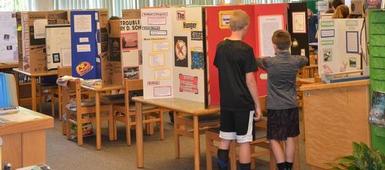 Sixth Grade Book Fair Kickstarts Summer Reading:

SKANEATELES, NY (May 25, 2017) – The Skaneateles Middle School sixth grade class got a jumpstart on their summer reading plans by taking part in this year's book fair in the middle school library on May 24-25. Approximately 100 book fair projects were on display in the library over the course of a two day period. "The book fair is a perfect way to end our Language Arts program for the sixth grade," said sixth grade Language Arts teacher, Liz Hyatt. "At this point the students have been working on and need to be able to identify plot summaries, so choosing a book and working through these projects helps with that. Plus, by presenting the books to other students, the entire group gets to learn about a series of new books so that ...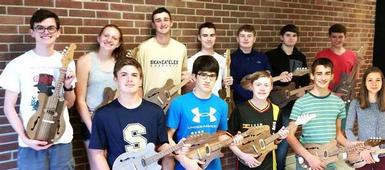 High School CIM Class Builds Electric Mandolins:

SKANEATELES, NY (May 24, 2017) – Matthew Slauson's Computer Integrated Manufacturing class at Skaneateles High School recently constructed a series of electric mandolins, utilizing a host of manufacturing and design techniques. Computer Integrated Manufacturing is a part of Project Lead the Way, a class taught for college credit through the Rochester Institute of Technology. The mandolins took several hours to design and produce while also learning about manufacturing techniques, costs of manufacturing, computer design, 3D printing, CNC programming, electronics, and craftsmanship. "The students take a great deal of pride in producing these," said Slauson. "Each year I try to give the students a new learning experience by making ...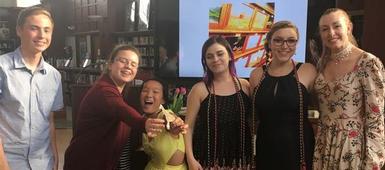 New Members Inducted into Art Honor Society:

PHOTO - Lawrence Gray, Isabella Kroon, Meg Benedict, Abbie Scala, Kao Howard, and Mary Lambdin are the six new members of Skaneateles High School's National Art Honor Society. (Jessica Sawchuk photo) SKANEATELES, NY (May 24, 2017) – A total of six new members were inducted into Skaneateles High School's National Art Honor Society on Tuesday, May 23 in the high school library. Students Meg Benedict, Lawrence Gray, Kao Howard, Abbie Scala, Mary Lambdin, and Isabella Kroon were honored as new inductees at the ceremony which featured a small art show with work of the inductees as well as refreshments. The National Art Honor Society recognizes the commitment of students to make art and creativity part of their lives. In order to be inducted ...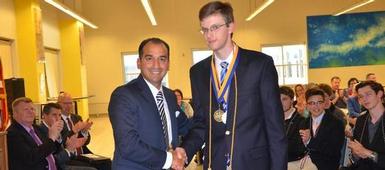 Honors Convocation Recognizes High School Students:

SKANEATELES, NY (May 19, 2017) – The accomplishments of more than 80 juniors and seniors were celebrated at the annual Honors Convocation at Skaneateles High School on Monday, May 15. Seniors received a variety of awards, including senior distinction awards in every subject area. Forty-nine seniors who will graduate with Honors and Honors with Distinction were congratulated and presented with the special cords they will wear at graduation. Eight juniors were recognized for their recent induction into the National Technical Honor Society. In addition, more than 30 juniors received plaques, certificates, books, and scholarships from colleges and universities that recognize fine Skaneateles students each year. Skaneateles High School Principal Gregory ...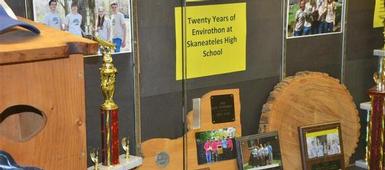 20 Years of Envirothon at Skaneateles High School:

SKANEATELES, NY (May 19, 2017) – Skaneateles High School is celebrating 20 years of participation in the New York State Envirothon competition this month as five students will take part in the annual gathering which will take place May 24-25 at Hobart & William Smith Colleges in Geneva, NY. Biology and Ecology teacher Rick Garrett serves as the Envirothon advisor and guided Skaneateles High School into the competition back in 1997. "We first entered the program back in 1997 and the regional competition was held at Filmore Glen State Park," said Garrett. "It was highly memorable because we did not know what to expect and were surprised to perform so well. That spurred our enthusiasm for the program and we began a long run of success ...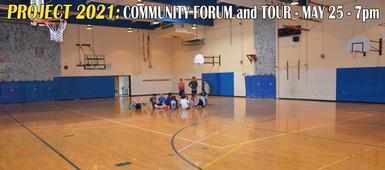 Project 2021 Community Forum, Tour on May 25-7pm:

SKANEATELES, NY (May 18, 2017) – The Skaneateles Central School District will hold a Project 2021 Community Forum and Tour on Thursday, May 25 in the Skaneateles Middle School gym, beginning at 7 p.m. The forum and tour will provide an opportunity for district residents to ask questions in regards to the project and look inside what the district's advisory committees, faculty and staff, and professional advisors have been working on for many months to develop a plan to maintain and improve Skaneateles Central School's facilities. "The community forum on May 25 will give us an opportunity to have an open discussion about our plans and to hear questions and concerns that the taxpayers have in regards to Project 2021," said Skaneateles Central ...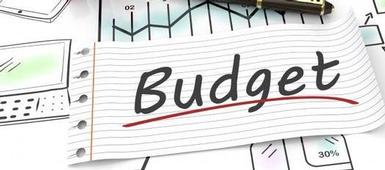 Budget, Propositions Pass;Board Members Re-Elected:

SKANEATELES, NY (May 17, 2017) – The 2017-2018 Skaneateles Central School District general fund budget passed as a result of Tuesday's district voting by a margin of 631-157, with nearly 81% in favor. Skaneateles Central School District Superintendent Ken Slentz believes this year's budget of $32,456,761, a 2 percent increase in expenditures from a year ago with a 1.62 percent increase in the tax levy, is well balanced. "This year's budget strikes what we believe is a good balance between effective and innovative programming for our students and a fair ask of our taxpaying community," said Slentz. "As public servants, we are always grateful for the support of the community in unifying our vision towards improved outcomes for our students." ...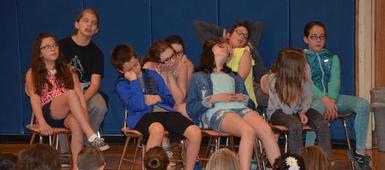 5th Grade Musical Takes Center Stage May 18:

Skaneateles, NY (May 15, 2017) – The fifth grade chorus at State Street Intermediate School will take center stage for their musical "Let's Eat" on Thursday, May 18 at 7 p.m. in the Skaneateles High School Auditorium. Written by John Jacobson and Mac Huff, "Let's Eat" is all about food; pizza, chicken pot pie, fast food, and fancy food. The main cast of the musical consists of kids who are always hungry and bring the audience through their long line of favorite foods. By the conclusion of the musical the cast realizes how lucky they are to have such an abundance of food choices, closing the program with a song called "Thankful." Due to this message, the fifth grade chorus is asking everyone that attends ...
<< Previous Next >> Viewing 341 - 360 of 617 stories