District News
<< Previous Next >> Viewing 341 - 360 of 513 stories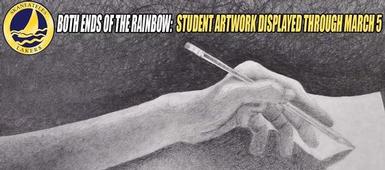 Schweinfurth Art Center's "Both Ends of the Rainbow" Exhibit Promotes Student Artwork:

SKANEATELES, NY (February 2, 2017) – Schweinfurth Art Center's "Both Ends of the Rainbow" exhibit is featuring over 50 pieces of art from various Skaneateles Central School students. The annual exhibit showcases approximately 1,000 pieces of artwork in total by regional K-12 students. Located at 205 Genesee St. in Auburn, the Schweinfurth Art Center is a non-profit gallery which offers five exhibitions each year featuring regional, national, and international artists. This year's "Both Ends of the Rainbow" exhibit opened on Jan. 29 and will run through March 5. For more information on how to explore the "Both Ends of the Rainbow" exhibit and to take in several pieces of Skaneateles Central ...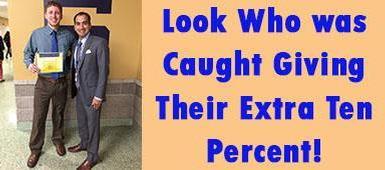 Look who was Caught Giving Their Extra Ten Percent!:

We're all doing it, but please join us in congratulating the staff who were nominated for The Laker Way award for January 2017! (*Dan Kurzen was the only one available for the photograph and represented "Team Brain Freeze"). JOSH HARES I wanted to nominate Josh Hares. First, he always goes above and beyond for his students by staying in close contact with all of their teachers, service providers, and their parents. He always communicates incredibly well with all and making highly productive relationships (which is time consuming). He makes sure that his students feel cared about; whether this is by bringing in rewards that are tailored to individuals or making fun and engaging lessons. Josh also takes his own personal time to show his ...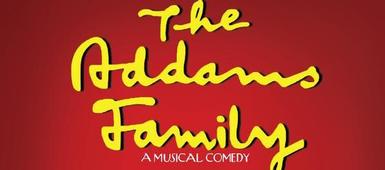 Student art promotes Addams Family:

The high school drama production in early March is being promoted by students in the district's new graphic design course taught by Jessica Sawchuk. Students were given the real world assignment of promoting the March 2-5 production of The Addams Family as the final project of the first semester, said Sawchuk. First, they researched the show and did sketches. After the students had started their work in Illustrator, designers from Chase Design visited the class to give feedback on things like placement, color and technique. Mickey Kringer, drama director, also gave the students feedback, and later returned to choose which poster to use in promotion of the musical about the weird and wonderful Addams Family. He liked the work so much that ...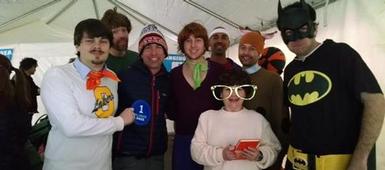 Dedicated teacher team does it again!:

Congratulations to Team Brain Freeze, the eight member all-school teacher team, for taking the Polar Plunge in support of the Skaneateles Education Foundation, SAVES, and the Skaneateles Fire Department. Dressed as characters from the Scooby Doo Show, these brave and enthusiastic teachers raised $1,610 for the cause(s). They call themselves "Team Brain Freeze" and have jumped together (in various groupings) from the very first year that the Skaneateles Sunrise Rotary Club started Winterfest. The team has grown each year and now includes a representative from each school. High School teachers include Dan Kurzen, Brian Sevey, Justin Suhr, Josh Hares and Mary Blum. The Middle School is represented by Josh Williams and Corey Riley; and the elementary ...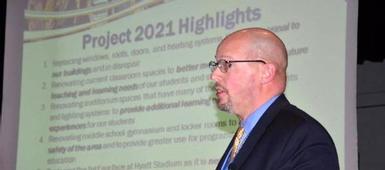 Video captures superintendent's address: Did you miss the community forum? You can still hear Superintendent Ken Slentz give what he calls "an overview of where we are as a district," starting with the mission and strategic plan -- and including ideas, thoughts and plans for Project 2021. On this weebsite, look under Quick Links (at right) and then click on Project 2021.
http://www.skanschools.org/districtpage.cfm?pageid=933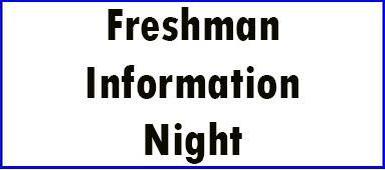 Freshman Information Night:

Counselors met with parents of freshmen at an information session Monday, January 23. The meeting was captured on video and PowerPoint for those unable to attend. To learn what you need to know as you and your student prepare for sophomore year, please see the video link: http://www.skanschools.org/districtpage.cfm?pageid=508 And/or see the PowerPoint: http://www.skanschools.org/tfiles/folder535/Freshman%20Information%20Night_%20Updated_.pptx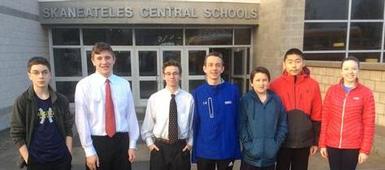 HS and MS students perform at festivals:

A select group of high school students represented SCS at the 2017 Senior High All-County Music Festival January 13-14 at Fayetteville-Manlius High School and a select group of middle school students attended the Junior High All-county Music Festival January 20 and 21 at Solvay High School. Attending the Senior high festival were Ben Blackwell, Nolan Meier, Calvin Blackwell, Julia Hearn, Hope Glowacki, Sierra Sander, and Rachel Teixeira. They performed in the All-County Chorus, which was conducted by Jose "Peppie" Calvar, Assistant Professor and Assistant Director of Choral Activities at the Setnor School of Music at SU. The students were selected by audition and performed with students from around the county. Conor Driscoll auditioned and was accepted, was ...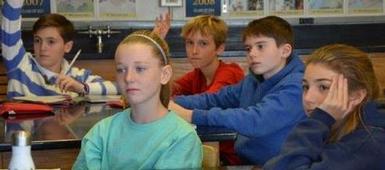 Sixth graders get tips from HS students:

Skaneateles sixth graders focus on social media etiquette and usage during a two week unit in their social studies classes. This week, high school volunteers spent their study halls visiting with the younger students and sharing their wisdom. Social Studies teacher Mitch Major said the unit is "basically social media 101" and is designed to help sixth graders learn the "dos and don'ts" of social media. The sixth graders learned the benefits and the pitfalls of using things like Snapchat and Instagram. They discussed things to consider before posting, such as: is it safe? Will it hurt anyone? Who will see it? They also learned to double check grammar and spelling before posting.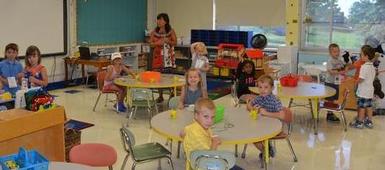 Kindergarten registration for 2017-2018:

Waterman Primary School is accepting kindergarten registration for eligible students for the 2017-2018 school year. To be eligible for kindergarten, a child must be 5 years old on or before December 1, 2017. Parents who have received a registration form in the mail should complete it and send it to Waterman School as soon as possible. Parents and guardians of incoming kindergarteners who have not received registration information in the mail should contact the business office at 291-2205.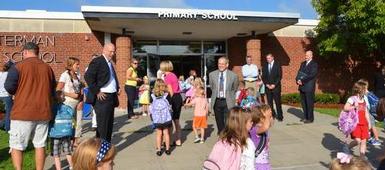 Survey spotlights principal search:

Steve Widrick, center, greeted students on the first day of his first year as principal at Waterman. He is also principal at State Street, where buses line up to drop students off. The district has released results of the recent Principal Search Survey which was taken by parents, community members and employees. The survey is part of search process for a new elementary level principal to replace Steve Widrick, who retires at the end of the school year. The survey asked participants to select the top five statements most important to them when selecting a principal. Of the people who responded, the highest number ranked communication and interpersonal skills as most important qualities in a future principal. To see the responses to that question, and ...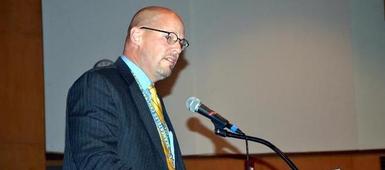 Focus on the Future at Jan. 25 forum:

Save the date! 7 p.m. Wednesday, Jan. 25 at Waterman School Focus is on the future at January 25 State of the District community forum Whether they are number-crunching for a budget, working with architects to plan for renovations or interviewing candidates for a job, SCS officials have one end goal in mind: preparing students K-12 to be ready for their future. How is that goal going to be met? That is the subject of a community forum (or State of the District address) to be held at 7 p.m. Wednesday, January 25, in the Waterman School auditorium. Community members are invited to learn about the 2017-18 budget, Project 2021 (for which there will be a vote next fall) and educational initiatives – all which go back to that end goal of ensuring that ...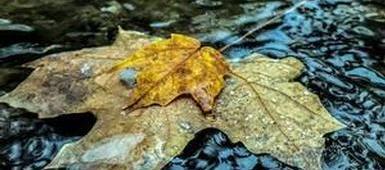 CNY Scholastic Art Awards:

The above three photos are from the Silver Key senior portfolio by Luca Kunz. See photos from Madelyn Brogan's Gold Key senior portfolio below. Twenty six Skaneateles students received 41 awards at the CNY Scholastic Art Awards. Skaneateles High School and Middle School had a total of 13 gold keys, 10 silver keys, and 18 honorable mentions. A total of 26 students were honored! Three senior portfolios earned recognition. Senior Madelyn Brogan received a highest honor when she earned a Gold Key for her senior portfolio. Senior portfolios are difficult to get into the show. Also earning recognition for senior portfolios were Luca Kunz (silver) and Kao Howard (honorable mention). Three middle ...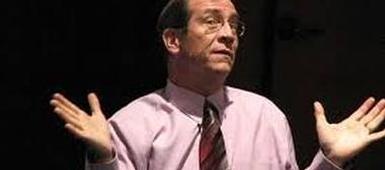 "Admissions Game" returns Feb. 8:

Save the date! "The Admission Game ® " comes to Skaneateles Interactive workshop demystifies the college admission process Peter Van Buskirk will present "The Admission Game" in the Skaneateles High School auditorium at 7 p.m. Wednesday, February 8. Families with students in high school will find the content of the two-hour program insightful and useful. Juniors and their parents are urged to attend. A different program will be presented to sophomores and juniors on Thursday during the school day. Students who are able are encouraged to attend both the evening and the daytime presentations because the content is different, said Counselor Barb Drozynski. "The evening program includes a behind-the-scenes discussion ...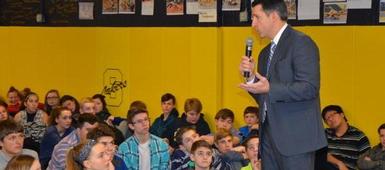 Students meet new MS principal:

When Mike Caraccio met with middle school students this week, he posed a question he assumed might be on their minds: "How did the guy directing traffic in the parking lot end up in the middle school principal's office?" Caraccio joined the district this fall and – in addition to his duties as Humanities Coordinator – he helped with MS morning traffic flow. That was likely the place where students and parents saw him, until January 3 when he took over the very visible position of middle school principal. To answer that question, and to show why he is "super excited" to be in his new role, Caraccio shared a bit of his personal story – and then shared some of his thoughts on key topics: learning, hard work and kindness. But first, ...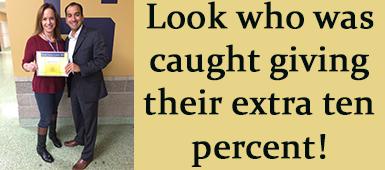 Three staff members receive the Laker Way Award in December!:

Each month The Laker Way award is given to a faculty or staff member(s) who has been nominated by one of their peers for going above and beyond in their job and their service to others. There were three recipients in the month of December! Kevin Blowers – Maintenance Crew (not available for picture) I would like to nominate Kevin Blowers for the 110% award. Kevin is a team player who has a do it right the first time attitude and the knowledge and work ethic to back it up. Not only does Kevin have a strong work ethic, Kevin communicates and understands the urgent and non-urgent issues here at Skaneateles Central schools. He exercises caution when needed and also is available for any issue that may arise. Since Kevin has started here at the district he ...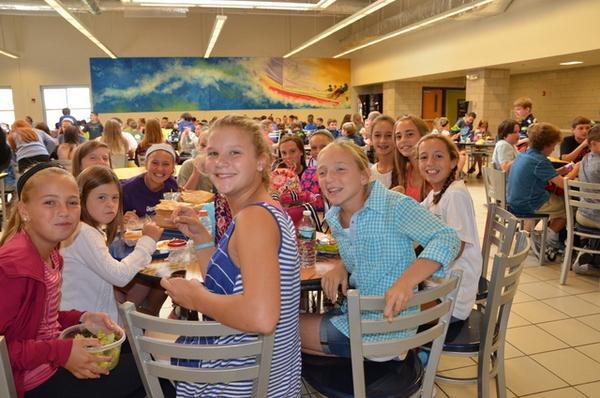 Administrative shifts to benefit SCS:

MS Principal Gary Gerst will become full-time Director of Learning (overseeing special education program and teachers). Mike Caraccio, middle photo, will become MS Principal. Pat Brown, right, will become K-12 Humanities Coordinator. When Skaneateles students return from the holiday vacation, they will find familiar faces in new places. Middle School Principal Gary Gerst will become the full time Director of Learning for the district and Mike Caraccio will take over as Middle School Principal. Caraccio currently is the 6-12 Humanities Coordinator. The changes were made at Tuesday's Board of Education meeting based on the recommendations of Superintendent Ken Slentz and will take effect January 3. The appointments are in ...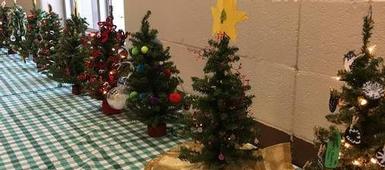 Students brighten the holidays:

By Jason Gabak, Skaneateles Press Most any time even a small gesture can make a big difference in the life of a family or individual. This is a lesson State Street teacher Heather Buff has seen firsthand and is a lesson she has worked to share with the students who pass through the halls of State Street. For the past six years students from each class have created miniature Christmas trees which are donated to less fortunate families. Buff found the inspiration for this project from her own life. "My husband's grandmother was in an assisted living facility and we brought her a little tree," Buff said. "For the people there it was something special and the idea kind of grew from there." Buff said Principal Steve Widrick has been ...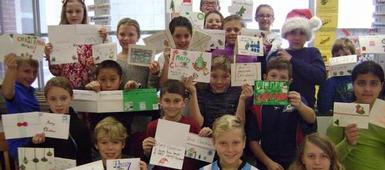 Twelve Days of Giving:

As part of their 12 Days of Giving, fourth graders in Pete O"Connor's class read holiday stories to first grade students at Waterman. This event was a big hit for students in both grades (see photos below). Other projects during their 12 Days of Giving have included the collection of pet food for the SPCA and the creation of cards for senior citizens, pictured above.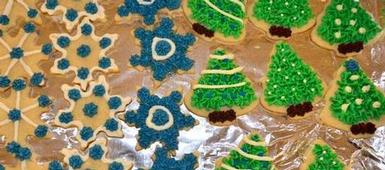 Community-wide cookie drive FRIDAY:

With the snow day, packaging for the community cookie drive is Friday! Help add sweetness to the Skaneateles Outreach holiday gift baskets for area families in need. Donate a dozen (or more!) to the Interact Club's annual cookie drive. Deliver to the MS/HS Office Friday, December 16, 7:30 a.m. to 2:30 p.m.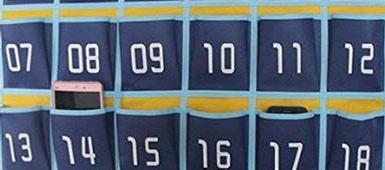 In the Rack or in the Pack!:

We have implemented a new school-wide initiative here at the high school with regards to student cell phone use. In an effort to give students the opportunity to spend the bulk of the school day "unplugged" without the distraction of incoming text messages and social media, etc. we are asking them to "check" their phones at the start of each class period by either concealing them in their backpacks or putting them in a cell phone "rack". The high school PTC has provided funding for soft "shoe rack" style cell phone holders to be placed in each and every classroom. Teachers will monitor phones being left and taken from the rack. Phones and devices will still be used as instructional tools during times that teachers deem appropriate ...
<< Previous Next >> Viewing 341 - 360 of 513 stories