District News
<< Previous Next >> Viewing 361 - 380 of 513 stories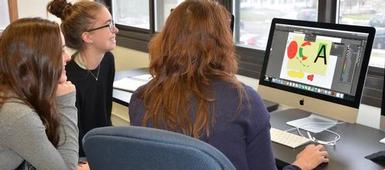 Real world experience in art class:

Great things happen when people step into our schools to share their expertise. Recently, three Adobe Illustrator experts from Chase Design spent an entire class period with students in Jessica Sawchuk's Graphic Design class. Andy Schweitzer, Bonnie Dudden, and Jon Cammarata are full time Graphic Designers from Chase. "There were a lot of Ah-HAHs and Oh Wows as students learned new things that they had been trying to figure out throughout their process," Sawchuk said. "We've been in their seats," Schweitzer said. "It is nice to tell them some of what we've figured out." He said designers at Chase also "cross polinate" by sharing what they've learned. Sawchuk hopes to have the designers continue ...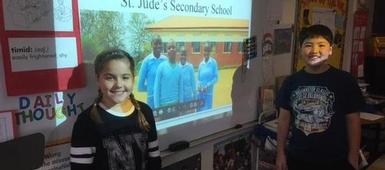 Students collect coins for children in Uganda:

Students in Ellen Wolford's fifth grade class at State Street School are spearheading a schoolwide coin collection in an effort to help children in rural Uganda. The educational needs of the Ugandan children became personal for the local students through the experiences of Wolford's son, Matthew Wolford, a 2012 Skaneateles graduate who is living in a rural village and working at a medical clinic. Recently, Wolford's students went to other classrooms at State Street School to share a PowerPoint that tells the story of how children in Matthew Wolford's village cannot take school for granted. They are often without supplies or the opportunity to attend school. Wolford graduated from Union College in 2016 and received ...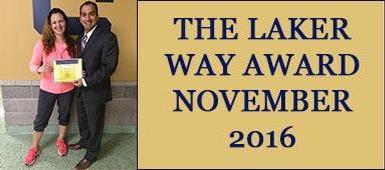 Look who was "Caught Giving Their Extra Ten Percent":

We're all doing it, but please join us in congratulating the person nominated for The Laker Way award for November 2016! Jenel Fortino I would like to nominate Jenel Fortino!! She appears to effortlessly juggle endless tasks that promote Skaneateles spirit. She spends a great deal of extra time and money without looking for recognition or praise, and gets the job DONE!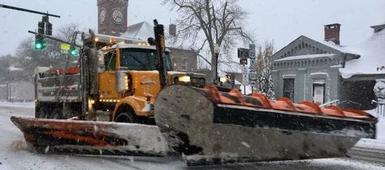 SCS to be closed second straight day:

Superintendent Ken Slentz has canceled school for the second day, due to the relentless snow storm that has paralyzed much of Central New York. With reports of snowfall continuing until 4 a.m. Tuesday, Slentz determined it would be almost impossible for local crews (as well as school district crews) to keep up. He urged everyone to travel safely. Happy Thanksgiving.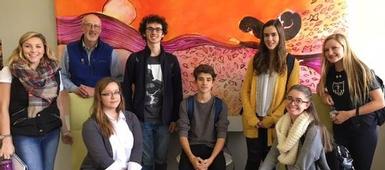 Students explore careers in visit to Chase Design:

Skaneateles High School art students were given an inside look at Chase Design during a career exploration field trip. Students in Jessica Sawchuk's graphic design and advanced art classes as well as some independent study students learned about the history of the Chase Design, what they do, and how the creative process works. Doug Whitehouse told the students that a designer must first find out what the problem is -- and then solve it. He said it is important to have self-confidence and to present ideas with pride. "Ultimately you must do your own best work, and choose what to present." He said. "We call our team members problem solvers," he said. "We don't look for people who are super specialized; we want people who have many different life experiences." ...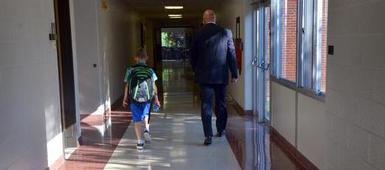 Will a school close? Research continues ...:

Will the Skaneateles Central School District close a building in the near future, as a result of declining enrollment? District continues to research best building usage As students and staff continue through the busy day-to-day of another school year, Superintendent Ken Slentz and others continue to look into the future of the district and its facilities. A key question involves whether or not to close a building due to declining enrollment. A recommendation about facility use is targeted to be made in the 2017-18 school year, Slentz recently said in a report to the Board of Education. That is when he expects to present a plan by the Strategic Planning Steering Committee, an advisory group that has met regularly for the past two years. "We have the good fortune ...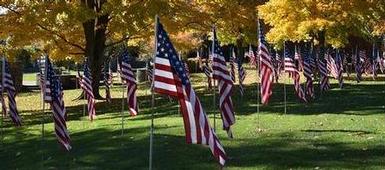 Promoting empathy, patience and learning:

Photo by Marianne Angelillo. American flags in honor of and in memory of our veterans flap in the wind in Clift Park, thanks to the Skaneateles girls lacrosse team. In an email early this morning, Superintendent Ken Slentz encouraged faculty and staff to display the understanding, empathy, patience, and teaching of life lessons that he sees on a daily basis in our schools – and then some. He said that regardless of their personal reaction to the election results, it is important for adults/faculty/parents to "understand that our students have much less capacity for dealing with all of the very public and personal emotions, statements, sentiments, etc." He suggested teachers provide appropriate forums for discussion. "There is so much to learn ...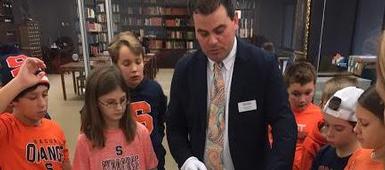 Fifth graders explore SU library:

Seth Benjamin's students were the Skaneateles fifth graders to visit Bird Library at Syracuse University as part of an effort to expose students to college libraries. "They were like sponges that day," said State Street School Librarian Karen Watson. "They were great. It was so amazing. They asked such thoughtful questions." Benjamin was thrilled to see his students spend a day as mini college students. "The kids were enthusiastic, respectful, and great representatives of State Street School," he said in an email. "Chief Curator Andrew Saluti gave a tour of the library and then led us to the Special Collections level. We took part in the Ancient World Writing Systems program....wow! We were able to ...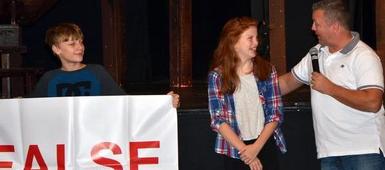 "We are a sum of the choices we make":

The day after talking with parents about raising the "Snapchat generation," Jerry Ackerman spoke to Skaneateles Middle School students and High School students during two lively assemblies. He didn't need to teach students how to use social media, as he did their parents. Instead, he worked hard to show them why they must use it very very carefully. Realizing that teenagers might just roll their eyes over conversations about internet safety, Ackerman used one dramatic example after another to show the magnitude of what might seem like small choices. He showed how small choices could impact their own future selves, and he gave examples of how small choices could destroy another person or serve to make a wonderfully positive difference ...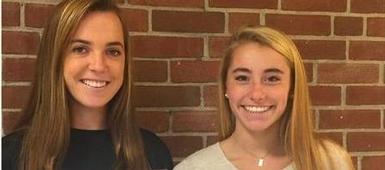 SCS photographers recognized:

Skaneateles High School seniors Kyla Sears and Mae McGlynn were finalists in the 8th Annual Bousquet Holstein PLLC Photography Contest for Syracuse City and Onondaga County high school students. The theme of the 2016 photo contest was "Street Scenes." Over 200 photos were juried and Sears and McGlynn were among the 23 finalists. They were honored in a recent reception at the Everson Museum. This year's theme, Street Scenes, was based on the Everson Museum of Art's exhibition: Helen Levitt: In the Street. According to the Syracuse New Times: "Helen Levitt: In the Street, showcases an artist who shot New York City streets for almost 70 years, creating poignant and humorous photos referencing ...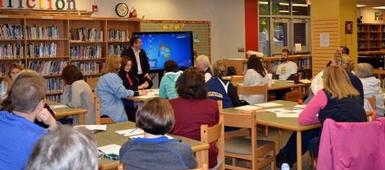 Conference day focused on "keeping our promise":

While students in Skaneateles Central Schools enjoyed the day off during a recent Staff Development Day, staff members were meeting, learning and talking about ways to provide positive and successful learning experiences for all students. The conference day was titled "Keeping our Promise – Guaranteeing One Year's Growth for Each of Our Students". A large group of faculty met with Tommy Thompson to focus on the development of Learning Intentions and Success Criteria which better allow students to demonstrate the knowledge and skills demanded by the standards. Teacher assistants and aides focused on how to best work with students with disabilities in a session led by Gary Gerst, pictured above. In addition, Josh Hares, who ...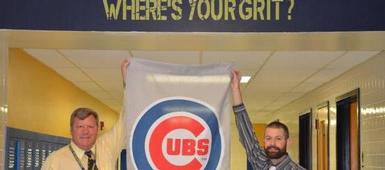 Cubs and fans exhibit real grit:

Director of Technology Paul Blair, left, and Special Education Teacher Josh Hares, right, hold up the Cubs banner next to the signs that represent the Middle School's emphasis on Grit. They also stand in the cafeteria with the students they hope to teach about the importance of failing forward, and perseverance. Blair found a kindred Cubs spirit when Hares started in the district this fall. Hares said he was practically born cheering for the Cubs, even though the family lived in NY. Ask Paul Blair about those Cubs, and you get lessons in history, loyalty, perseverance and learning. Blair, the district's director of technology, was born in Chicago and grew up in northern Indiana. He was introduced to the Cubs by his great grandmother ...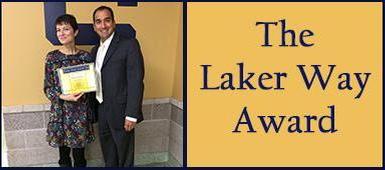 Look who was "Caught Giving Their Extra Ten Percent":

Each month faculty and staff are encouraged to nominate one of their peers for going above and beyond and exemplifying THE LAKER WAY. Please join us in congratulating the person nominated for The Laker Way award for October 2016! Jessica Sawchuk I would like to nominate Jessica Sawchuk for the LAKER WAY AWARD! She makes it possible for students to attend the New York City Film Festival and explore the City. She diligently takes care of all the "intricate details" of the trip and does a wonderful job of fostering the students while there.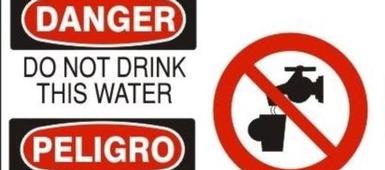 Water testing results and plans:

Here are a couple of signs/symbols that are being used in the district to show the faucets and sinks considered to be "non-potable water sources." As you can see in the letter, below, from Superintendent Ken Slentz, most of the water sources which contain levels of lead above that which the EPA sets as a maximum are in areas not typically accessed for drinking water. The water to those sources has been turned off. These signs will be used to identify the sources and will be removed only when the problem is fixed and the water has been retested. Also attached to this link is fact sheet from NYS in regards to water in our schools. Dear SCS parents and community members – as follow up to our reports on the water testing that we have ...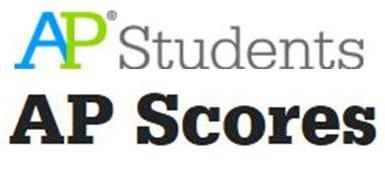 AP Scholar Awards!:

Seventy-seven Skaneateles High School seniors and recent graduates (from the Class of 2016) have earned AP Scholar Awards in recognition of their exceptional achievement on AP Exams. Three of the 2016 graduates earned the additional designation of National AP Scholar. The three National AP Scholars – all now off at college – are Dominic Grasso, Aimee La France and Vincent Viego. National AP Scholar is granted to students in the United States who earn an average score of at least 4 on all AP exams taken, and scores of 4 or higher on eight or more AP Exams. The AP ® Scholar Awards recognize high school students who have demonstrated exemplary college-level achievement on AP Exams. About 22 percent of the 2.2 million students worldwide who took AP Exams performed at ...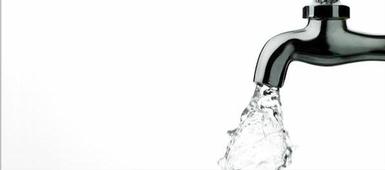 Superintendent's letter addresses water test report:

Dear SCS parents and community members – as follow up to our reports on the water testing that we have been conducting over the course of the past several months, I wanted to update you on the latest results from the Waterman and State Street buildings. Similar to our findings earlier in the year, we have a number of water outlets which contain levels of lead above that which the US Environmental Protection Agency sets as a maximum. If a water outlet exceeds this level, the district is required to take immediate action and either disconnect the source, replace the fixture, and/or clearly label it as non-drinking/cooking water. These actions are already underway in the 30 areas that tested above the EPA level. Those areas are: 12 outdoor faucets which require ...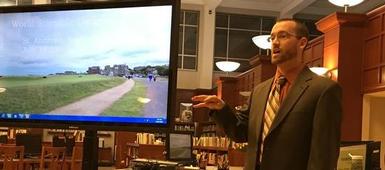 Teacher thanks SEF, Graham family:

On the night that the Skaneateles Education Foundation celebrated the legacy of exceptional elementary teacher Jean Graham, Skaneateles High School teacher Brian Sevey talked about an experience that enriched him as a teacher. Sevey was the 2016 Jean Graham Fund grant recipient. He presented to the board of the SEF and the Jean Graham Fund committee which funded his transformative travel experience to The World Scientific Congress of Golf (WSCG) in St. Andrews, Scotland in July. Sevey teaches HS Math and AP Statistics, and coaches boys varsity golf. In his AP statistics class, Sevey spins in his personal interest, teaches students how to interpret data, and challenges them to think differently about the world around them through the lens of data and statistics. He ...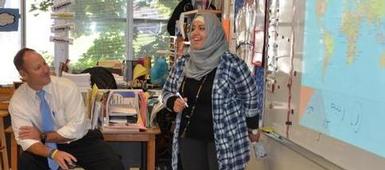 Mother's visit enriches classroom:

Zubaidah Alkhazraji visited her daughter Maryam's fourth grade class at State Street School recently to speak about the culture, religion and customs of Iraq. The family moved to Syracuse from Baghdad in 2014 to flee ISIS. They moved to Skaneateles before school started this fall. In addition to Maryam, the family includes a daughter in fifth grade and twin boys in second grade. She thanked teacher Pete O'Connor "for giving me this great opportunity to share with you our culture and religion. We are really happy to share with you." As she began her presentation, she focused on the similarities between Christians and Muslims rather than the differences. The foundations involve "taking care of each other and treating ...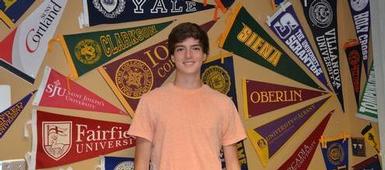 Students score at top in nation:

Skaneateles High School junior Alex Wulff has been named a semifinalist in the 62nd annual National Merit Scholarship Program. He is one of about 16,000 semifinalists from around the country, according to the National Merit Scholarship Corporation (NMSC). In addition, five other Skaneateles High School students have been named Commended Students. Wulff and the other semifinalists have an opportunity to continue in the competition for some 7,500 National Merit Scholarships worth about $33 million that will be offered next spring. This means Wulff is in the top one percent of scorers out of the 1.6 million juniors in more than 22,000 high schools who took the 2015 Preliminary SAT/ National Merit Scholarship Qualifying Test (PSAT/NMSQT®), which served as an initial screen ...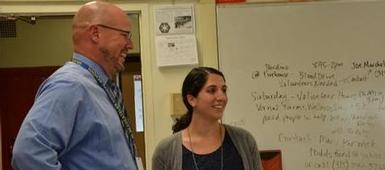 Superintendent speaks to seniors:

The picture at top left shows how some ceilings in the high school are unfinished this year. The district is between two phases of a renovation that is taking place over two summers. Superintendent Ken Slentz was a guest speaker in the social studies class of Alanna Kramerson recently. She invited him to discuss how the role of superintendent fits into local government. His lively interactive visit included discussions about the function of a school board as well. He noted that the seven board members are elected and serve without pay, serving three year terms. Does the board hire and fire teachers? "No," he said. "They hire one person. The superintendent." The superintendent recommends/hires everyone else ...
<< Previous Next >> Viewing 361 - 380 of 513 stories