District News
<< Previous Next >> Viewing 381 - 400 of 514 stories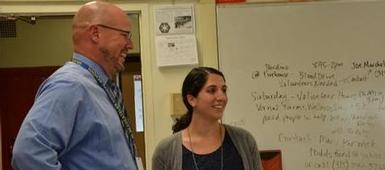 Superintendent speaks to seniors:

The picture at top left shows how some ceilings in the high school are unfinished this year. The district is between two phases of a renovation that is taking place over two summers. Superintendent Ken Slentz was a guest speaker in the social studies class of Alanna Kramerson recently. She invited him to discuss how the role of superintendent fits into local government. His lively interactive visit included discussions about the function of a school board as well. He noted that the seven board members are elected and serve without pay, serving three year terms. Does the board hire and fire teachers? "No," he said. "They hire one person. The superintendent." The superintendent recommends/hires everyone else ...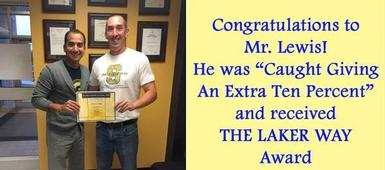 Look who was "Caught Giving Their Extra Ten Percent":

We're all doing it, but please join us in congratulating the staff member nominated for The Laker Way award for September 2016! Doug Lewis! I nominate Doug Lewis for the Laker Way Award! Doug is the first teacher in the building every day. He is constantly giving up time before homeroom and during his planning periods to work with kids who are struggling. Activity period? Forget about it…Lewis' room is always packed with kids. The guy teaches 10 periods a day. That's an extra two-thirds by my count! Doug Lewis is the embodiment of The Laker Way!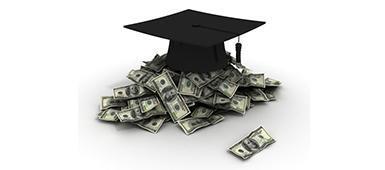 Financial Aid Night is Monday, September 19th!:

Our Financial Aid Night will be held on Monday, September 19 th at 7:00pm in the high school auditorium. Mr. Mike Pede, Director of Financial Aid at Mohawk Valley Community College, will discuss the financial aid process in detail and answer any questions you may have with regard to the changes in the process. His updates have proven to be invaluable to the Skaneateles parents over the years. You can also visit the Federal Student Aid website at https://studentaid.ed.gov/sa/fafsa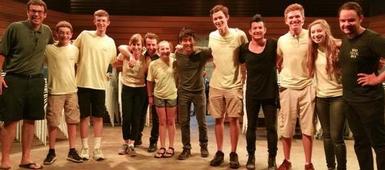 Festival inspires with music; internships:

Some (not all) of the kids who volunteered, or interned, or shadowed at the Festival. The new state-of-the-art light and sound system inside the Robinson Pavilion at Anyela's Vineyard did more than produce beautiful music for the Skaneateles Festival this summer. It helped create greater opportunities for students and stronger links between the festival and the Skaneateles Central School District. A group of student interns and volunteers had close-up real world exposure to sound engineering while also meeting some of this country's best classical and jazz musicians. Five students had paid internships, and were able to do quite a bit of shadowing in the industry while also being paid to help pull off logistics for the festival in its new venue. ...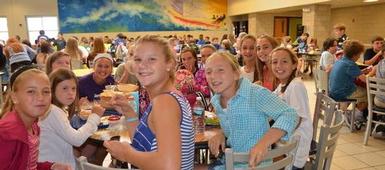 News from the school cafeterias:

Dear parent, Welcome to the 2016-17 school year. We are writing this to help your child's school lunch experiences be healthy, happy and glitch-free. Please read this to learn how to best use our meal account program and how to encourage healthy eating. In addition, learn about the Free and Reduced Lunch Program and how to find out if you qualify. My School Bucks In addition to purchasing food with cash each day, students can use a pre-pay system called My School Bucks which eliminates the need for carrying money (and remembering it every day!). The online payment service provides a quick and easy way to add money to your student's meal account using a credit/debit card or electronic check. This is NOT a charge program. Rather, parents put ...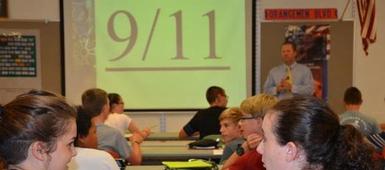 Lessons about 9-11-2001:

What does 9/11 mean to eighth graders who weren't alive on that day in 2001? Skaneateles Middle School Social Studies Teacher Jim Ryan asked his students to share words that came to their minds: Heartbreaking, horrific, tragic, awful, evil, terrifying. He then showed them the video "The Man in the Red Bandana" and they added these words: United, heroic, honorable, brave. The film features Welles Remy Crowther (May 17, 1977 – September 11, 2001), an American equities trader known for saving at least a dozen lives before losing his own that day. Andrew Donovan of NewsChannel 9 captured the conversations in one of Ryan's classes. His report will air tonight (Friday, September 9) at 5, 5:30 or 6 p.m. Donovan wanted to ...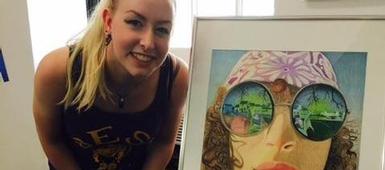 Artist wins first place at the NYS Fair:

T his piece by Mary Lambdin won first place at the New York State Fair. This is the same piece that was selected for the Art in the Park poster in Auburn this summer. Read about this, and other art news, in the Skaneateles Art Room blog by Jessica Sawchuk, linked below. Scroll through and see great works by students that you may have missed last year as well. http://skaneatelesartroom.weebly.com/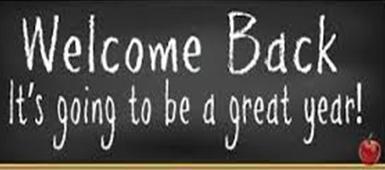 Welcome Back!:

What a beautiful summer we have had! It's hard to believe that summer is quickly coming to an end. We are looking forward to welcoming everyone back to school on Wednesday, September 7 th . I would like to pass along some helpful points of information: RENOVATIONS to our classrooms, corridors and common areas are still ongoing and students may see some unfinished concrete floors and ceilings upon returning to school. This will not affect the functionality or safety of those spaces. SCHOOL SUPPLIES were posted on our website in mid-July. We hope this has allowed you to get a jump on purchasing supply items. SCHEDULES will be mailed out on Thursday, September ...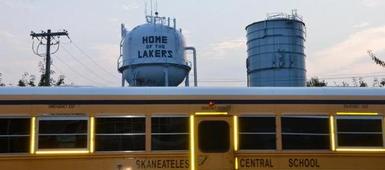 District reviews water study results:

District shares water test results Results of water testing in Skaneateles Schools have been received – and are largely what the district would have hoped. However, the district is taking continued action based on a few areas of concern, Superintendent Ken Slentz said in a letter to the community. The district was prompted to do the testing after news of recent drinking water issues in surrounding districts and districts outside of New York State. "These issues prompted us to test our own school water for lead and copper following the guidance of the Environmental Protection Agency (EPA). As noted in last month's communications, this testing was completed in mid-June and we have recently received the results," Slentz said. "While the vast majority of the ...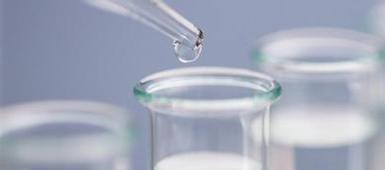 Water Testing:

Click HERE to read about the District's proactrive approach to water testing.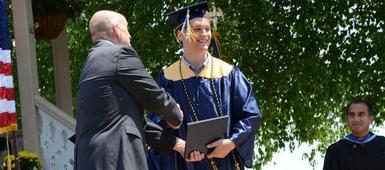 Evan Bille's graduation speech:

When I first started writing for Skaneateles Life , I didn't think a monthly magazine about a single town could survive for very long. It was inevitable that we'd run out of Hockey and Lacrosse stories eventually, and the magazine would fold. But over the past two years, Skaneateles Life has not only survived, it's thrived. It's told the unique stories of neighbors, musicians, and volunteers from across this community. Over time, I've realized that everyone has a story to share, and it's those stories that we all share that bring our community together and make it unique. Photo by Leah King Now I'm not talking about the stories like how I caught my first Smallmouth Bass. It's an exciting story, but I'm talking ...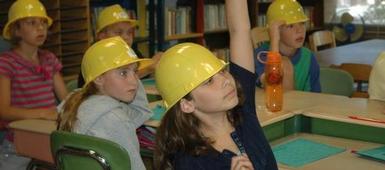 Summer renovations:

Remember when? These photos were from the renovation project at State Street School in 2008. Now: Elaine MacLachlan with the blueprints. Crews are busy working in the High School and Middle School this summer, as part of a Capital Project approved by voters in May of 2015. The project involves improvements to portions of the buildings that have not been updated since the 1950s. This two-step project (over two summers) involves asbestos removal, heating upgrades and safety upgrades. Asbestos and asbestos-related materials must be removed before upgrades can be made to lighting, ventilation, and heating, for example. Things like smoke detectors and ceiling mounted projectors could not previously be ...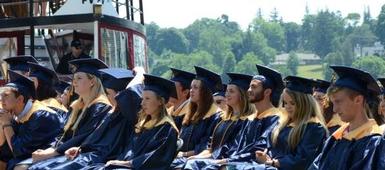 Salutatorian tells what matters most:

After welcoming everyone to graduation, Salutatorian Aimee La France said this about education: At the end of my junior year I was seeking the advice of Dr. Blair about next year's courses. For those of you who don't know, he's the slightly intimidating, incredibly sarcastic director of technology who has a knack for making you feel quite foolish. Unsurprisingly, he and I get along very, very well. So we're discussing my course selections, and he brings up AP physics. My response was something along the lines of, "No way in hell, Dr. Blair." When asked why, I earnestly lamented my fear of inevitable stress and jeopardizing my GPA. His response was one full ...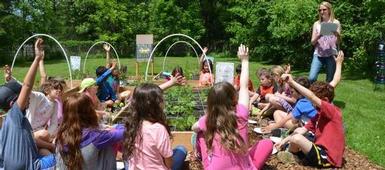 How does your garden grow?:

By Jason Gabak, Skaneateles Press At State Street Elementary School, not far from the playground, a patch of land has found a whole new use. Through the diligence of Skaneateles resident and State Street parent, Ashley Palmer, this space is now dedicated to a third grade garden. Palmer brought the idea with her when she and her family moved to Skaneateles two years ago from Virginia. "My daughter's school was already doing this in Virginia," Palmer said. "When we moved here I thought this would be a great idea to do here." It didn't take long for Palmer to find others who were responsive to her idea. She spoke with Heather Carroll, executive director of the Skaneateles Education Foundation and before long she was awarded $500 through ...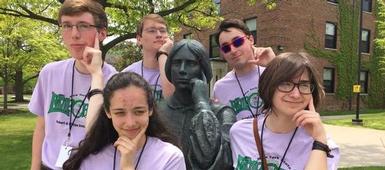 Tradition strong for Envirothon:

The Skaneateles High School Envirothon team placed second out of 52 top teams in New York State at the NYS Envirothon at Hobart William Smith College in Geneva late in the school year. To compete at states, teams had to face and win fierce competition at the county or regional level. The Skaneateles team "OG's of Species" placed first in Onondaga County and first place in the five-county region at the 2016 CNY Regional Envirothon in April before progressing to the state finals and placing second. The team includes Elyse Dubois, Vincent Viego, Juliana Prendergast, Evan Bille and Dominic Grasso. "This is a great accomplishment" said teacher and Envirothon advisor Rick Garrett. Skaneateles has long fielded at least two strong teams a year ...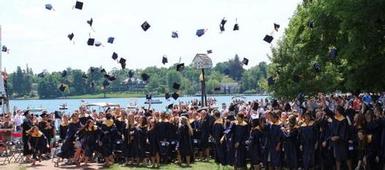 End of Year Video:

After reviewing some wonderful stories from the past year and honoring those that are retiring, Superintendent Slentz shared this video with the faculty, highlighting the seniors and many of the wonderful happenings throughout the year. Photo credit for the graduation picture: Maddy Brogan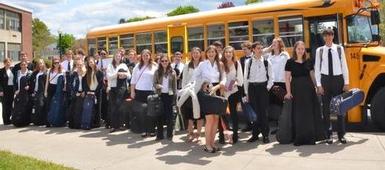 Reflections on the Class of 2016:

Reflections and a Letter: To the Class of 2016 by Karen Veverka Last night, I said good-bye to the class of 2016; the Skaneateles High School Orchestra Class of 2016, that is. How do you say good-bye to a class that has been extraordinary in your classroom for seven years? Teachers don't have it easy these days. Music teachers who strive for excellence can be easily discouraged by a worldly view of music as a common and unnecessary frill. However, the class of 2016 would make the teacher of any subject feel like the luckiest person in the world. I had the privilege of teaching the orchestra class of 2016 for seven years. The psychologists say we fall in love with someone who reflects our own image. ...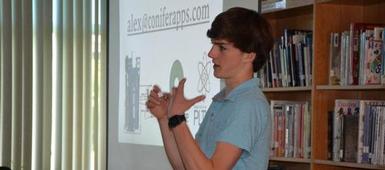 Alex Wulff inspires seventh graders:

Skaneateles High School Junior Alex Wulff inspired seventh graders during a presentation in the library during the last week of school. He spoke to the entire grade about science fair projects, inventions, high school technology classes and more. Wulff has been the winner of the Central New York Science & Engineering Fair the past two years and has won awards at the Intel International Science and Engineering Fair both times. At the international fair in Phoenix, Arizona, this May, Wulff was named the international fourth-place Intel ISEF Grand Award winner in the Embedded Systems category. That's the same award Wulff won at the 2015 Intel ISEF event. Wulff also won the Patent and Trademark Office Society Special Award. He told students how he started participating ...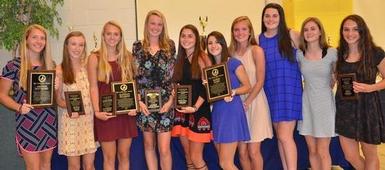 Senior Athlete Awards:

One night each June, administrators and coaches get together to honor athletes of the senior class. These are coveted awards because they usually show how a student went beyond excelling in one sport, to excel in two or more sports and to inspire team mates. Skaneateles has many gifted athletes who also are recognized at sports banquets throughout the year for their skills and character. At the annual Senior Awards Presentation Tuesday in the cafeteria, coaches gave moving speeches about athletes who stood out even beyond that. The students of certain awards now have their names engraved on tall trophies that display the names of similar stars through the years. The awards: Victory Sports Medicine award to Katelyn Ellison and Sam Duggan. This award is presented to the athletes ...
<< Previous Next >> Viewing 381 - 400 of 514 stories