Reopening Information - Friday, July 31, 2020
Superintendent Knuth's Reopening Plan Letter - Friday, July 31, 2020
Dear Skaneateles family,
On behalf of the faculty, administration, and Board of Education we would like to express our sincere appreciation for the level of feedback
we received throughout this process including thoughtful emails, letters, phone calls, surveys, meetings with community members and task force meetings.
To View Superintendent Knuth's full letter, please
click here!
---
Full Reopening Plan
Skaneateles Central Schools has finalized its comprehensive return to school plan. The plan is to have all students in grades K-7 provided with in-person instruction every day. Students in grades 8-12 will be assigned to one of two groups: Blue Team or Gold Team. Each team will receive 2 days of in-person instruction and 3 days of remote instruction. The District is prepared to offer remote learning opportunities to all students who elect for that option and if/when circumstances mandate a school-wide closure. For our students with disabilities and English Language Learners, additional in-person instructional opportunities will be offered. Additional information will be communicated throughout the summer.
To view the full plan, please
click here!
---
Reopening Schedule Guide
Skaneateles Central Schools has created a helpful guide showcasing the proposed reopening schedule. The guide can be found below or by clicking here!
---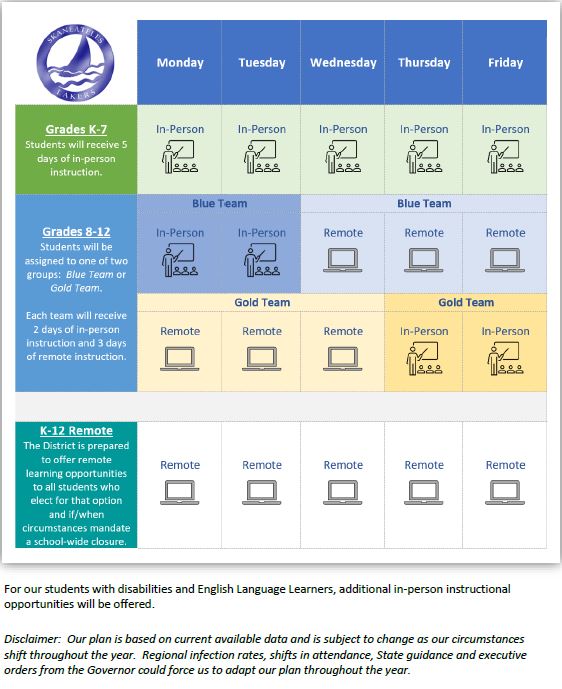 ---