District News
<< Previous Next >> Viewing 321 - 340 of 620 stories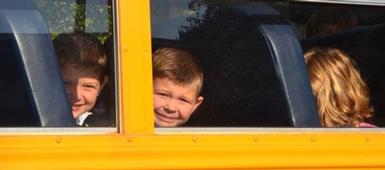 School Board President: "Let's Talk About Buses":

Let's Talk About School Buses - Susan Greenfield Murphy As I continue to work on understanding my role as the president of the school board and the many operational pieces of the district that go into our management structure, I had the opportunity to visit our bus garage recently during a state inspection. Now, I hear you; this is hardly an exciting topic of conversation! I would usually agree. But I have to say, I was blown away by what our bus mechanic, Bruce Freeman, has to do with each bus to get it to pass inspection! Right at the first handshake from Bruce, he said, "Those are MY kids on the buses, and I want them to be safe." I appreciate and respect the ownership and pride Bruce takes in making sure EVERY child is safe, and he is willing to go the "extra ...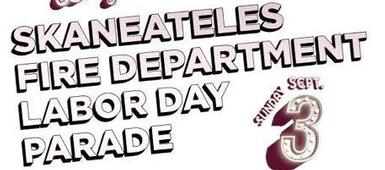 State Championship Athletes to be Honored:

SKANEATELES, NY (August 17, 2017) – Skaneateles High School's State Champion student athletes will be honored in this year's annual Skaneateles Fire Department Labor Day Parade on Sunday, September 3. The Girl's Varsity Ice Hockey team and Lacrosse team will be recognized as well as State Champion hurdler, Raenah Campbell. The Skaneateles Girl's Varsity Ice Hockey team completed a perfect season in February by winning the state title over Orchard Park, 5-1. Just months later, the Skaneateles Girl's Varsity Lacrosse team won another state title thanks to an overtime goal from senior Kyle Sears, giving the Lakers a 12-11 victory. Several area businesses, community groups, and a host of antique and classic tractors and cars will join Skaneateles ...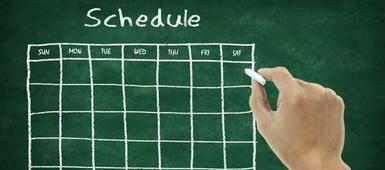 High School Scheduling Information:

Dear Parents/Guardians, I hope you are having a great summer and are looking forward to the first day of school on September 6 th . Student schedules will be mailed out on Friday, September 1 st and will include homeroom and locker assignments. They will also be available to view and print from your School Tool account on Sept. 1 st . Freshman students will receive their schedules at Freshman Orientation on Monday, August 28th . Why aren't schedules sent out sooner ? – Scheduling is a very lengthy and complex process with many moving parts. Counselors are tasked with making sure their students have the courses they want to take, fitting them into the periods where they are offered and then making sure classes are not overloaded. ...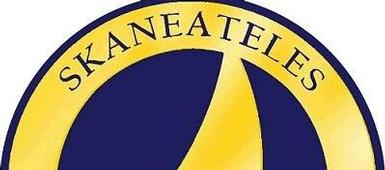 Kochan Wins Hilbert Memorial Optics Competition:

Nicholas Kochan, class of 2013, recently won an optics design competition. Nicholas graduated in May from the University of Rochester with a degree in optics and is now continuing there in their PhD program. Click the link below to learn more about this impressive accomplishment! CLICK to Learn More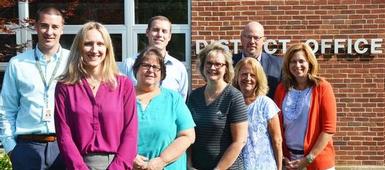 Updates From the District Office:

Dear SCS parents and community members: Hoping this finds each of you well and enjoying a Central New York summer with all that it brings with it. As we have rounded the corner of the halfway mark of our summer, I wanted to provide you with a few updates regarding the goings-on within the district and in our schools in particular. 1. ENROLLMENT INCREASES/ BUILDINGS AT CAPACITY/DISTRICT & BUSINESS OFFICES RELOCATED : As many of you may be aware, due to an increase in kindergarten enrollment for the upcoming school year, we have moved our district offices back to our previous location, 45 East Elizabeth Street. Both the Waterman and the district office buildings are now at full capacity. In addition to kindergarten, ...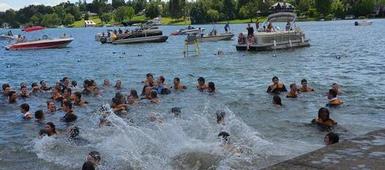 Class of '17 Grads Make a Splash in The 74:

This article is one in a series at The 74 that profiles the heroes, victories, success stories, and random acts of kindness to be found at schools all across America. Read more of our recent inspiring profiles at The74million.org/series/inspiring . With gowns flowing behind them, more than 100 new graduates of Skaneateles Central High School in upstate New York placed their own spin — or flop — on a long-standing tradition of jumping into Skaneateles Lake immediately following commencement.... Read the article at the following link: CLICK HERE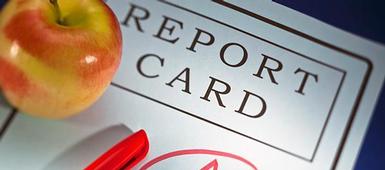 High School Report Card Information:

High School Report Cards Starting with the 2017-18 school year, Skaneateles High School will no longer print and mail home paper report cards. Instead, following the end of each marking period, parents will be notified via School Messenger when their child's report card is ready to view in the School Tool Parent Portal. Parents will be able to continue to track their student's progress on a regular basis in the Parent Portal. The report card, when available for viewing, will look exactly like the report parents are accustomed to seeing arrive home in the mail. It will include the student's final grades for the marking period, as well as teacher comments. It can be printed from any computer. Parents ...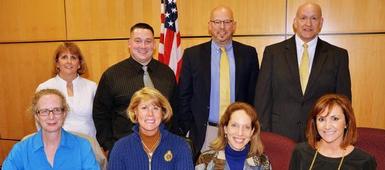 Letter from Board President - Susan Murphy:

Writing this in August is a shock knowing that September is only 4 weeks away! But that said, Welcome to Fall, and to a new school year. My name is Sue Greenfield Murphy, this year's School Board President. Let me introduce myself to you. I am a native of Skaneateles, grew up on a farm, and am a 1980 graduate of Skaneateles School. Three generations of my family have been through the Skaneateles School system and my two sons, David and Matthew, and several Greenfield/Card nieces and nephews who are currently enrolled now make generation number four! My mother, Barb Greenfield, was the school nurse for many years in the Middle and Waterman schools. I graduated from Mohawk Valley Community College with A.A.S. degree. I started work in Syracuse ...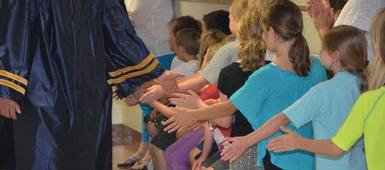 As Seniors Graduate,New Kindergarten Class Enrolls:

Recently, graduating seniors took the Laker Way Walk, visiting K-2 students at Waterman Primary School. As our seniors' tenure comes to an end, a new class of Kindergarten students is ready to begin. SKANEATELES, NY (June 29, 2017) – With the 129 student Class of 2017 having officially graduated from Skaneateles High School on Sunday, June 25 in Clift Park, an all-new Kindergarten class is ready to move into Waterman Primary School along with new elementary principal, Christopher Casler-Goncalves. Based on an increase in enrollment in this year's Kindergarten class, Waterman Primary School will see a few logistical changes within its halls. In order to accommodate the additional new kindergarten classroom, along with some other exciting ...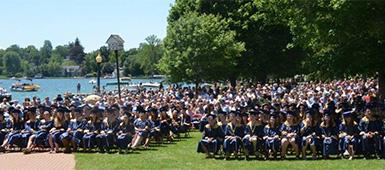 Scholarship Listing 2017:

SCHOLARSHIP LISTING 2017 THE KERRI CARD SCHOLARSHIP: The family and friends in memory of Kerri Card, have established this scholarship. One award in the amount of $1,000 is being given to a hard working student who loves sports and is pursuing a career in the "helping" profession. This year's recipient is: REBECCA ROTTGER THE LESLIE K. FELDMANN MEMORIAL SCHOLARSHIP: This scholarship has been established in memory of Leslie Feldmann, a 1982 Skaneateles graduate. Leslie was a woman of substance who had a passion for medicine dedicating her life to caring for critically injured or ill patients as both an intensive care nurse and emergency medivac professional. The winners must be pursuing a nursing ...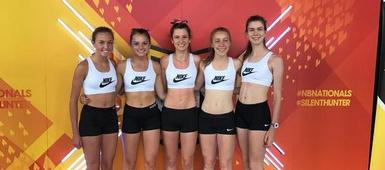 H.S. Runners Take on New Balance National Meet:

Skaneateles High School track athletes Emme Conan, Angela Krause, Maddie Peterson, Mia Grasso, and Julia Willcox set two new school records at the New Balance National Outdoor Track and Field meet in Greensboro, NC. SKANEATELES, NY (June 28, 2017) – Five members of the Skaneateles High School girls track team recently travelled to Greensboro, NC to compete in the New Balance National Outdoor Track and Field meet. The group consisting of Emme Conan, Angela Krause, Maddie Peterson, Mia Grasso, and Julia Willcox set two new school records at the competition. The 800 Sprint Medley Relay team of Conan, Krause, Peterson, and Grasso finished 8 th overall in the emerging elite division with a school record time of 1:49.99. The 1600 Sprint Medley relay ...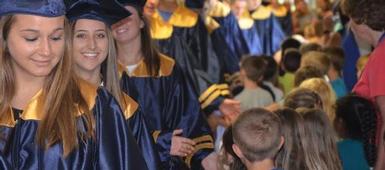 Laker Way Walk PHOTO GALLERY:

The Laker Way Walk: This year, as a part of the Class of 2017 graduation rehearsal, our high school seniors made the "Laker Way Walk" to Waterman Primary School to parade the halls for our K-2 students. For most of our seniors, their SCS journey began at Waterman, and now in a way, it comes to a close. The "Laker Way Walk" was a fitting finish to a great school year, on an absolutely beautiful afternoon!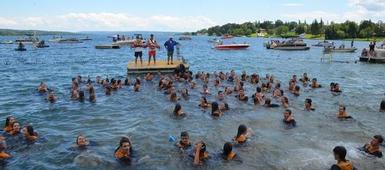 Class of 17 Celebrates with Dip in the Lake:

SKANEATELES, NY (June 27, 2017) – In a tradition for the ages, the 129 student Class of 2017 at Skaneateles High School ended their commencement on Sunday in Clift Park by taking a dip in Skaneateles Lake. As has become tradition, following the presentation of diplomas by Skaneateles Central Schools Superintendent Ken Slentz and the tossing of caps, students immediately charged through the center row of chairs to take their first jump into the lake as Skaneateles graduates. The dip in the cool lake, under bright sunny skies, brought an end to the lakeside commencement ceremony which took just over an hour, recognizing the Class of 2017 and its accomplishments. The afternoon began with the singing of the National Anthem as well as the Skaneateles High School ...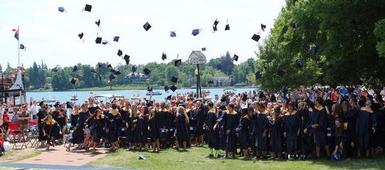 Class of 2017 Commencement - Sunday, 1 p.m.:

Commencement for graduating seniors of Skaneateles High School's Class of 2017 will be 1 p.m. Sunday, June 25, in Clift Park. Here's a list of the graduates in the Class of 2017: Matthew C. Alaniz Josep Ausio Toro Amanda C. Andrews Ryan Christopher Bailey Emily A. Baldwin Collin J. Bales Erica L. Beatson Matthew John Beimel Joseph William Benedict Nikki A. Bennett Matthew Henry Benson Benjamin Geoffrey Blackwell Calvin Geoffrey Blackwell Ashleigh E. Blauvelt Anna Madeline Bohrer Emma Rose Bohrer Madelyn M. Brogan Grace E. Buchholz Cameron Reginald Buell Chloe Kathleen Byrne Erica Elizabeth Byrne Raenah Campbell Joseph Antimo Capozza Katherine R. Carlile Brianna Casper Demitris Christou Emily M. Collins Chase J. Corcoran ...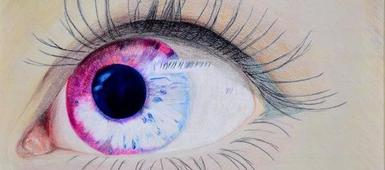 High School Student Work in ART4SKARTS Exhibit:

SKANEATELES, NY (June 21, 2017) – Artwork from four Skaneateles High School students will be featured in the 2 nd annual ART4SKARTS Juried Art Show running from July 13-15 at the Sinclair of Skaneateles, located at 4359 Jordan Rd. Graduating seniors Abbie Scala and Mary Lambdin join junior Madie Rhoad and freshman Emma Keady as Skaneateles High School students featured in the exhibit. Presented by the Skaneateles Area Arts Council (SKARTS), the exhibit features the abundant talent throughout the Skaneateles community from artists of all ages. The mission of SKARTS is to celebrate the visual and performing arts by creating an environment where cultural activity thrives in the Skaneateles community. The organization awards community support grants to artists ...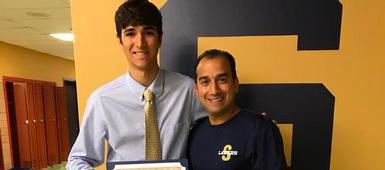 Joseph Capozza Earns COSBA Award:

SKANEATELES, NY (June 16, 2017) – Senior Joseph Capozza was selected as the Cayuga-Onondaga School Board Association Award recipient for the Skaneateles High School Class of 2017. Capozza will attend UC Berkeley in the fall where he will study Chemical Engineering. "Joe exemplifies "The Laker Way", said Skaneateles High School Principcal, Gregory Santoro. "He gives 100% of himself in everything he does by demonstrating the qualities that Skaneateles High School strives to instill in its students. We wish him the very best of luck and hope that he will return now and then to share his many successes with us." Described as intelligent, enthusiastic, organized, passionate, and genuine; Capozza's work ethic and attitude ...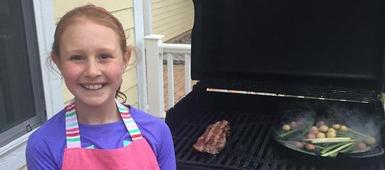 Raegan Frash to Appear on Kids BBQ Championship:

SKANEATELES, NY (June 15, 2017) – Raegan Frash, a State Street Elementary fourth grade student from Skaneateles, will be featured on the Food Network's Kids BBQ Championship on Monday, June 19 at 8 p.m. Hosted by Food Network stars Damaris Phillips and Eddie Jackson, the Kids BBQ Championship pits young grill masters up against one another for a chance to win $10,000. Frash, who has always loved to watch cooking shows, decided one day to go onto the Food Network website and see how to become a contestant. "They were casting for Kids BBQ Championship Season 2 when I logged onto the website," said Frash. "After applying I had to do many phone interviews and Skype interviews. One Skype session involved me preparing and grilling ...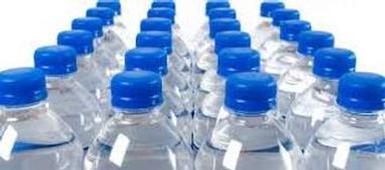 Waterman Parents: Water Update as of Wednesday:

Attention Waterman Parents: We will once again be using bottled water today as we have not yet received the go ahead to utilize our drinking fountains/water stations. With this in mind, thanks so much for your tolerance of and assistance with keeping us moving yesterday. From my observations it was quite seamless. Also, I wanted to make you aware of the actions that we are taking to ensure the health and safety of your kids and you while in the building. 1. Water testing - fo ... llowing Department of Health protocols, we are testing the potable water sources to ensure proper water purity. 2. Mold prevention - we have a 3 stage process set up with the first stage - dehumidification - already underway. The next stage - sanitization (fully eco-friendly) will take place once ...
<< Previous Next >> Viewing 321 - 340 of 620 stories