District News
<< Previous Next >> Viewing 121 - 140 of 513 stories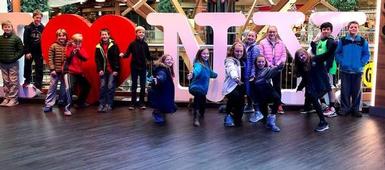 Coding Exploration Day Offers New Experiences:

SKANEATELES, NY (December 21, 2017) – Several Skaneateles Middle School 6 th grade students took part in Coding Exploration Day on Tuesday, a field trip offering insight into new programming technology. Accompanied by Heather Buff, Paul Blair, Kelly Gunderson, and Scott Stagnitta of the Skaneateles Central School District, students began their day in the middle school library investigating the Apple Swift program. Apple Swift is a general-purpose, multi-paradigm, compiled programming language developed by Apple for iOS, macOS, watchOS, tvOS, and Linux. Following that investigation, students boarded a bus for Destiny USA to explore the Microsoft technologies available at the Microsoft Store. Once there, the group ...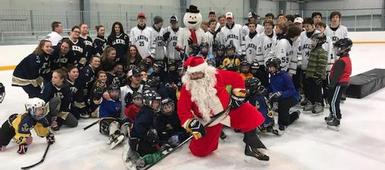 Skate with the Lakers Supports Local Food Bank:

The Girls and Boys Varsity Hockey team want to thank everyone for coming to skate last night, including some very special guests! And a special thank you for supporting the Skaneateles Ecumenical Foodbank! Happy Holidays!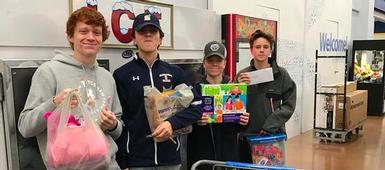 SHS Students Give Back through Outreach Center:

SKANEATELES, NY (December 20, 2017) – For the second year in a row, six Skaneateles High School students have adopted a family at Christmas through the Skaneateles Outreach Center. Students Gavin Cheney, Alex Goethe, Brendan Powers, Andrew Neumann, Max Wamp, and Ryan Willard have been working for over two months doing various jobs to raise money in order to go on a shopping trip for their adopted family. The boys kept busy winterizing a family's home, stacking wood, doing yard work, and cleaning, earning the money needed to give a family in need a special Christmas. Jacque McConnaghy, the Skaneateles Outreach Coordinator, says that these six Skaneateles students stepped up to become the only group of students ...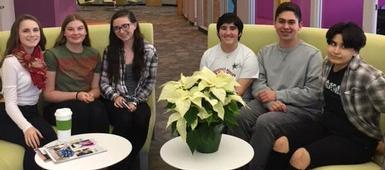 High School Art Students Tour Chase Design:

SKANEATELES, NY (December 20, 2017) – A number of Skaneateles High School art students toured Chase Design in Skaneateles on Tuesday, learning the many different facets of today's design industry. Guided by Skaneateles High School Art teacher Jessica Sawchuk, students in Graphic Design, Studio Art, and Advanced Art spent half the day at Chase on Tuesday visiting with designers and getting a first-hand look at the steps and processes that designers go through to create work for clients. "The students were able to see that design is not just about creating work for print, but for three dimensional aspects as well," said Sawchuk. "Design involves packaging and even how a store is laid out in order to ...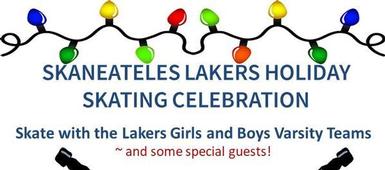 Food Drive Highlights Holiday Skate with Lakers:

Bring a non-perishable food item for the Skaneateles Ecumenical Food Pantry on Wednesday, December 20 and skate with the Skaneateles Lakers Girls and Boys Varsity hockey teams! The skate will take place at Duke Arena beginning at 6 p.m.... see below for more details.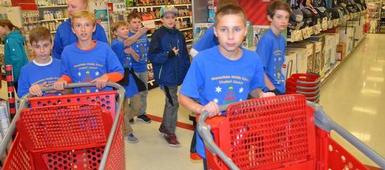 PHOTO GALLERY: Middle School Shopping Spree:

The annual Middle School Holiday Shopping Spree was once again a fantastic success! Check out the photos below from the afternoon as students shopped away at Target in Camillus to help provide a brighter Christmas for kids in need.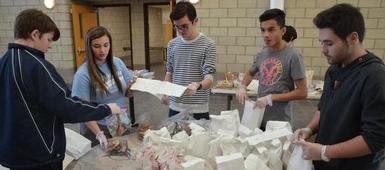 PHOTO GALLERY: Interact Cookie Drive 2017:

The Interact Club was hard at work on Thursday, December 14 packing and collecting the several dozen cookies that were dropped off as a part of their annual Cookie Drive. The drive helped add sweetness to the Skaneateles Outreach holiday gift baskets for area families in need. Thank you!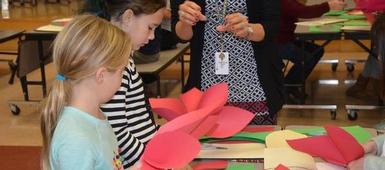 Students Give Back through '12 Days of Giving':

SKANEATELES, NY (December 11, 2017) – Students in Peter O'Connor's fourth grade class at State Street Elementary School in Skaneateles are once again working together this holiday season, giving back to the community through their second annual '12 Days of Giving.' Following the success of last year's '12 Days', O'Connor has rekindled the magic for this year, as he and his students have teamed up with others at State Street to give back to the community for consecutive school days. "From picking up trash at Austin Park, to helping pets, elderly, and the military; my students had some amazing ideas for this year's '12 Days,'" said O'Connor. "Our brain storming and efforts ...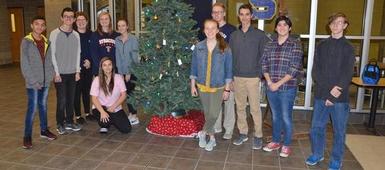 Interact Cookie Drive Adds Sweetness to Holidays:

This event has been POSTPONED until Thursday, December 14. Same time and location. Join the Interact Club for its annual Holiday Cookie Drive as they help to add sweetness to the Skaneateles Outreach holiday gift baskets for area families in need. Donate a dozen (or two) baked or purcahsed cookies and deliver them to the middle school or high school office, or room 206 in the high school on Wednesday, December 13 from 7:30 a.m. to 2:30 p.m. Area churches and other groups may collect in another place and deliver as a group to the Commons area at 2:30 on December 13 or arrange for a pick-up by an Interacter by calling (315) 729-1852. Everyone is welcome to see the magic unfold during the packaging of the cookies beginning at 2:30 p.m. on December 13 in the Commons. ...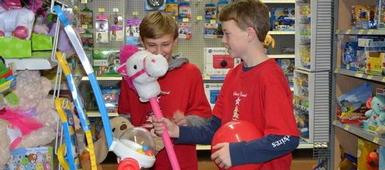 Shopping Spree Postponed until December 14, 3:30pm:

This event has been POSTPONED until Thursday, December 14 due to weather. The event will follow the same time schedule - 3:30 to 5:30 p.m. SKANEATELES, NY (December 5, 2017) – The 17 th annual Skaneateles Middle School Holiday Shopping Spree is set to take place on Wednesday, December 13 from 3:30 – 5:30 p.m. at Target in Camillus, presented by the Central New York Community Foundation and the Skaneateles Middle School Student Council. Thanks to the help of the Central New York Community Foundation and the Skaneateles Middle School Student Council, students will head to Target on December 13 armed with $13,750 to purchase gifts for children who otherwise may not get any this Christmas. The students will be split into ...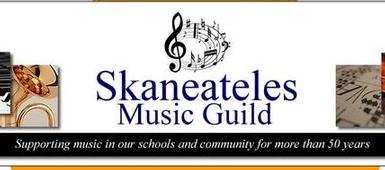 HS Orchestra to Perform at Music Guild Luncheon:

Enjoy some wonderful student entertainment with performances from the SHS Orchestra and get into the Holiday spirit at the annual Skaneateles Music Guild Holiday Luncheon, Wednesday, December 6, 11am at The Lodge. This annual event is one of the major fundraisers for the newly combined Guild and Music Boosters organization which has provided more than $75,000 and countless volunteer hours to the district and community in support of music in the last 3 years alone. Click the link below to reserve a spot. Skaneateles Music Guild Website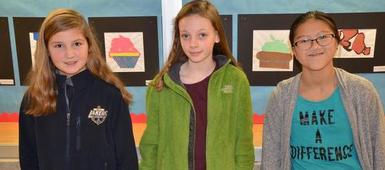 Middle School Students of the Month Announced:

Skaneateles Middle School's Students of the Month for October and November are pictured below! Will Hyatt, Emil Sander, and Nathan Dinello were selected for October while Nora Curtis, Paige Whipple, and Laura Norris were selected for November. Each student was selected by the staff at SMS for having demonstrated positive behaviors including generosity, responsibility, integrity, and trust/honesty. Congratulations to our Middle School Students of the Month for October and November!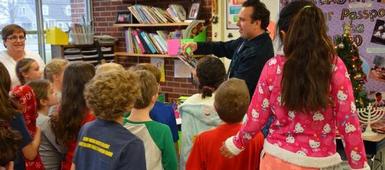 Third Graders Donate to annual Pajama Drive:

SKANEATELES, NY (December 1, 2017) – State Streel Elementary School third graders took part in Scholastic's 9 th annual Great Bedtime Story Pajama Drive on Friday, December 1. Scholastic's Pajama Program offers at-risk children the unconditional, magical gifts of pajamas and books so that they can enjoy the greatest benefit of a loving bedtime and peaceful good night, making for a fulfilling good day. As a part of the program, third grade students and families of State Street Elementary were encouraged to donate new pajamas to the cause. Pajamas of all sizes and for all seasons were welcome as complete sets, a top and bottom or an appropriate nightgown. At the conclusion of the pajama drive Scholastic ...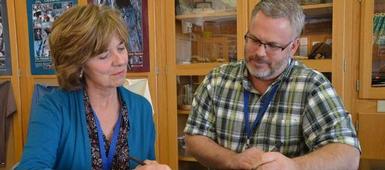 Garrett, Jarvis Accepted to Master Teacher Program:

SKANEATELES, NY (November 29, 2017) – Skaneateles High School teachers Rick Garrett and Maureen Jarvis have been accepted into New York State's Master Teacher Program. The NYS Master Teacher Program network consists of outstanding teachers recognized for their dedication to providing the most innovative STEM education to their students, their commitment to professional growth, and their enthusiasm for sharing their local successful practices with colleagues in their schools, districts, and regions. Currently, there are more than 900 Master Teachers in the program. Both Biology teachers at SHS, Garrett and Jarvis will join the SUNY Cortland Region of the program. As Master Teachers, Garrett ...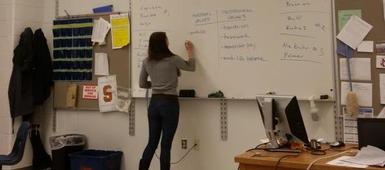 2005 Graduate Returns to Talk Shop with Students:

SKANEATELES, NY (November 28, 2017) – Nancy Menapace Cable, a 2005 graduate of Skaneateles High School, recently returned to SHS to speak with seniors in Matt Slauson's Engineering Design class. Following Mechanical Engineering studies at Northwestern and Syracuse University, Cable is currently working as a senior Engineer at Woodward Inc., an aerospace manufacturing company located in Colorado that focuses on building engines and airframes for companies like Boeing and Caterpillar. Cable spent the period talking with students about what it is like to work as an Engineer and how she went about finding the right job for her. Cable was able to relate to students how the problem solving skills she learned in high school, coupled ...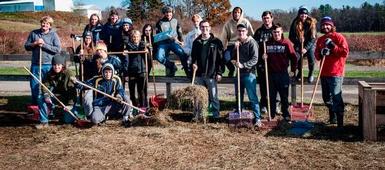 Skaneateles Students Visit Purpose Farms:

SKANEATELES, NY (November 27, 2017) – Students in Rob DeMass's SUNY Albany class at Skaneateles High School recently visited Purpose Farms in Baldwinsville, NY, performing community service for a great cause. Purpose Farms is a family run farm that provides a nourishing and responsible environment for youth in the foster care system. Children come to the farm to help with chores, groom animals, and most importantly, build positive relationships that they might not be getting at home. All animals on the farm are rescue animals from the local area. Following a session of goat yoga, students went off to the fields to put in several hours of work that consisted of clearing fields of used hay and horse manure. ...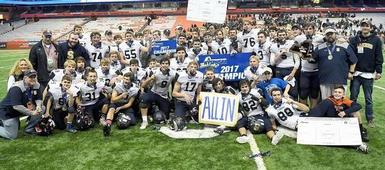 Skaneateles Football wins First State Championship:

SKANEATELES, NY (November 27, 2017) – Skaneateles High School Football's magical run came to a fitting conclusion on Friday evening as the Lakers held off Holy Trinity by the score of 28-25 to secure their first ever New York State Class C Football Championship. Ending the season 12-1, the Lakers stormed through the post season defeating Little Falls, Canastota, and General Brown on their way to the Section III title before topping Newark Valley, Cleveland Hills, and Holy Trinity to become state champions. Charging to a 28-12 lead after three quarters, thanks to the help of three touchdown strikes in the air from Patrick Hackler and a 6-yard score from Areh Boni, the Lakers appeared to be well on their way to victory. However, ...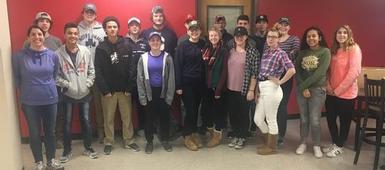 SHS Students Volunteer at Syracuse Rescue Mission:

SKANEATELES, NY (November 22, 2017) – Students in Alanna Kramerson's Participation in Government class at Skaneateles High School recently made a trip to the Rescue Mission in Syracuse to complete community service and learn about the services provided by the mission in the Syracuse area. Following a tour of the campus, the class was broken into two volunteer groups. The first volunteered in the donation warehouse unloading a donation truck, and sorting clothes inside the donation center. The second group volunteered in the food service center. This group helped to package supply bags for Thanksgiving, packaging 400 bags with utensils, cranberry sauce, tea, and sugar. The students then helped to plate and serve 220 people for lunch. "Students ...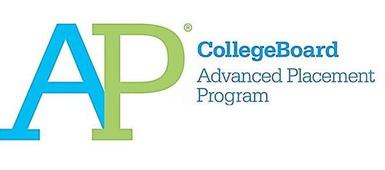 SHS Seniors, Recent Grads Earn AP Scholar Awards:

SKANEATELES, NY (November 20, 2017) – A total of 67 Skaneateles High School seniors and recent graduates have earned AP Scholar Awards in recognition of their exceptional achievement on AP Scholar Exams. Four of the 2017 graduates earned the additional designation of National AP Scholar. The four National AP Scholars – all now off to college – are Ethan Goldstein, Sophie Kush, Anthony Panasci, and Rachel Teixeira. National AP Scholar is granted to students in the United States who earn an average score of at least 4 on all AP exams taken, and scores of 4 or higher on eight or more of the AP exams. The AP Scholar Awards recognize high school students who have demonstrated exemplary college-level achievement on AP Exams. A full listing ...
<< Previous Next >> Viewing 121 - 140 of 513 stories