District News
<< Previous Next >> Viewing 141 - 160 of 617 stories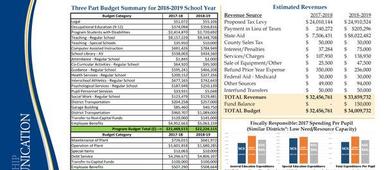 School Board President: Budget Talk:

With only May and June to go, it's hard to believe that we are nearing the end of another school year. It's been said that "Time goes by quicker as one gets older" and I must now admit, I couldn't agree more. It's been a quick year, one definitely not lacking in excitement, and definitely one for learning - for everyone. One area of learning here and across the entire country has been around school safety. Personally, this continues to be a focus for me having grown up, now working, and continuing to raise a family in Skaneateles. We are incredibly fortunate to live where we do. For a long time, we've been able to leave our cars running while dashing into Byrne Dairy, to leave our front doors unlocked, and to leave something ...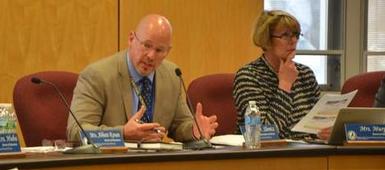 School Budget, BOE Vote Today - 7am to 9pm:

*** The 2018-2019 school budget and Board of Education vote is TODAY (May 15) in the Skaneateles Central Schools District Office located at 45 E. Elizabeth St. The polls are open from 7 a.m. to 9 p.m. Please find further detailed information in the story below as well as at the attached link: http://www.skanschools.org/districtpage.cfm?pageid=1202 SKANEATELES, NY (May 2, 2018) – The Skaneateles Central Schools Board of Education held an informational meeting for the community on Tuesday evening, providing further details on the approved 2018-2019 school budget. The proposed 2018-2019 school budget is set at $34,009,732, a 4.78% increase from the 2017-2018 budget, with a 3.75% anticipated tax levy increase. However, based on ...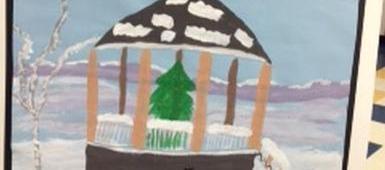 Student Art to be Displayed at Baltimore Woods:

SKANEATELES, NY (May 1, 2018) – Several students from Skaneateles Central Schools will have artwork displayed as a part of the Baltimore Woods Nature Center Student Art Exhibit from May 5-May 25. Artwork from students Erin Guthrie, Lily Datz, Cassidy Pittman, Phoebe Bedard, Avery Ide and Paige Willard will have artwork in the exhibit. An artist reception will be held on Saturday, May 5 from 3-4 p.m. with a ceremony at 3:15 p.m. to celebrate the achievements of the students. Located at 4007 Bishop Hill Road in Marcellus, Baltimore Woods Nature Center is a premiere educational organization that transforms individuals and communities through place-based education by cultivating an abiding love for the natural world, while serving as a model of sensible stewardship. ...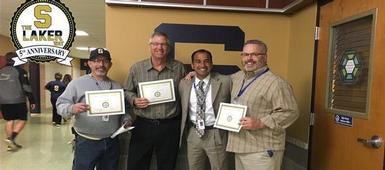 Laker Way Award Winners for April:

We're all doing it, but please join us in congratulating all the staff members who were nominated for The Laker Way award for April 2018! I would like to nominate Dave Brown for being someone that best exemplifies the Laker Way. I have been in a number of Dave's classes as a drop in guest and have noticed a fantastic learning environment. An environment that leads everyone that steps through his door on the path to success. He puts 110% into every lesson that he teaches and shows great passion towards the material and has the students engaged from the start of the bell. I have never been in a classroom where I have seen so much student interaction and student led discussion based off of minor questions that ...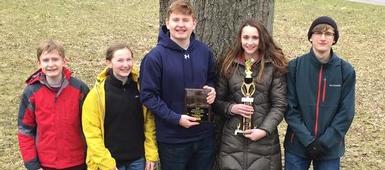 Envirothon Team Advances to State Competition:

SKANEATELES, NY (May 1, 2018) – Skaneateles High School is once again sending a team to the New York State Envirothon competition to be held at Hobart & William Smith Colleges in Geneva, NY on May 23-24. The Envirothon competition tests students' knowledge and understanding of natural resource issues within New York State. The spirit of competition is then used to help stimulate the students' interests in environmental concerns and motivate them to further develop their skills and grow into environmentally-aware, action-oriented adults. The Envirothon is split into county and state competitions. County winners move to the state competition where their knowledge is challenged in five areas: aquatic ecology, forestry, soil and land ...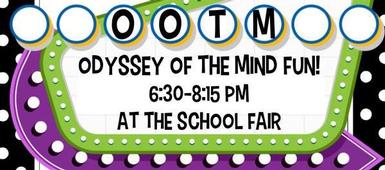 OOTM World Finals FUNdraiser Planned for May 10:

SKANEATELES, NY (April 30, 2018) – The State Street Elementary School Fair is set for Thursday, May 10 from 7:00 to 8:00 p.m. in the school's gym with an Odyssey of the Mind FUNdraiser also planned as a part of the evening. The FUNdraiser will help send State Street's New York state champion Odyssey of the Mind team to the OOTM World Finals at Iowa State University from May 23-26. The State Street Elementary team coached by Beth Moro and Carey Eidel, which includes students Amelia Blados, Heschel Eidel, Matthew Leonardis, Maura Leonardis and Nico Moro, placed first in the NYS Competition with their problem "Mockumentary, Seriously." As a result of their victory, the group now advances to the World Finals in Iowa. This year marks the 39 ...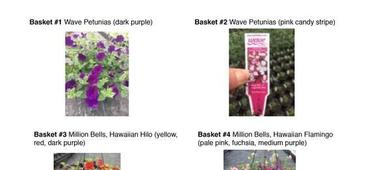 Skaneateles HS PTC Plant Sale Now Underway:

The Skaneateles HS PTC is pleased to offer a beautiful selection of 10" hanging baskets for every kind of sun exposure. They are ideal for Mother's Day, Graduation and Laker events. Orders and payments are due by Monday, May 7. Orders can be picked up in the high school commons on Friday, May 11 between 2:30 and 5:00 p.m. To print an order form click the link - 2018 plant order form.pdf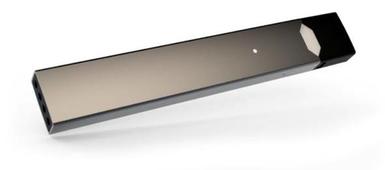 US Agency Cracks Down on Juul E-Cigarette Use:

WASHINGTON (AP) — Federal health officials are cracking down on underage use of a popular e-cigarette brand following months of complaints from parents, politicians and school administrators. The Food and Drug Administration said Tuesday it has issued warnings to 40 retail and online stores as part of a nationwide operation against illegal sales of Juul to children. FDA regulators also are asking manufacturer Juul Labs to turn over documents about the design, marketing and ingredients of its devices. The rare request particularly focuses on whether certain product features are directly appealing to young people. Like other e-cigarettes, Juul is an electronic device that turns liquid — usually containing nicotine — into an inhalable vapor. Thanks ...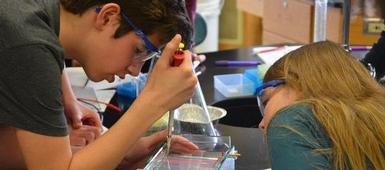 Biotech Day Provides College Level Lab Experiences:

SKANEATELES, NY (April 20, 2018) – A group of 30 students in AP Biology and Honors Biology at Skaneateles High School recently took part in Biotechnology Day, an in-school field trip in which students participated in a college level lab experience to gain awareness of DNA Biotechnologies being used today. The DNA profiling lab that the group completed saw students act as scientists, performing a paternity test for one or two couples. In order to do this, students performed Gel Electrophoresis, a method used to separate and analyze DNA according to its molecular size. This procedure can take as many as six class periods to complete, with parts that are time sensitive, such as enzyme incubation time. "Our goal was to provide students with ...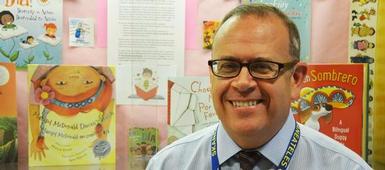 Meet Patrick Brown: Interim Elementary Principal:

To the Parents of our Waterman and State Street Students, I want to take this opportunity to introduce myself. My name is Patrick Brown, and I am incredibly excited to begin my role as the interim principal of Waterman Primary and State Street Intermediate Schools. I am truly honored to work with the children, staff and parents at Skaneateles Central Schools, and while I may know many of you from my roles as elementary assistant principal and curriculum coordinator for the district, I look forward to meeting each and every one of you. If you see me in the buildings, please introduce yourselves. Please be assured that I will work diligently to make sure that the transition is smooth for the children and the teachers. Our staff is an amazing group of ...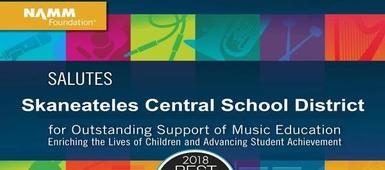 SCS Music Program Receives National Recognition:

SKANEATELES, NY (April 18, 2018) – The Skaneateles Central School District has been honored with the Best Communities for Music Education designation from The NAMM Foundation for its outstanding commitment to music education. The Best Communities for Music Education designation is awarded to districts that demonstrate outstanding achievement in efforts to provide music access and education to all students. To qualify for the Best Communities designation, the Skaneateles Central School District answered detailed questions about funding, graduation requirements, music class participation, instruction time, facilities, support for the music program, and community music-making programs. Responses were verified with school officials and reviewed ...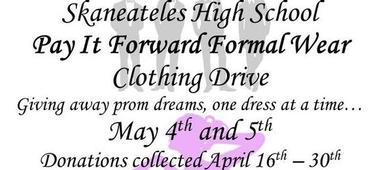 Formal Wear Clothing Drive to Run Through May 4:

Check out the image below for information on the Skaneateles High School 'Pay It Forward Formal Wear Clothing Drive'... Donations are being collected from April 16 - April 30 in the Skaneateles Central Schools District Office, located at 45 E. Elizabeth St.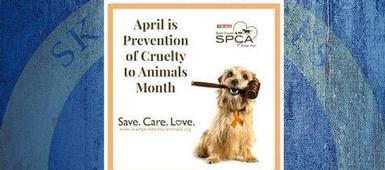 Interact Taking Donations to Prevent Animal Cruelty:

APRIL is PREVENTION OF CRUELTY TO ANIMALS month! Wear ORANGE to raise awareness! The Interact Club at Skaneateles High School is collecting supplies (AND monetary donations) for the local SPCA NOW through Friday, April 20th. Monetary donations should go to the HS office (checks made out to FLSPCA for the Finger Lakes SPCA). Supplies can be dropped off in the main lobby at the HS. Much needed supplies include: Dog/cat food (wet and dry), kitty litter, gently used towels and blankets. We wouldn't mind sharing a treat or toy with our furry friends either :)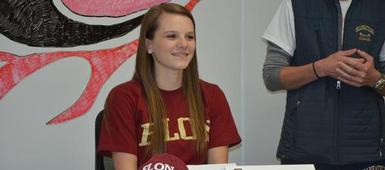 Ciaccio Commits to D-I Elon University for Lacrosse:

SKANEATELES, NY (April 11, 2018) – Skaneateles High School Senior, Christiana Ciaccio, has signed a letter of intent to play Division I Lacrosse at Elon University in North Carolina next season. Ciaccio was an OHSL Liberty League Honorable Mention All-Star last season as a junior, playing as a part of a Lakers squad that won its fourth state championship since 2005 and its second in the last four years. "I am happy to be with Christiana today because of the struggles she has been through," said Skaneateles Girls Lacrosse Head Coach, Bridget Marquardt. "She has been through a lot of illnesses and injuries the last couple years. This is a huge accomplishment for her. She could have thrown in the towel and she didn't, ...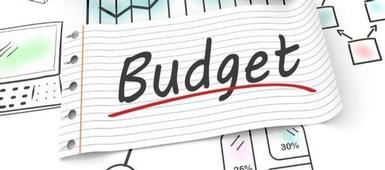 2018-2019 School Budget Approved:

SKANEATELES, NY (April 11, 2018) – On Tuesday, April 10, the Skaneateles Central School District's 2018-2019 budget was adopted by the Board of Education, finalizing the budget adoption process that began in October of 2017. The adopted budget carries an anticipated tax levy increase of 3.75%, although the district's tax cap for this year was 4.44%. State law refers to a "2% tax cap", which is quite misleading, as the actual cap for each district is based on an eight-step calculation that fluctuates from year to year. For example, since 2012 the Skaneateles Central School District tax cap has ranged from a low of .09% to a high of 6.25%. The newly adopted budget maintains and enhances the programming that has been instituted ...
<< Previous Next >> Viewing 141 - 160 of 617 stories