District News
<< Previous Next >> Viewing 101 - 120 of 621 stories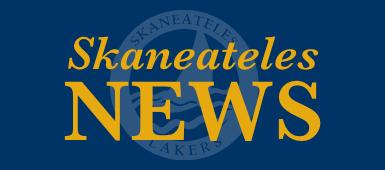 MS/HS Changes to Bell Schedule for 2018-2019:

Dear Parents/Guardians, We hope this email finds you enjoying your summer. We would like to share with you some important updated information regarding our school day and bell schedule for this and future years. Guidance from the State required that we revise our bell schedule, in particular, the number of instructional minutes. In order to ensure that Skaneateles secures all the State aid allowable we must add 10 minutes into our instructional day. We have created our new attached MS/HS bell schedule along with our 1-hour delay, 2-hour delay, and our half-day schedules. The most significant changes you will notice, to accommodate the State mandate, are listed below: Warning bell two minutes earlier at 7:48 a.m. Classes begin in first period at 7:50 ...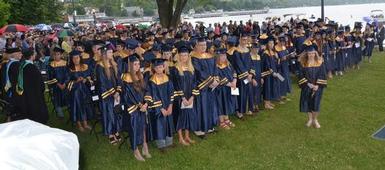 BOE President Addresses Class of 2018:

Due to weather in the area on Sunday, June 24, the Class of 2018 Commencement Ceremony was accelerated to ensure that diplomas were handed out in the most efficient manner possible. As a result, Skaneateles Central Schools Board of Education President, Sue Murphy, was unable to deliver the following address. We wanted to be sure to post Sue's remarks so that the students and families of the Class of 2018 and our community members could share in her thoughts and best wishes! Good afternoon graduates - future alumni! On June 22, 1980, I sat where you are now - the only few things different from then to now are - your gown are much lighter than the heavy curtain-like gowns we wore, we were warned not to jump in ...
SHS Class of 2018 Dives into the Future:

SKANEATELES, NY (June 25, 2018) – In a continued tradition for the ages, the Skaneateles High School Class of 2018 ended their commencement on Sunday in Clift Park by taking a dip in Skaneateles Lake. As has become tradition, following the presentation of diplomas by Skaneateles Central Schools Superintendent Ken Slentz and the tossing of caps, students immediately charged through the center row of chairs to take their first jump into the lake as Skaneateles graduates. Despite gray and rainy skies, the accelerated commencement ceremony recognized the Class of 2018 and its accomplishments alongside Skaneateles Lake. The afternoon began with the Pledge of Allegiance and the singing of the National Anthem as well as the Skaneateles High School Alma ...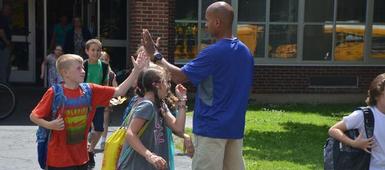 School's Out for Summer: PHOTOS:

Waterman Primary and State Street Intermediate School's let out this morning, bringing the official beginning of summer! Skaneateles Middle School had their last day yesterday, while exams have wrapped up at the high school with only graduation remaining on Sunday, June 24!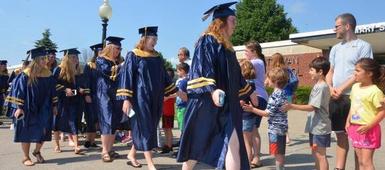 2nd Annual Laker Way Walk - PHOTOS:

On Tuesday, June 21, following graduation rehearsal, the Class of 2018 went on the Laker Way Walk, visiting Waterman Primary and State Street Intermediate students. It was another exciting morning for both the elementary students and the graduates as well as the entire faculty and staff of the schools. Congratulations to the Class of 2018!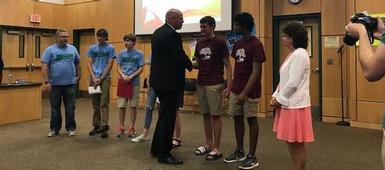 OOTM, Envirothon Recognized at BOE Meeting:

SKANEATELES, NY (June 20, 2018) – The Skaneateles Central Schools Board of Education recently recognized the district's Odyssey of the Mind and Envirothon teams. Students and coordinators of each team were invited to the Tuesday, June 19 Board of Education meeting to tell their story and receive congratulations from current Superintendent Ken Slentz and Board members. In its 21 st year of participation in the New York State Envirothon competition, Skaneateles High School placed third overall of the 45 counties that were represented. The Envirothon competition tests students' knowledge and understanding of natural resource issues within New York State. The spirit of competition is then used to help stimulate the students' interests ...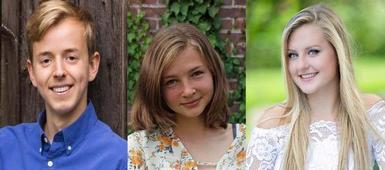 Class of 2018 Commencement Set for Sunday:

SKANEATELES, NY (June 19, 2018) – The Skaneateles community will celebrate the Skaneateles High School Class of 2018 in a lakeside ceremony on Sunday, June 24 at 1 p.m. in Clift Park. This year, 132 students will represent the Class of 2018, as they toss their caps into the air and prepare to leap into the future - college, career and citizenship ready. From the classroom to the stage, in sports arenas and beyond, this senior class has left a lasting impression. Gregory Santoro, Skaneateles High School Principal, describes this year's class as "Demonstrating a true sense of family." Santoro added, "They are loyal, dedicated and inspiring. They live the Laker Way." The 2018 procession will be led by Co-Valedictorians ...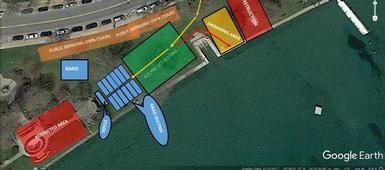 HS Commencement Information - Map Provided:

Dear Parents/Guardians: A s you know, due to construction at Clift Park, we have done our best to keep our ceremony outside. Commencement will take place on Sunday, June 24 th , at 1 pm. The attached map will provide a view of the park and graduates' procession route. Please take note that any seating you wish to set up will be restricted to the area designated on the map; also, no tents will be allowed. We also will ask the public to respect the Shotwell Park Memorial. We are counting on a beautiful day and hope you and your family enjoy the ceremony. Thank you for your cooperation, Greg Santoro and Mike Major Click Below to PRINT Map: GRADUATION 2018.pdf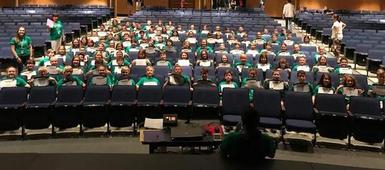 5th Graders Walk Stage as STARS Graduates:

SKANEATELES, NY (June 12, 2018) – Fifth grade students at State Street Elementary gathered on Friday afternoon in the Skaneateles High School auditorium for the 10 th annual STARS graduation celebration. STARS signifies – Students who Think and Act Responsibly Succeed – and gives students guidance in prevention education in relation to drinking, drugs, texting and driving, and other health related issues. The hope for the program is to arm students with the ability to make smart and educated decisions about drugs and alcohol, giving them the knowledge, courage, and determination to be a STAR. Interim State Street Principal Pat Brown and teacher Ellen Wolford opened the ceremony, before welcoming Marianne Angelillo to the stage as the day's ...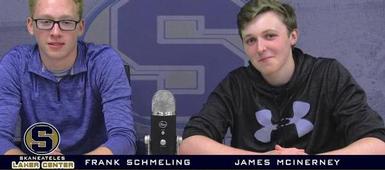 Skaneateles Laker Center Looks Back on Year in Sports:

The Skaneateles High School Broadcast Club is hard at work in preparation for the 2018-2019 school year. To get started, the group decided to revive Skaneateles Laker Center, taking a look back at this past year in sports at SHS. We hope you enjoy today's upload and we look forward to providing more next school year. Looking ahead, the club is searching for students interested in photography, film making, writing, editing and media of all types. If interested in participating in Broadcast Club, please e-mail School Information Officer Dan Kapuscinski at dkapuscinski@skanschools.org.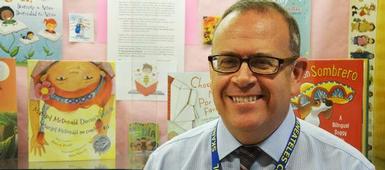 Board Approves Pat Brown as Waterman Principal:

SKANEATELES, NY (June 8, 2018) – During Thursday evening's Skaneateles Central Schools Board of Education meeting the Board unanimously approved the appointment of Pat Brown as Waterman Primary School's principal, effective July 1, 2018. Previously serving as the District's Reading and Humanities Coordinator, Brown has acted as the interim principal of Waterman Primary and State Street Intermediate schools since Christopher Casler-Goncalves resigned in April. "I am happy and proud to continue to serve the staff, students and community of Skaneateles," said Brown. "I would like to thank the Board, Mr. Slentz and the selection committees that had so much faith in my ability to lead Waterman School. I would also like to ...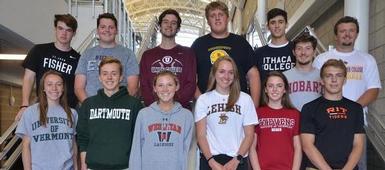 Student Athletes Moving on to DIII Sports:

SKANEATELES, NY (June 8, 2018) – A total of 12 members of the Skaneateles High School Class of 2018 will continue their sports journey at various Division III Colleges and Universities in the fall. Football players Scott Ochsner, Cross Bianchi and Jon Ricklefs will all head further west in New York state to continue playing football. Ochsner will attend SUNY Brockport; Bianchi will head to Hobart College, with Ricklefs set to play for St. John Fisher College. Girls Lacrosse player Abbey Logan will attend Wesleyan University with Boys Lacrosse player Tyler Priest moving on to St. John Fisher College. Track teammates Natalie Condon and Mia Grasso will move on to separate Universities in the fall. Condon will attend Lehigh University with ...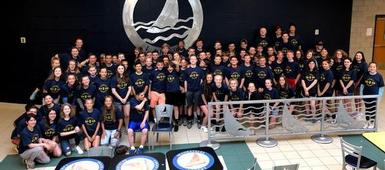 Eighth Grade Makes Lasting Memories at Celebrate 8:

(See below for two Celebrate 8 videos) SKANEATELES, NY (June 8, 2018) – The Skaneateles Middle School eighth grade gathered with family, friends and teachers on Thursday evening to 'Celebrate 8', as they prepare to move on to Skaneateles High School next school year as the Class of 2022. The evening's celebration began at 6 p.m., as students arrived with special Class of 2022 t-shirts that were distributed during the day. Before gathering for dinner, students were welcomed in the High School auditorium by Middle School Principal Mike Caraccio, who presented a special slideshow, student videos and gathered students for a class photo. Pizza, wings and drinks were then served in the cafeteria from 6:30 to 7 p.m. before moving outside ...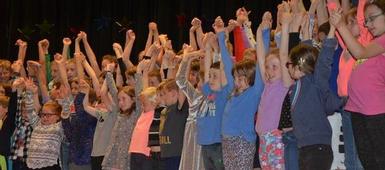 Waterman's Second Grade Farewell Concert:

On Wednesday afternoon, the 2nd grade performed its annual Farewell Concert for students at Waterman School. On Thursday, the group will perform for parents at 2:30 p.m. Once again the students and staff did a fantastic job of sending off the 2nd grade as they prepare to make the move to State Street. Congratulations!
<< Previous Next >> Viewing 101 - 120 of 621 stories