District News
<< Previous Next >> Viewing 101 - 120 of 513 stories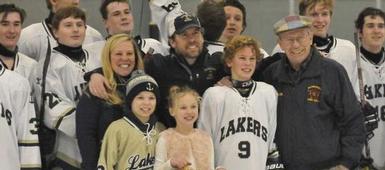 Mr. 300: Coach Major Earns 300th Hockey Win:

Mitch Major has coached the Skaneateles Lakers Varsity hockey team for 18 years, and on Tuesday reached a historic milestone, collecting his 300th career victory with a 6-2 win over Oswego. "You don't think about the wins ... you think about the players and just helping them get better every day," Major said. "It was a nice gesture tonight and I really appreciate it, but there's no way I'd be around this long without the great players and the tradition here in Skaneateles." Click HERE to read the full story from auburnpub.com.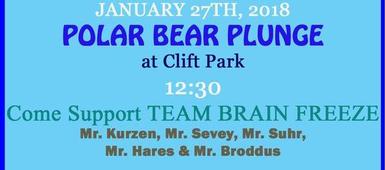 SCS Teachers to take Polar Bear Plunge Saturday:

SKANEATELES, NY (January 23, 2018) – A group of five Skaneateles Central Schools teachers will once again take the Polar Bear Plunge into Skaneateles Lake from Clift Park on Saturday, beginning at 12:30 p.m. Known as Team Brain Freeze, teachers Bob Broddus, Josh Hares, Dan Kurzen, Brian Sevey, and Justin Suhr will all take the plunge benefitting SAVES, the Skaneateles Fire Department and the Skaneateles Education Foundation. Team Brain Freeze has been the top fundraiser in the Polar Bear Plunge for the past five years, raising over $1,600 prior to last year's plunge. Registration for the plunge will begin at 11 a.m. For more information on the Polar Bear Plunge, visit the Skaneateles Polar Bear Club Facebook page. Keep in touch ...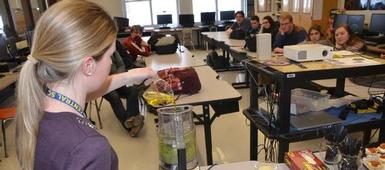 Hydroponics Leads to Pesto at Skaneateles High:

On thursday afternoon School Lunch Director Emily Cullen, visited Scott Stagnitta's Principles of Applied Technologies class, otherwise known as Hydroponics, for a food demonstration. Cullen used the basil currently being grown in Hydroponics to put together a fantastic pesto sauce which was used on pizza and with bruschetta. This served as yet another way that students could see how their work and effort in Hydroponics is put to use in everyday applications. We don't know if a technology class has ever smelled so good!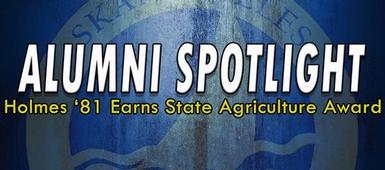 Alumni Spotlight: Holmes Earns Agriculture Award:

Jacqueline (Hole) Holmes, Class of 1981, recently earned the Florida Agriculture in the Classroom's (FAITC) Excellence in Teaching about Agriculture Award for 2018. Holmes uses a school garden to teach her students science, reading, writing, math and engineering. Her students currently have eight tower gardens they use to grow produce for the salad bar in the cafeteria. Her school garden project was such a success last school year that Lake County Schools got a grant to start gardens at 30 other schools in the district. To learn more click HERE to read the full article! Congratulations Jackie!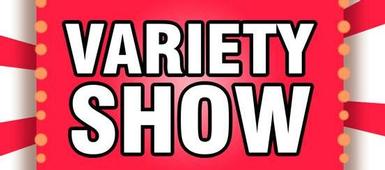 Middle School Variety Show in HS Auditorium, 7pm:

The Skaneateles Middle School Variety Show is tonight! Don't miss this opportunity to see the talents of our middle school students shine inside the high school auditorium at 7 p.m. Admission is just $2 or bring a canned food to donate to the food bank and get in for just one buck!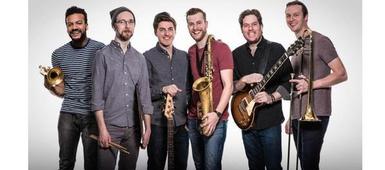 Huntertones to Perform at SHS on February 2:

SKANEATELES, NY (January 16, 2018) – The Huntertones, a world-class jazz ensemble, are set to perform at Skaneateles High School on Friday, February 2 at 7 p.m. presented by Arts in Education and the Skaneateles Music Guild. From Brooklyn, NY, the Huntertones will spend an entire day in the Skaneateles Central School District, performing for elementary students in the morning, middle school students in the afternoon; with improv workshops taking place later in the day with the middle school jazz lab and high school jazz ensemble. To round out the day the Huntertones will perform a free community concert in the high school auditorium at 7 p.m., which will include performances by the district's jazz ensembles. The Huntertones bring people together ...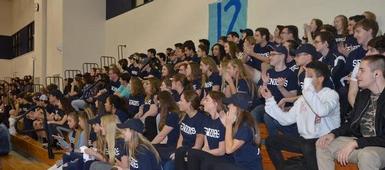 Pep Rally, Wellness Day Conclude Spirit Week:

SKANEATELES, NY (January 12, 2018) – Snow Much Pride Week at Skaneateles High School and Skaneateles Middle School came to a conclusion on Friday afternoon with a high school Pep Rally and Wellness Day for students. A full week of pride was shown with Monday's Twin Day, TV Show Tuesday, Wednesday's Jersey Day, Thursday's Laker Pride Day, and Class Color Day on Friday. At 12:20 p.m. on Friday, students in both the high school and middle school gathered in their respective gymnasiums to rally school spirit, and rally they did. The Skaneateles High School gym was filled with students and faculty in all grade levels, as each class was pit against one another in friendly, yet competitive, games of tug of war, relay races, pie eating contests ...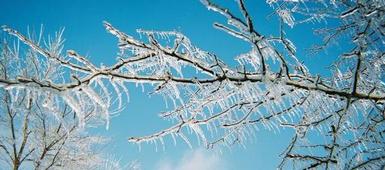 Friday Night Games, Weekend Activities Canceled:

All games for tonight have been canceled. Teams and clubs may practice until 6 PM. Please coordinate with your respective supervisor for scheduling. For tomorrow (January 13), all activities including practices, all county music festival, Blizzard Ball, and Section 3 track meet are canceled. Please stay safe and warm this weekend.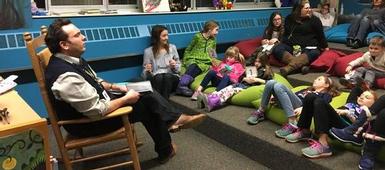 Students, Families Enjoy Family Reading Night:

Last night, the teachers at State Street Intermediate School, the Skaneateles Elementary PTC, and school principal Christopher Casler-Goncalves, welcomed State Street families to State Street Intermediate School's inaugural Family Reading Night. The goal of the evening was to answer the following questions... How can I inspire my child to read more at home? How can I begin to instill a love of reading in my child? How can I support my child's literacy development in a fun way? Family Reading night o ffered some creative answers. In alignment with the goal of continually partnering with families to improve students' literacy outcomes, ...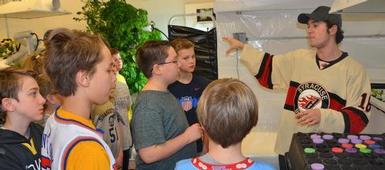 Sixth Graders Learn High School Hydroponics:

SKANEATELES, NY (January 11, 2018) – Cross-curricular opportunities are a fantastic avenue for students to work with other students, and in this case learn about courses that could be in their future. On Wednesday afternoon students in Colleen O'Hara's sixth grade Family and Consumer Science class visited Scott Stagnitta's high school hydroponics class, where they received a personal lesson from high school students on vertical hydroponics. "This is certainly a unique cross-curricular activity for our students," said Stagnitta. "We are fortunate to have a program such as this in the high school and we enjoy getting it in front of our district's younger students as soon as possible. Today the sixth graders ...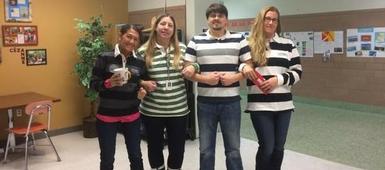 Snow Much Pride Week Revs Up Skaneateles High:

It's Snow Much Pride Week at Skaneateles High School as students and teachers rev up and re-energize for the second half of the school year! The student derived spirit themes for the week are: Monday: Twin Day Tuesday: TV Show Tuesday Wednesday: Jersey Day Thursday: Laker Pride Day Friday: Class Color Day (Freshman - red, Sophomores - green, Juniors - white, Seniors - blue, Teachers - yellow/gold) There will also be a Pep Rally held as a part of the week which will look to inspire class pride and school spirit. All extra-curricular groups, clubs, and sports will be recognized with activities such as tug of war, relay races, a pie eating contest, and much more all taking place. REMINDER: The Blizzard Ball semi-formal is this Saturday, January 13 at the ...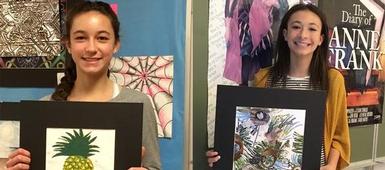 Middle School Students Earn CNY Scholastic Awards:

SKANEATELES, NY (January 8, 2018) – Skaneateles Middle School students Kelsey Rutledge and Madeleine Wright have earned CNY Scholastic Art and Writing Awards. Rutledge, an eighth grade student, received the award of Honorable Mention for her reduction print titled, "Tropical Pineapple." Wright, a seventh grade student, received the Silver Key award for her collage titled, "Emerald Feathers." The Scholastic Art and Writing Awards are the nation's longest running and most prestigious recognition program for creative teens in grades 7-12. Each year more than 300,000 works of visual art and writing are submitted to Scholastic with more than 90,000 being recognized and celebrated at the regional level through local exhibitions ...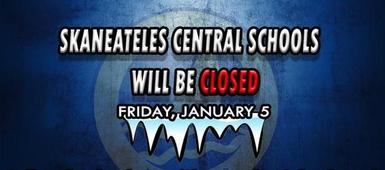 SCS Schools Will be CLOSED on Friday, January 5:

UPDATE: Skaneateles Central Schools will be CLOSED tomorrow (Friday, January 5). Regarding weekend activities, we will be notifying parents once conditions have been evaluated and decisions have been made.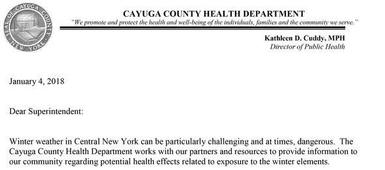 Cayuga County Health Dept. Cold Weather Notice:

Earlier today the Cayuga County Health Department issued the following statement to all area Superintendents in regards to the challenging weather that is being predicted. The document provides a series of links to credible weather sources to assist in making the safest decisions possible when dealing with this type of weather. We wanted to share it with all of you also.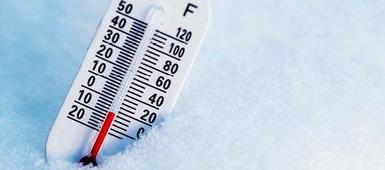 Superintendent Update: Weather, Calendar Change:

Dear Parents/Guardians, Happy New Year to you and your families. I wanted to provide a few brief updates for you regarding the weather, a calendar change, and an upcoming community forum. 1. The Weather As you are no doubt aware by now, the weather pattern shaping up for Thursday night, Friday, and Saturday is presenting worrisome if not perhaps dangerous conditions. So that you are aware, when we reach sustained temperatures – direct or with wind chill - of -20°, we will at the very least delay the opening of school if there is a chance that the temperatures will rise over the course of the morning. If the temperature is not expected to rise, we will close for the day. To the extent possible, we will notify you of a delay or closure the night ...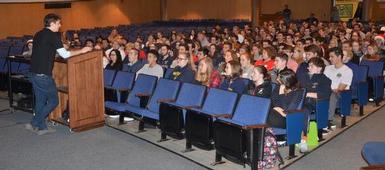 School Board President: Alumni Career Day:

It's six months into my role as president of the board of education and a good time to look in the rearview mirror. As I look back, I think "Sue, whoa – what were you thinking? You never grew up thinking you were going to be on the BOE, let alone President." Even when I was lucky enough to be elected to the BOE, again, President? Never! But an opportunity came forth, and I went out of my comfort zone and threw my name in the ring. If I was elected, great, if I wasn't, well I'd have no regrets. At least I tried. As many of you know me, you know I am not great at public speaking, not a big talker at all, really. I consider myself more of a listener, thinker and someone behind the scenes. But going outside of my ...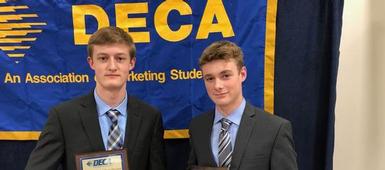 SHS Students Take on Region 9 DECA Conference:

SKANEATELES, NY (December 21, 2017) – A total of 36 Skaneateles High School students attended the Region 9 DECA conference at Le Moyne College on Tuesday, December 19 with 18 of those students qualifying for the New York State Career Development Conference to be held in Rochester on March 4-6. "We have a huge DECA group this year," said Skaneateles High School DECA Coordinator, Dan Mulroy. "This year was as competitive as ever. There were some new schools that attended, and it seemed like all of the schools had an increase in their chapter sizes as well. It was a great day and I am very proud of what all of our students have accomplished." By placing first through fifth in their respective categories, students advance to the state ...
<< Previous Next >> Viewing 101 - 120 of 513 stories