District News
<< Previous Next >> Viewing 81 - 100 of 511 stories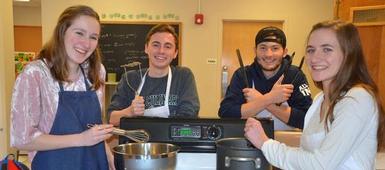 Senior Pasta Dinner, Sophomore Circus on March 9:

SKANEATELES, NY (February 28, 2018) – The Skaneateles High School Class of 2018 will be plating pasta dinners on Friday, March 9 from 5 to 8 p.m. in the high school cafeteria. The evening will include delicious pasta dinners, musical entertainment from the Skaneateles school music department, the annual silent auction, as well as the traditional Sophomore Circus taking place down the hall in the gym for children of all ages. Families, senior citizens, students and athletic teams are invited to enjoy a pasta dinner with meatless sauce, bread, salad, beverage and dessert. Tickets cost just $6, with children 5 and under free, and may be purchased from a member of the senior class or at the door. A popular and important community event, all money raised ...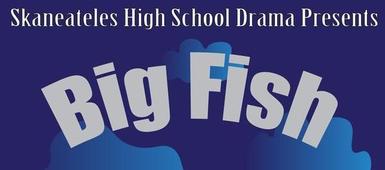 SHS Drama to Present "Big Fish" March 1-4:

The Friday evening performance of "Big Fish" has been postponed to Saturday at 2 p.m. due to weather. All tickets purchased for Friday evening will be honored at the Saturday Matinee as 'Reserved' and at the Saturday Evening & Sunday Matinee as 'General admission'. SKANEATELES, NY (February 26, 2018) – The Skaneateles High School Drama Program will present "Big Fish", the musical, March 1-4 in the Skaneateles High School auditorium. "Big Fish" is based on the celebrated novel by Daniel Wallace, and the acclaimed film directed by Tim Burton. Wallace will be a guest of the Skaneateles Central School District March 1-2 with support of the Skaneateles Education Foundation, the Skaneateles ...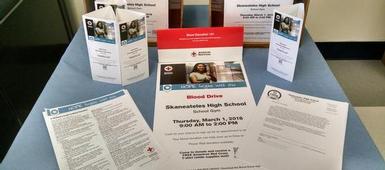 Skaneateles High School Blood Drive Postponed:

The Skaneateles High School Blood Drive, originally scheduled for Thursday, March 1, has been postponed. A new date will be announced as soon as it is available. Thank you! Skaneateles High School will be holding a blood drive this Thursday from 9am - 2pm, sponsored by the Interact Club. While the focus of our annual Blood Drive has always been on the first time donor, we are asking for help from our teacher/adult population this year. We need you because there is an urgent need for all blood types. We're asking for about 20 adult donors to step forward and come join the efforts of the 40-45 students that will donate that day. To speed the donating process along for teachers/adults, we have a rapid pass. ...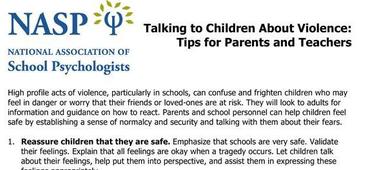 Talking to Children About Violence:

Parents – discussing a school tragedy like the one experienced in Florida yesterday is a very difficult thing to do with your children. To assist you with this, please do not hesitate to call on us and please see the information below from the National Association of School Psychologists. Our thanks to a Skaneateles parent for sharing this information with us. PRINT - Talking to Children About Violence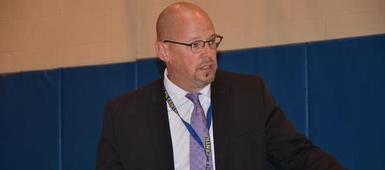 Superintendent Letter: Another School Tragedy:

Dear Parents/Guardians, With great sadness I send yet another note in response to a school shooting tragedy in the United States. At this point, 17 children are dead as a result of yesterday's incident in Florida. I could go on with other related statistics, but I worry that would only serve to dull the point. As I noted to the staff this morning, it is all too easy to be numbed to/hardened by yet another tragedy and perhaps even worse, to be naïve enough to think that it couldn't happen here. We simply cannot allow any of these reactions to be true. So what are we doing to prevent such a tragedy in Skaneateles? This morning I asked all of our staff to take the additional time to make one more connection with a student to ensure that ...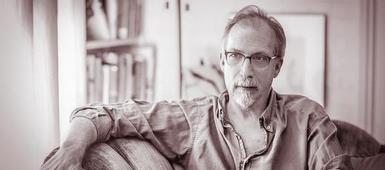 Wallace Meet & Greet Canceled Due to Weather:

The meet & greet scheduled with author Daniel Wallace for Friday, March 2 has been canceled due to weather. Unfortunately, Mr. Wallace has to fly out Saturday morning, which means the session will not be able to be rescheduled. We again thank the Skaneateles Education Foundation, the Skaneateles Music Guild, the High School PTC and the Skaneateles Library for working to make this happen. SKANEATELES, NY (February 13, 2018) – American author, Daniel Wallace, best known for his 1998 novel Big Fish: A Novel of Mythical Proportions will be a guest of Skaneateles High School on March 1-2, sponsored by the generosity and support of the Skaneateles Education Foundation, the Skaneateles Music Guild, and the High School PTC. Born in Birmingham, AL in 1959, Wallace ...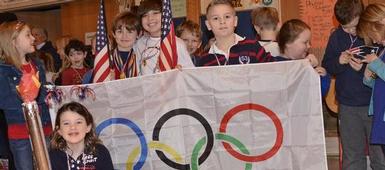 VIDEO: Waterman Winter Olympics Opening Ceremony:

In the Waterman STEM lab, the second grade classes have been making models of some Olympic events, including a ski jumper, a bobsled, a curling stone, a hockey goal & net and a snowboarder. They worked in pairs to plan, make and test their models. Then, today, they paraded through the gym to kick off the Olympic games with our own version of the Opening Ceremony. There was even an Olympic Torch and Mr. Slentz & Mr. G were there to hand out medals to each second grader. VIDEO LINK: https://ensemble.cayboces.org/Watch/p4PTw93G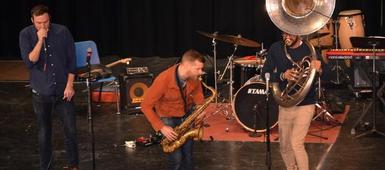 Students Learn from Brooklyn Jazz Band:

When an improv workshop with Skaneateles Middle School's jazz ensemble and Brooklyn band The Huntertones began late Friday morning, all of the students' back were straight, their faces stiff. An hour of jamming and encouragement later, the students' posture thawed and some began moving to the music as they played, like the professionals were doing. Read the full story from www.auburnpub.com HERE - Musical Mentors: Skaneateles Students Learn from Brooklyn Jazz Band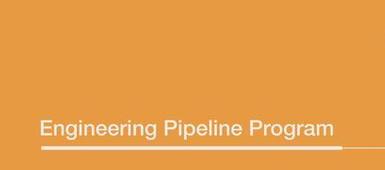 National Grid EPP Applications Reminder:

This is the time of year when applications are taken for many spring and summer opportunities for high school (and sometimes middle school) students. Students are encouraged to listen to announcements, follow the screens, and stop into the counseling center to keep up with these opportunities. In addition, parents are encouraged to follow our websites for news of opportunities. The counseling center constantly posts news of opportunities. For students interested in science, math and technology, there is a special extended internship program offered through National Grid. Juniors may apply for this competitive opportunity. SHS has had students participate in some previous years. The Engineering Pipeline Program (EPP) is a developmental program designed ...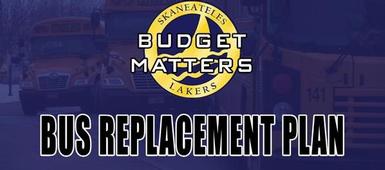 VIDEO: Budget Matters - Bus Replacement Plan:

Dear Parents, Guardians and Community Members, Based on the positive feedback that we received from the Video Series on Project 2021, we wanted to present a new series, "Budget Matters", which focuses on our budget development and critical areas of investment for the school district. The first video highlights our School Bus Replacement Plan that we began implementing two years ago. As you watch each video in the series, we encourage you to send us your feedback and let us k now if the information is helpful to you or if there are ways that we can improve our planning and communication. On behalf of the Board and the Administrative Team, we thank you for your continued support of our students, staff, and district. Sincerely, ...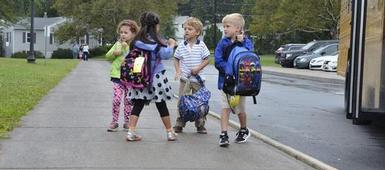 Kindergarten Registration Open at SCS for '18-'19:

SKANEATELES, NY (February 2, 2018) – Waterman Primary School is accepting kindergarten registration for eligible students for the 2018-2019 school year. To be eligible for kindergarten, a child must be 5 years old on or before December 1, 2018. If you have received a blue registration form in the mail, please complete and sent to Waterman Primary School as soon as possible with a copy of your child's birth certificate. If you have not received registration information in the mail, and you have an incoming kindergarten child, please contact Della Mazzeo at Waterman Primary School by calling (315) 291-2351. Keep in touch with events and happenings in relation to the Skaneateles Central School District by visiting online at www.skanschools.org ...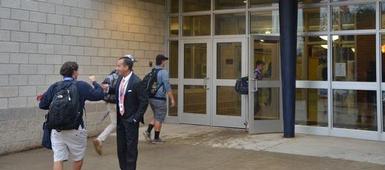 SHS Honored as "Reward School" by the SED:

Skaneateles High School has been recognized by the State Education Department as a "Reward School" in honor of its high academic achievement. Follow this link - Three Onondaga County high schools recognized for high academic achievement - for more information. GO Lakers - 110%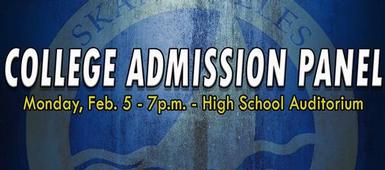 College Admission Panel Set for February 5:

Junior parents mark your calendars for the evening of February 5 th , 2018 , as the counseling staff will be hosting a college admission panel to speak to you and our students about the college process and the nuances of the college admission process. We will have a variety of speakers from two and four year institutions; both private and public so that we have a wide perspective to offer. Please come armed with questions to ask our guests as they will be more than happy to entertain any and all questions regarding the process. The presentation will start at 7:00 in the high school auditorium.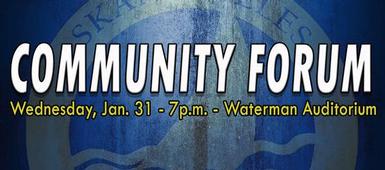 Community Forum Set for Wednesday in Waterman:

The District Office team at Skaneateles Central Schools will be updating the community on the overall State of the District on Wednesday, January 31 at 7 p.m. in the Waterman Auditorium. The Forum will address district progress including program initiatives, current building projects, the 2018-2019 budget development process, and Project 2021. A question and answer session will conclude the program.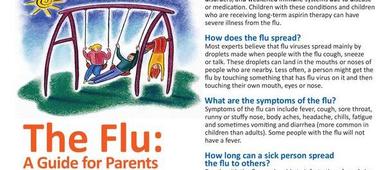 The Flu: A Guide for Parents:

Below are links from the CDC website which include a guideline on flu prevention as well as educational videos. We hope that these resources are helpful to our parents, students, faculty, and staff. VIDEO - Fight Germs, Wach Your Hands (3:00) VIDEO - Wash Your Hands (:30) The Flu: A Guide for Parents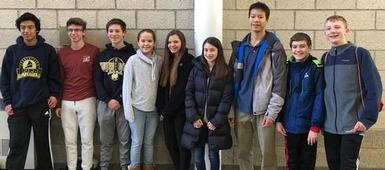 SCS Students Take Part in All-County Music Fest:

A host of 7th-9th grade students from Skaneateles Central Schools recently took part in the 2018 Junior High All-county Music Festival at Eagle Hill Middle School in Manlus. Each student auditioned among hundreds of other young musicians throughout Onondaga County to qualify for the festival showcasing their music talent, high degree of discipline, and commitment. Selected students from Skaneateles Central Schools are: 7th grade: Charlotte Millman (Chorus) Cade Lamphere (Chorus) 8th grade: Amelia Musso (Chorus) Christopher Patterson (Chorus) Emil Sander (Chorus) Mac Tourcotte (Orchestra - Viola) Lili Winkelman (Band - Trumpet) 9th grade: Nate Azzam (Chorus) Colin Cox (Chorus) Parker Glowacki (Chorus) Mason Michel (Chorus) Josh Pickup (Orchestra ...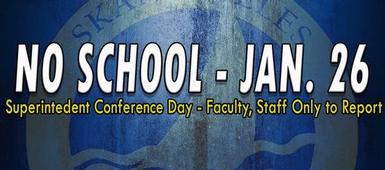 Superintendent Conference Day Friday; No School:

REMINDER: School will not be in session tomorrow (January 26) for students as it is a Superintendent Conference Day for faculty and staff. ONLY faculty and staff are to report to school tomorrow. Thank you and we hope our students enjoy their three day weekend!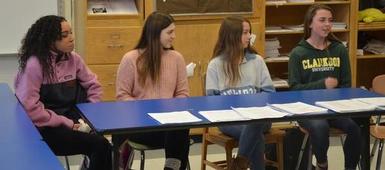 SHS Students Talk Careers with Eighth Graders:

Skaneateles High School students became mentors and advisors for eighth graders this week when they shared some of their career exploration experiences in Colleen O'Hara's Family and Consumer Science (F.A.C.S.) classes. Eighth graders had just finished a unit about careers when O'Hara had the high schoolers speak. She asked the older students to remember back to what career they researched in eighth grade, and to talk about how their ideas have changed (or not changed) since then. The high schoolers urged eighth graders to explore in any way possible while in high school, by job shadowing, talking with adults in various careers, attending camps and programs, and stopping by the counseling center to hear career speakers. "Take ...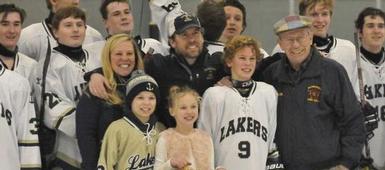 Mr. 300: Coach Major Earns 300th Hockey Win:

Mitch Major has coached the Skaneateles Lakers Varsity hockey team for 18 years, and on Tuesday reached a historic milestone, collecting his 300th career victory with a 6-2 win over Oswego. "You don't think about the wins ... you think about the players and just helping them get better every day," Major said. "It was a nice gesture tonight and I really appreciate it, but there's no way I'd be around this long without the great players and the tradition here in Skaneateles." Click HERE to read the full story from auburnpub.com.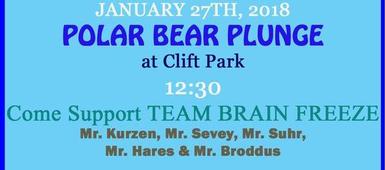 SCS Teachers to take Polar Bear Plunge Saturday:

SKANEATELES, NY (January 23, 2018) – A group of five Skaneateles Central Schools teachers will once again take the Polar Bear Plunge into Skaneateles Lake from Clift Park on Saturday, beginning at 12:30 p.m. Known as Team Brain Freeze, teachers Bob Broddus, Josh Hares, Dan Kurzen, Brian Sevey, and Justin Suhr will all take the plunge benefitting SAVES, the Skaneateles Fire Department and the Skaneateles Education Foundation. Team Brain Freeze has been the top fundraiser in the Polar Bear Plunge for the past five years, raising over $1,600 prior to last year's plunge. Registration for the plunge will begin at 11 a.m. For more information on the Polar Bear Plunge, visit the Skaneateles Polar Bear Club Facebook page. Keep in touch ...
<< Previous Next >> Viewing 81 - 100 of 511 stories