District News
<< Previous Next >> Viewing 61 - 80 of 543 stories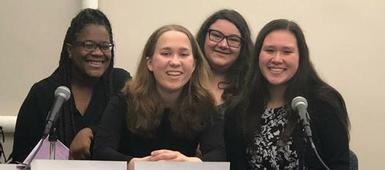 Apply Now for HS Girls Ambassadors Program:

A unique program in Central New York teaches selected high school girls to be dialogue facilitators and ambassadors. Applications are now being taken for participation in the Matilda Joslyn Gage Foundation Girl Ambassadors for Human Rights Program for the '18-'19 school year. Please contact the Skaneateles High School counseling center for all the details. The application process starts now … applications are due by June 3. To learn more, please stop in the counseling center.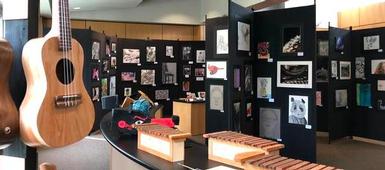 Annual District Art Show Running Until May 18:

SKANEATELES, NY (May 15, 2018) - The annual District Art Show is taking place this week inside the Skaneateles Central Schools District Office, located at 45 E. Elizabeth St. Community members are encouraged to visit the show while voting on today's school budget and Board of Education elections from 7 a.m. to 9 p.m. Featuring several pieces of art from students across the district, the show will run through Friday morning. Attached are a few photos showing off the pieces on display.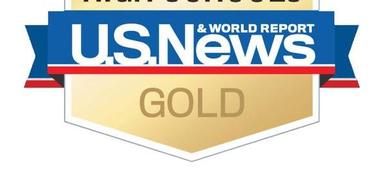 SHS Earns Gold in US News High School Rankings:

SKANEATELES, NY (May 9, 2018) – The 2018 U.S. News & World Report Best High Schools rankings have been released with Skaneateles High School having earned gold medal status. Schools are ranked based on their performance on state-required tests and how well they prepare students for college. The 2018 Best High Schools rankings awarded the top 5,948 public high schools in the country with gold, silver and bronze medals, indicating their level of college readiness. Of the 5,948 public high schools to achieve a medal, Skaneateles High School ranks 285 th in the country and 42 nd within New York, posting a college readiness score of 67.3/100. City Honors School at Fosdick Masten Park (17 th ), Pittsford-Mendon High School (18 th ), Pittsford ...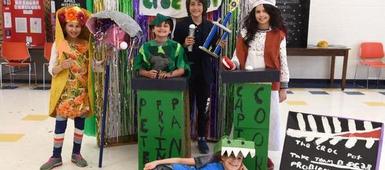 Skaneateles Team Prepares for OOTM World Finals:

Carey Eidel, who has performed professionally on screens both small and silver, said he knows when to sit back and let creative people get busy. That's what he did while coaching the State Street Elementary School B Odyssey of the Mind team from Skaneateles, which will head to the World Finals at Iowa State University later this month. The group snagged first place at the state finals last month in the Division I category with its project, "Classics ... Mockumentary! Seriously?" The team is made up of four fifth-grade students and one third-grade student: Heschel Eidel, Maura Leonardis, Matthew Leonardis and Nico Moro, all 11, and Amelia Blados, 9. CLICK HERE - To read the full story from auburnpub.com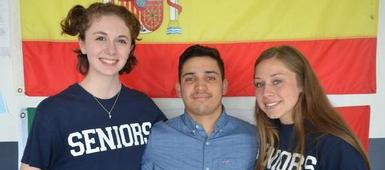 SHS Students Earn NYS Seal of Biliteracy:

SKANEATELES, NY (May 4, 2018) – The Skaneateles High School World Language Department is pleased to announce the first three students to have completed the district's New York State Seal of Biliteracy program. Seniors Amelia Huba and Addison Gremli as well as Junior Yorvin Solis-Samayoa are the first students to have completed the all-new program. Each will wear NYS Seal of Biliteracy medallions at graduation with their transcripts and diplomas marked with this fantastic honor. The NYS Seal of Biliteracy provides a culmination of achievements for students who strived to be proficient in two languages. "The Seal of Biliteracy program celebrates cultural pieces, biculturalism, and it celebrates students who can read, write, speak and ...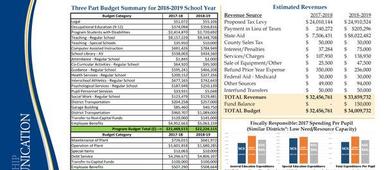 School Board President: Budget Talk:

With only May and June to go, it's hard to believe that we are nearing the end of another school year. It's been said that "Time goes by quicker as one gets older" and I must now admit, I couldn't agree more. It's been a quick year, one definitely not lacking in excitement, and definitely one for learning - for everyone. One area of learning here and across the entire country has been around school safety. Personally, this continues to be a focus for me having grown up, now working, and continuing to raise a family in Skaneateles. We are incredibly fortunate to live where we do. For a long time, we've been able to leave our cars running while dashing into Byrne Dairy, to leave our front doors unlocked, and to leave something ...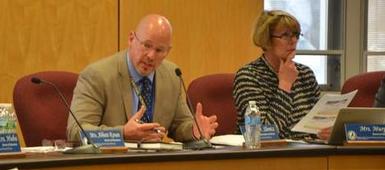 School Budget, BOE Vote Today - 7am to 9pm:

*** The 2018-2019 school budget and Board of Education vote is TODAY (May 15) in the Skaneateles Central Schools District Office located at 45 E. Elizabeth St. The polls are open from 7 a.m. to 9 p.m. Please find further detailed information in the story below as well as at the attached link: http://www.skanschools.org/districtpage.cfm?pageid=1202 SKANEATELES, NY (May 2, 2018) – The Skaneateles Central Schools Board of Education held an informational meeting for the community on Tuesday evening, providing further details on the approved 2018-2019 school budget. The proposed 2018-2019 school budget is set at $34,009,732, a 4.78% increase from the 2017-2018 budget, with a 3.75% anticipated tax levy increase. However, based on ...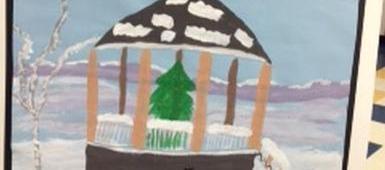 Student Art to be Displayed at Baltimore Woods:

SKANEATELES, NY (May 1, 2018) – Several students from Skaneateles Central Schools will have artwork displayed as a part of the Baltimore Woods Nature Center Student Art Exhibit from May 5-May 25. Artwork from students Erin Guthrie, Lily Datz, Cassidy Pittman, Phoebe Bedard, Avery Ide and Paige Willard will have artwork in the exhibit. An artist reception will be held on Saturday, May 5 from 3-4 p.m. with a ceremony at 3:15 p.m. to celebrate the achievements of the students. Located at 4007 Bishop Hill Road in Marcellus, Baltimore Woods Nature Center is a premiere educational organization that transforms individuals and communities through place-based education by cultivating an abiding love for the natural world, while serving as a model of sensible stewardship. ...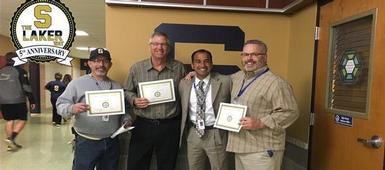 Laker Way Award Winners for April:

We're all doing it, but please join us in congratulating all the staff members who were nominated for The Laker Way award for April 2018! I would like to nominate Dave Brown for being someone that best exemplifies the Laker Way. I have been in a number of Dave's classes as a drop in guest and have noticed a fantastic learning environment. An environment that leads everyone that steps through his door on the path to success. He puts 110% into every lesson that he teaches and shows great passion towards the material and has the students engaged from the start of the bell. I have never been in a classroom where I have seen so much student interaction and student led discussion based off of minor questions that ...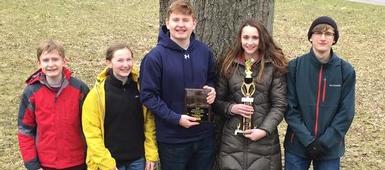 Envirothon Team Advances to State Competition:

SKANEATELES, NY (May 1, 2018) – Skaneateles High School is once again sending a team to the New York State Envirothon competition to be held at Hobart & William Smith Colleges in Geneva, NY on May 23-24. The Envirothon competition tests students' knowledge and understanding of natural resource issues within New York State. The spirit of competition is then used to help stimulate the students' interests in environmental concerns and motivate them to further develop their skills and grow into environmentally-aware, action-oriented adults. The Envirothon is split into county and state competitions. County winners move to the state competition where their knowledge is challenged in five areas: aquatic ecology, forestry, soil and land ...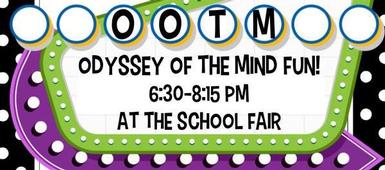 OOTM World Finals FUNdraiser Planned for May 10:

SKANEATELES, NY (April 30, 2018) – The State Street Elementary School Fair is set for Thursday, May 10 from 7:00 to 8:00 p.m. in the school's gym with an Odyssey of the Mind FUNdraiser also planned as a part of the evening. The FUNdraiser will help send State Street's New York state champion Odyssey of the Mind team to the OOTM World Finals at Iowa State University from May 23-26. The State Street Elementary team coached by Beth Moro and Carey Eidel, which includes students Amelia Blados, Heschel Eidel, Matthew Leonardis, Maura Leonardis and Nico Moro, placed first in the NYS Competition with their problem "Mockumentary, Seriously." As a result of their victory, the group now advances to the World Finals in Iowa. This year marks the 39 ...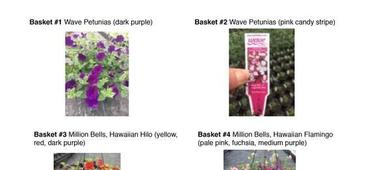 Skaneateles HS PTC Plant Sale Now Underway:

The Skaneateles HS PTC is pleased to offer a beautiful selection of 10" hanging baskets for every kind of sun exposure. They are ideal for Mother's Day, Graduation and Laker events. Orders and payments are due by Monday, May 7. Orders can be picked up in the high school commons on Friday, May 11 between 2:30 and 5:00 p.m. To print an order form click the link - 2018 plant order form.pdf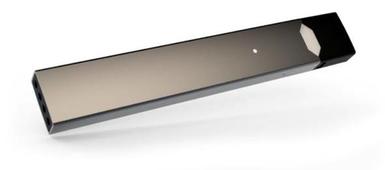 US Agency Cracks Down on Juul E-Cigarette Use:

WASHINGTON (AP) — Federal health officials are cracking down on underage use of a popular e-cigarette brand following months of complaints from parents, politicians and school administrators. The Food and Drug Administration said Tuesday it has issued warnings to 40 retail and online stores as part of a nationwide operation against illegal sales of Juul to children. FDA regulators also are asking manufacturer Juul Labs to turn over documents about the design, marketing and ingredients of its devices. The rare request particularly focuses on whether certain product features are directly appealing to young people. Like other e-cigarettes, Juul is an electronic device that turns liquid — usually containing nicotine — into an inhalable vapor. Thanks ...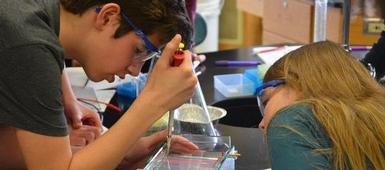 Biotech Day Provides College Level Lab Experiences:

SKANEATELES, NY (April 20, 2018) – A group of 30 students in AP Biology and Honors Biology at Skaneateles High School recently took part in Biotechnology Day, an in-school field trip in which students participated in a college level lab experience to gain awareness of DNA Biotechnologies being used today. The DNA profiling lab that the group completed saw students act as scientists, performing a paternity test for one or two couples. In order to do this, students performed Gel Electrophoresis, a method used to separate and analyze DNA according to its molecular size. This procedure can take as many as six class periods to complete, with parts that are time sensitive, such as enzyme incubation time. "Our goal was to provide students with ...
<< Previous Next >> Viewing 61 - 80 of 543 stories