Developing Addition Fact Fluency
---
What is Fluency?
Fluency
means students are fast, accurate, flexible, and have understanding. This involves a mixture of just knowing some answers, knowing some answers from patterns, and knowing some answers from the use of strategies. Fluent students use strategies efficiently. Reaching fluency takes instruction, time, and practice.
---

Phases of Fluency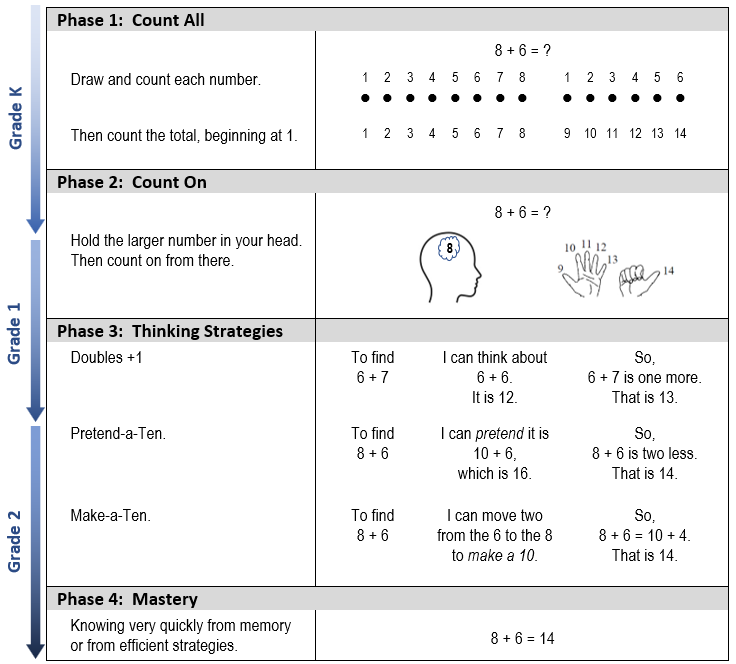 adapted from Progressions for the CCSS-M: Counting and Cardinality & Operations and Algebraic Thinking, p. 36
---

Strageties We Teach in School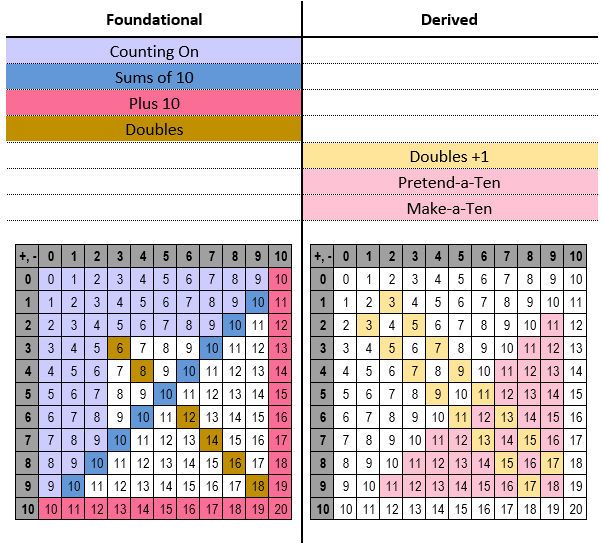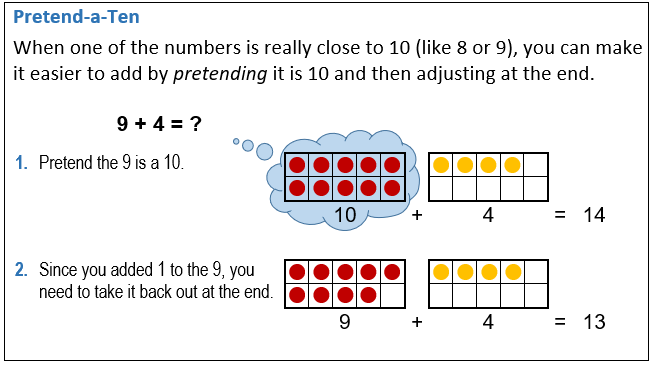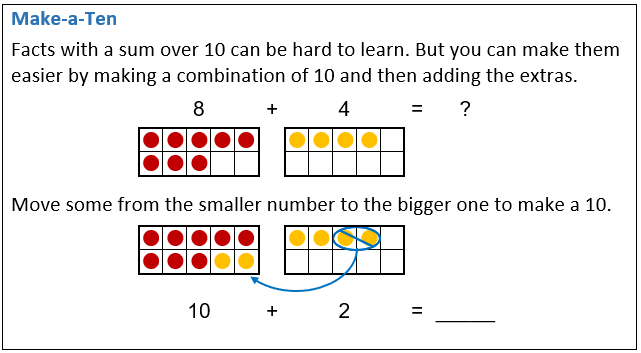 ---
Supporting Fact Fluency at Home
Practice a little bit each day. Aim for 5-10 minutes per day.
Make practice fun. Use games.
In grade K, help your child practice Counting On (holding one number in their head and counting up from there), Sums of 10 (ex., 3 + 7), and Plus 10 facts (ex., 10 + 4). You can use cards to play Memory or Go FIsh looking for sums that equal 10.
In grade 1, continue practicing the facts from kindergarten, and begin practicing Doubles (ex., 6 + 6) and Doubles +1 facts (6 + 7).
In grade 2, we shift our focus to deriving unknown facts from known ones. Strategies include using Doubles +1, Pretend-a-Ten, and Make-a-Ten. To support your child at home, first ask the known foundational fact (ex., 10 + 6) and then ask the derived fact (ex., 9 + 6). Some children will be able to do this verbally and others will benefit from seeing each fact written as you ask it. If your child struggles to answer the second (derived) fact quickly, ask "How could you use the first fact to help?" Remember, we are trying to help them make connections, not memorize each fact in isolation.
Once all strategies have been introduced and practiced individually, then begin practicing mixed facts. Monitor which facts need more practice and focus on those.