District News
<< Previous Next >> Viewing 221 - 240 of 621 stories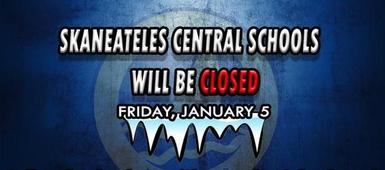 SCS Schools Will be CLOSED on Friday, January 5:

UPDATE: Skaneateles Central Schools will be CLOSED tomorrow (Friday, January 5). Regarding weekend activities, we will be notifying parents once conditions have been evaluated and decisions have been made.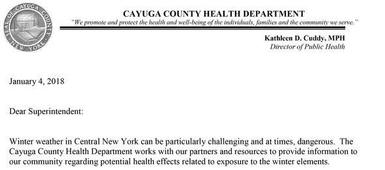 Cayuga County Health Dept. Cold Weather Notice:

Earlier today the Cayuga County Health Department issued the following statement to all area Superintendents in regards to the challenging weather that is being predicted. The document provides a series of links to credible weather sources to assist in making the safest decisions possible when dealing with this type of weather. We wanted to share it with all of you also.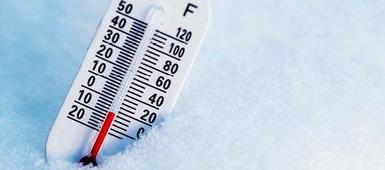 Superintendent Update: Weather, Calendar Change:

Dear Parents/Guardians, Happy New Year to you and your families. I wanted to provide a few brief updates for you regarding the weather, a calendar change, and an upcoming community forum. 1. The Weather As you are no doubt aware by now, the weather pattern shaping up for Thursday night, Friday, and Saturday is presenting worrisome if not perhaps dangerous conditions. So that you are aware, when we reach sustained temperatures – direct or with wind chill - of -20°, we will at the very least delay the opening of school if there is a chance that the temperatures will rise over the course of the morning. If the temperature is not expected to rise, we will close for the day. To the extent possible, we will notify you of a delay or closure the night ...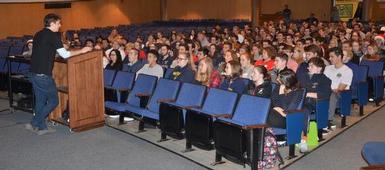 School Board President: Alumni Career Day:

It's six months into my role as president of the board of education and a good time to look in the rearview mirror. As I look back, I think "Sue, whoa – what were you thinking? You never grew up thinking you were going to be on the BOE, let alone President." Even when I was lucky enough to be elected to the BOE, again, President? Never! But an opportunity came forth, and I went out of my comfort zone and threw my name in the ring. If I was elected, great, if I wasn't, well I'd have no regrets. At least I tried. As many of you know me, you know I am not great at public speaking, not a big talker at all, really. I consider myself more of a listener, thinker and someone behind the scenes. But going outside of my ...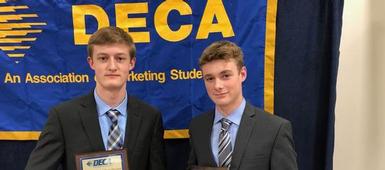 SHS Students Take on Region 9 DECA Conference:

SKANEATELES, NY (December 21, 2017) – A total of 36 Skaneateles High School students attended the Region 9 DECA conference at Le Moyne College on Tuesday, December 19 with 18 of those students qualifying for the New York State Career Development Conference to be held in Rochester on March 4-6. "We have a huge DECA group this year," said Skaneateles High School DECA Coordinator, Dan Mulroy. "This year was as competitive as ever. There were some new schools that attended, and it seemed like all of the schools had an increase in their chapter sizes as well. It was a great day and I am very proud of what all of our students have accomplished." By placing first through fifth in their respective categories, students advance to the state ...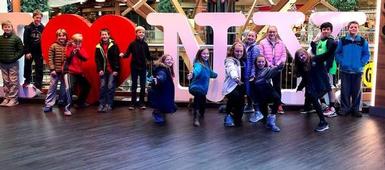 Coding Exploration Day Offers New Experiences:

SKANEATELES, NY (December 21, 2017) – Several Skaneateles Middle School 6 th grade students took part in Coding Exploration Day on Tuesday, a field trip offering insight into new programming technology. Accompanied by Heather Buff, Paul Blair, Kelly Gunderson, and Scott Stagnitta of the Skaneateles Central School District, students began their day in the middle school library investigating the Apple Swift program. Apple Swift is a general-purpose, multi-paradigm, compiled programming language developed by Apple for iOS, macOS, watchOS, tvOS, and Linux. Following that investigation, students boarded a bus for Destiny USA to explore the Microsoft technologies available at the Microsoft Store. Once there, the group ...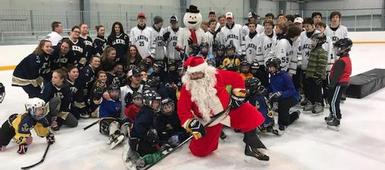 Skate with the Lakers Supports Local Food Bank:

The Girls and Boys Varsity Hockey team want to thank everyone for coming to skate last night, including some very special guests! And a special thank you for supporting the Skaneateles Ecumenical Foodbank! Happy Holidays!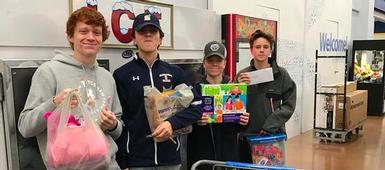 SHS Students Give Back through Outreach Center:

SKANEATELES, NY (December 20, 2017) – For the second year in a row, six Skaneateles High School students have adopted a family at Christmas through the Skaneateles Outreach Center. Students Gavin Cheney, Alex Goethe, Brendan Powers, Andrew Neumann, Max Wamp, and Ryan Willard have been working for over two months doing various jobs to raise money in order to go on a shopping trip for their adopted family. The boys kept busy winterizing a family's home, stacking wood, doing yard work, and cleaning, earning the money needed to give a family in need a special Christmas. Jacque McConnaghy, the Skaneateles Outreach Coordinator, says that these six Skaneateles students stepped up to become the only group of students ...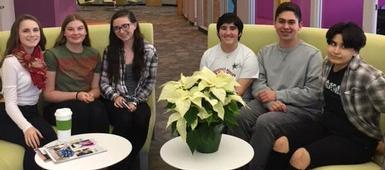 High School Art Students Tour Chase Design:

SKANEATELES, NY (December 20, 2017) – A number of Skaneateles High School art students toured Chase Design in Skaneateles on Tuesday, learning the many different facets of today's design industry. Guided by Skaneateles High School Art teacher Jessica Sawchuk, students in Graphic Design, Studio Art, and Advanced Art spent half the day at Chase on Tuesday visiting with designers and getting a first-hand look at the steps and processes that designers go through to create work for clients. "The students were able to see that design is not just about creating work for print, but for three dimensional aspects as well," said Sawchuk. "Design involves packaging and even how a store is laid out in order to ...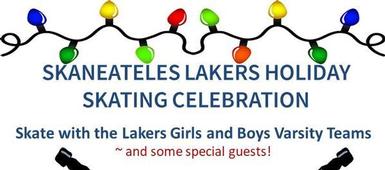 Food Drive Highlights Holiday Skate with Lakers:

Bring a non-perishable food item for the Skaneateles Ecumenical Food Pantry on Wednesday, December 20 and skate with the Skaneateles Lakers Girls and Boys Varsity hockey teams! The skate will take place at Duke Arena beginning at 6 p.m.... see below for more details.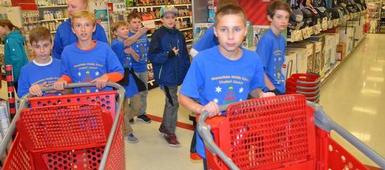 PHOTO GALLERY: Middle School Shopping Spree:

The annual Middle School Holiday Shopping Spree was once again a fantastic success! Check out the photos below from the afternoon as students shopped away at Target in Camillus to help provide a brighter Christmas for kids in need.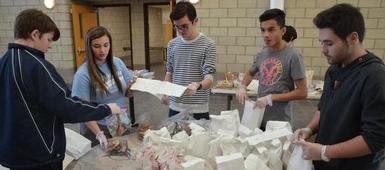 PHOTO GALLERY: Interact Cookie Drive 2017:

The Interact Club was hard at work on Thursday, December 14 packing and collecting the several dozen cookies that were dropped off as a part of their annual Cookie Drive. The drive helped add sweetness to the Skaneateles Outreach holiday gift baskets for area families in need. Thank you!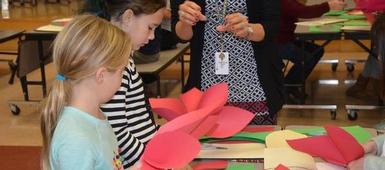 Students Give Back through '12 Days of Giving':

SKANEATELES, NY (December 11, 2017) – Students in Peter O'Connor's fourth grade class at State Street Elementary School in Skaneateles are once again working together this holiday season, giving back to the community through their second annual '12 Days of Giving.' Following the success of last year's '12 Days', O'Connor has rekindled the magic for this year, as he and his students have teamed up with others at State Street to give back to the community for consecutive school days. "From picking up trash at Austin Park, to helping pets, elderly, and the military; my students had some amazing ideas for this year's '12 Days,'" said O'Connor. "Our brain storming and efforts ...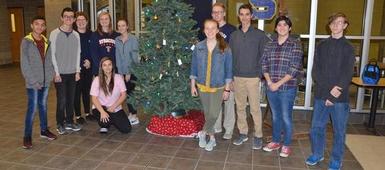 Interact Cookie Drive Adds Sweetness to Holidays:

This event has been POSTPONED until Thursday, December 14. Same time and location. Join the Interact Club for its annual Holiday Cookie Drive as they help to add sweetness to the Skaneateles Outreach holiday gift baskets for area families in need. Donate a dozen (or two) baked or purcahsed cookies and deliver them to the middle school or high school office, or room 206 in the high school on Wednesday, December 13 from 7:30 a.m. to 2:30 p.m. Area churches and other groups may collect in another place and deliver as a group to the Commons area at 2:30 on December 13 or arrange for a pick-up by an Interacter by calling (315) 729-1852. Everyone is welcome to see the magic unfold during the packaging of the cookies beginning at 2:30 p.m. on December 13 in the Commons. ...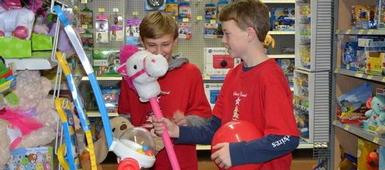 Shopping Spree Postponed until December 14, 3:30pm:

This event has been POSTPONED until Thursday, December 14 due to weather. The event will follow the same time schedule - 3:30 to 5:30 p.m. SKANEATELES, NY (December 5, 2017) – The 17 th annual Skaneateles Middle School Holiday Shopping Spree is set to take place on Wednesday, December 13 from 3:30 – 5:30 p.m. at Target in Camillus, presented by the Central New York Community Foundation and the Skaneateles Middle School Student Council. Thanks to the help of the Central New York Community Foundation and the Skaneateles Middle School Student Council, students will head to Target on December 13 armed with $13,750 to purchase gifts for children who otherwise may not get any this Christmas. The students will be split into ...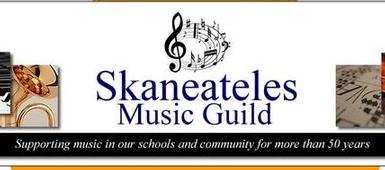 HS Orchestra to Perform at Music Guild Luncheon:

Enjoy some wonderful student entertainment with performances from the SHS Orchestra and get into the Holiday spirit at the annual Skaneateles Music Guild Holiday Luncheon, Wednesday, December 6, 11am at The Lodge. This annual event is one of the major fundraisers for the newly combined Guild and Music Boosters organization which has provided more than $75,000 and countless volunteer hours to the district and community in support of music in the last 3 years alone. Click the link below to reserve a spot. Skaneateles Music Guild Website
<< Previous Next >> Viewing 221 - 240 of 621 stories