District News
<< Previous Next >> Viewing 201 - 220 of 545 stories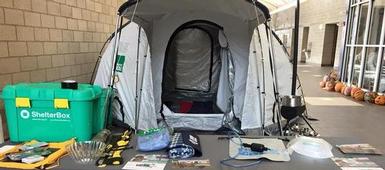 Interact Club Sponsors ShelterBox Display in HS:

Below are photos of Skaneateles HS and MS students viewing a display called ShelterBox, set up in the High School Commons. Shelterbox is an international relief charity that provides immediate assistance to people affected by disasters such as earthquakes, volcanic activity, flooding, hurricanes, cyclones, tsunamis, or conflict. In partnership with Rotary, ShelterBox is assisting people throughout the world, said Tom Deuson, a Rotarian who met with Skaneateles students as a part of the display. The display is sponsored by the Interact Club, which is affiliated with Skaneateles Rotary, which has purchased two of the $1,000 shelters so far. Donations to this year's Haunted Hallways will go toward ShelterBox.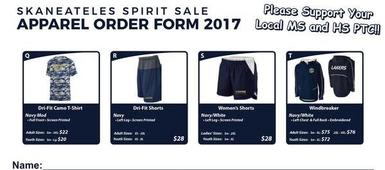 Skaneateles Schools Spirit Wear Order Form:

Below is the 2017 Skaneateles Central Schools Spirit Wear order form. A printable version is also attached so that you can fill out the order form. All orders must be turned in by November 13. This fall fundraiser benefits both the Middle School and High School PTC. PRINTABLE Order Form Page 1 PRINTABLE Order Form HERE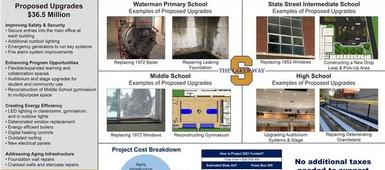 Project 2021 Community Forum on October 25:

SKANEATELES, NY (October 23, 2017) – The Skaneateles Central School District will present another Project 2021 Community Forum on Wednesday, October 25 in the Skaneateles High School Auditorium, beginning at 7 p.m. The Forum will include a question and answer session, as well as an opportunity for guests to tour campus. The Forum and Tour will provide an opportunity for district residents to ask questions in regards to Project 2021 and look inside what the district's advisory committees, faculty and staff, and professional advisors have been working on for many months to maintain and improve Skaneateles Central School's facilities. With a scope summary for each building now in place, the October ...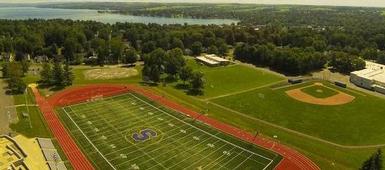 UPDATE: HS Athletics Surge into Postseason Play:

SKANEATELES, NY (October 20, 2017) – After a stellar regular season, several Skaneateles High School Athletics teams have surged into the post season including boys & girls soccer, boys & girls cross country, girls tennis, girls volleyball, girls swimming and diving, and football. The boys soccer team, which finished the regular season third in the OHSL Liberty National division (11-6, 6-4), entered the Section III Class B boys soccer tournament on Wednesday as the No. 5 seed in the 16-team tournament, facing Homer to begin their postseason campaign. Skaneateles dominated from the first whistle, winning the contest 3-0 with goals from Jeremy Castle, Maximillian Moss, and Thomas Reed. Luke Peterson completed the shutout in ...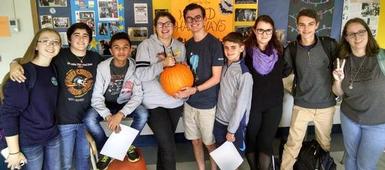 Interact Club Preparing for Haunted Hallways:

Skaneateles High School Interact Club students are busy preparing to turn their school into Haunted Hallways for the 8th annual Halloween event. This year's theme is the Haunted Hallways of Lakeview Penitentiary … a ghostly place that promises to surprise and frighten anyone brave enough to join a tour. It is on Halloween night from 6:30 p.m. to 8:30 p.m. (Tuesday, October 31) in the Commons area between the HS and MS. Please enter at the Commons only. Cider and donuts will be served by the Skaneateles Rotary Club. Donations welcome. Proceeds will go to help hurricane victims through a Rotary/Interact partnership with ShelterBoxUSA.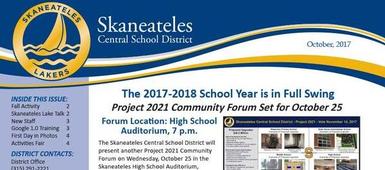 Fall Newsletter: Project 2021 Forum on October 25:

Click the link below to view the entire Skaneateles Central Schools Fall Newsletter! Inside we have information on the upcoming Project 2021 Forum at Skaneateles High School on October 25 as well as information on new hires for the school year, recents events, and a photo page of the first day of school.... PRINTABLE - 2017 Fall Newsletter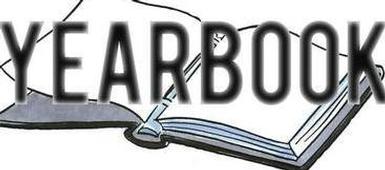 Order Your SHS Yearbook Today:

Skaneateles High School students are reminded to order their yearbooks as soon as possible. Orders need to be in by December 15, or the price will be raised to $60. We also encourage you to have your name put on your book. There is a $5 charge, but it cuts down on people stealing your book. You have this option until the end of December only. After that, it is not available. If you have any candids you want considered for the book, please visit www.replayit.com and upload your photos. You may also e-mail jpegs to amcconochy@skanschools.org. Make sure you let us know who is in the photo. Also, it is time to send in those baby pictures and siblin pictures (your brother or sister MUST BE IN THE SCHOOL DISTRICT) and quotes. Deadline for ...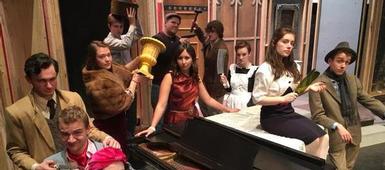 HS Drama to Present Musical Comedy Murders:

SKANEATELES, NY (October 18, 2017) – Skaneateles High School Drama will present Musical Comedy Murders of 1940 on November 3-5 in the Skaneateles High School auditorium. Performances on Friday, November 3 and Saturday, November 4 will begin at 7:30 p.m. with the Sunday, November 5 performance beginning at 2:00 p.m. The play takes place in a mansion in Chappaqua, NY in December of 1940. A brief overview of the show explains that the creative team for a recent Broadway flop, in which three chorus girls were murdered by the mysterious "Stage Door Slasher," assemble for a backer's audition of their show at the Westchester estate of a wealthy socialite. The house is replete with sliding panels, secret passageways, and ...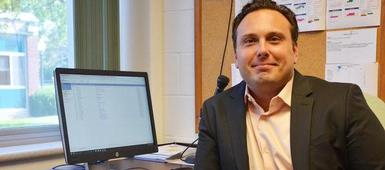 SCS to Hold Children's Media Consumption Forum:

WHEN: 7-8 p.m. - Wednesday, October 18 WHERE: Skaneateles High School Auditorium, 49 E. Elizabeth St., Skaneateles COST: FREE and open to elementary parents and students and any interested community members By: Kelly Rocheleau, auburnpub.com - The Skaneateles Central School District wants to open a dialogue with parents about their children's time in front of screens, in light of the ever-expanding media landscape. A forum on students' media consumption will be held Wednesday night at the Skaneateles High School auditorium. Christopher Casler-Goncalves, principal of State Street Intermediate School and Waterman Primary School; Kelly Whitney, chief product and partnerships officer of educational technology company iCivics; and State Street school counselor ...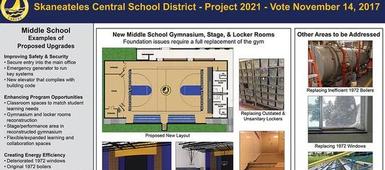 VIDEO: Project 2021 Plans for Middle School:

SKANEATELES, NY (October 18, 2017) – The Skaneateles Central School District administration is pleased to unveil a look into preliminary Project 2021 plans for the Skaneateles Middle School. This district wide construction project will be put to a vote on Tuesday, November 14. Just weeks ago, the district presented a detailed look inside plans for Skaneateles High School in both video and graphic form, with each format available for viewing at www.skanschools.org . This middle school video offers more interesting interviews and insight from teachers, staff, and students. Skaneateles Central School District Superintendent, Ken Slentz, emphasized that the timing is right to make these necessary updates within the middle school. "The timing of ...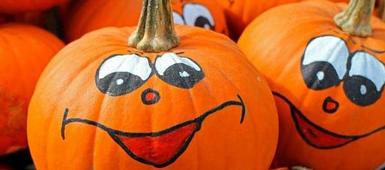 Freshmen, Laker Leaders to Paint Pumpkins Friday:

SKANEATELES, NY (October 17, 2017) – Skaneateles High School freshmen will join their senior Laker Link Leaders this Friday in the high school cafeteria for pumpkin painting during Activity Period. Pumpkins are being provided by Tim's Pumpkin Patch in Marietta, NY, with the high school PTC donating the paints for the event. Cider will also be provided as a fall refreshment. The Laker Link program sees a senior mentor assigned to each freshman student, helping to guide them through their first year at the high school. The Laker Link mentor program gives freshmen an opportunity to discover methods for social and academic success while also learning what to expect and how to prepare for high school. ...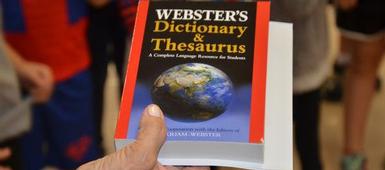 Rotary Provides Dictionaries to 3rd Grade Students:

SKANEATELES, NY (October 10, 2017) – Members of the Skaneateles Rotary Club presented the third grade classes of State Street Elementary School with a copy of the latest Webster's Dictionary & Thesaurus for Students on Wednesday morning in the State Street cafeteria. The books were once again provided by local Rotarians as part of the Rotary's efforts to enhance literacy skills worldwide. Skaneateles Rotary Club President, Mary Giroux, presented each student in the third grade class with their new dictionary & thesaurus. "On behalf of the Skaneateles Rotary Club we are happy to present each of you with the Webster's Dictionary & Thesaurus," said Giroux. "We hope ...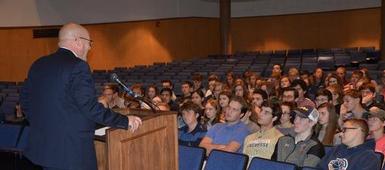 Job Shadow Program Offers Unique Opportunities:

SKANEATELES, NY (October 10, 2017) – Last week, Skaneateles High School Juniors were introduced to the district's Job Shadowing Program, which provides students an opportunity to meet, connect with, and shadow different members of the community to increase career awareness. Part of the introduction included a student assembly, coordinated by Job Shadowing Director Lori Ruhlman, featuring a dozen Skaneateles High School seniors who had previously participated in the program, as well as Skaneateles Central School District Superintendent, Ken Slentz. "Take the risk to try everything. Learn what you like and what you really don't like," Slentz told students. "Take the risk to learn." ...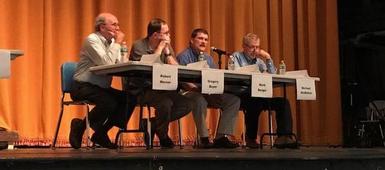 Environmental Club Hosted Lake Talk on Wednesday:

SKANEATELES, NY (October 4, 2017) – The Skaneateles High School Environmental Club hosted a talk and panel discussion on the Skaneateles Lake algal bloom on Wednesday, October 4, featuring key speakers and town representatives in the Skaneateles High School Auditorium. Running from 7:00 – 8:30 p.m. with speakers Robert G. Werner Ph.D., Professor Emeritus at SUNY–ESF, as well as Gregory Boyer Ph.D, Professor of Bio Chemistry and Director of the Great Lakes Research Consortium at SUNY–ESF, several Skaneateles High School students were a part of the overall presentation. Students who took part included Alex Flanagan, Kyra LoPiccolo, Luke Rathgeb, Jordan Senn, Shane Rutledge, Mitchell Zellinger, Kelsey Ibach, Michael Lovier, ...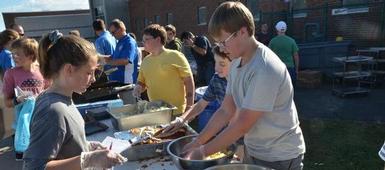 M.S. Student Council Fundraiser Photo Gallery:

The Middle School Student Council held their annual Dinosaur BBQ/Gianelli Sausage Drive-Thru Fundraiser on Wednesday afternoon, and it was another success. Check out some of the photos below!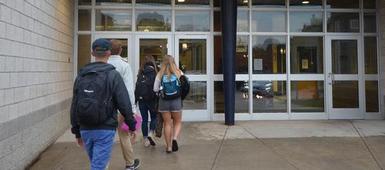 High School Parent Night on Thursday:

SKANEATELES, NY (October 4, 2017) – Skaneateles High School's open house will take place on Thursday, October 5, beginning at 7 p.m. The annual open house will follow its traditional "daily schedule" format, with parents heading to their child's homeroom class from 7:00 – 7:10 p.m. Beginning at 7:13 p.m. parents will move to first period, then follow the remaining daily schedule from there, with each period lasting ten minutes. Parents are reminded to skip their child's lunch period and simply attend either their fifth or sixth period class. During periods that are scheduled for study halls or labs, parents are encouraged to visit the information tables set-up in the main office hallway, tour the building, and ...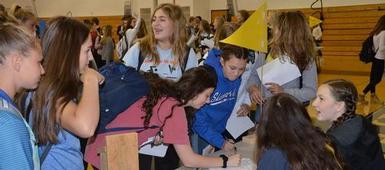 H.S. Students Explore Clubs, Activities at Fair:

SKANEATELES, NY (October 3, 2017) – A successful Student Club & Activities Fair took place on Tuesday morning in the Skaneateles High School gym featuring more than 30 different clubs and organizations for students to be a part of during the school year. "The fair gives students a chance to talk to other students that are involved in certain activities and clubs, view displays and demonstrations, and choose to join if they wish," said Stephen Musso, Director of Student Wellness, Clubs, and Athletics for the Skaneateles Central School district. "We encourage students to use this occasion to explore and learn about the multitude of options that can enrich their high school experience." The activities fair was open ...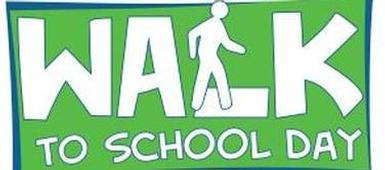 Walk to School Day Oct. 4 Promotes Healthy Living:

SKANEATELES, NY (October 2, 2017) – The Skaneateles Central School District and the Skaneateles Elementary Parent Teacher Committee are excited to take part in International Walk to School Day on Wednesday, October 4. Walk to School Day is an annual event that promotes the benefits of walking and bicycling including the importance of physical activity, teaching safe pedestrian and bicycling skills to children, awareness of the walking and cycling community, concern for the environment, reducing traffic congestion, pollution, and speed near schools, as well as sharing time with community leaders, parents, and children. Learn more about joining children and adults around the world to celebrate the benefits of walking and bicycling by visiting ...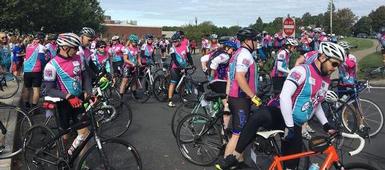 VIDEO-PHOTO GALLERY: Ride for Missing Children:

Bike Riders Raising Money for Child Safety Education Visit Cayuga County - Area Schools Including Skaneateles Middle School - By: Kelly Rocheleau, www.AuburnPub.com ELBRIDGE — Around 100 biking volunteers for the 15th Annual Syracuse Ride for Missing Children were greeted by cheering, sign-wielding Elbridge Elementary School students Friday morning. The students were lined up at the front of the school to support the riders, who also had police escorts and others with them. The cars' blaring police sirens prompted even more bouncing and smiling from the children. The 100-mile ride featured volunteers on bikes to acknowledge missing children, drum up attention for child ...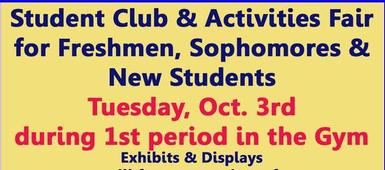 Club & Activities Fair Set for Tuesday in HS:

SKANEATELES, NY (September 26, 2017) – Skaneateles High School will hold its Student Club & Activities Fair in the high school gymnasium on Tuesday, October 3 during first period. The activities fair is open for freshman, sophomores, and new students featuring a variety of organizations and clubs to choose from and learn more about. Several exhibits and displays will be on hand as students explore their passion and look to join. District residents are reminded that Project 2021, the district's proposed capital improvement project, will be up for vote on Tuesday, November 14. A full listing of Project 2021 details are listed under the Project 2021 quick link at www.skanschools.org. More information will be out on the pending ...
<< Previous Next >> Viewing 201 - 220 of 545 stories