District News
<< Previous Next >> Viewing 201 - 220 of 620 stories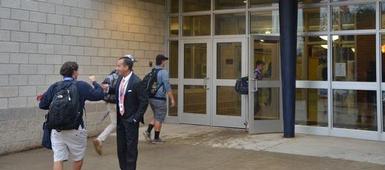 SHS Honored as "Reward School" by the SED:

Skaneateles High School has been recognized by the State Education Department as a "Reward School" in honor of its high academic achievement. Follow this link - Three Onondaga County high schools recognized for high academic achievement - for more information. GO Lakers - 110%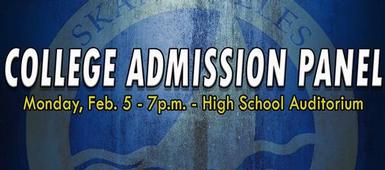 College Admission Panel Set for February 5:

Junior parents mark your calendars for the evening of February 5 th , 2018 , as the counseling staff will be hosting a college admission panel to speak to you and our students about the college process and the nuances of the college admission process. We will have a variety of speakers from two and four year institutions; both private and public so that we have a wide perspective to offer. Please come armed with questions to ask our guests as they will be more than happy to entertain any and all questions regarding the process. The presentation will start at 7:00 in the high school auditorium.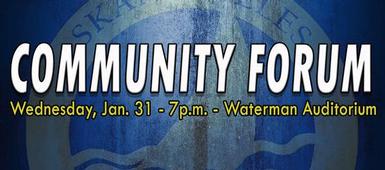 Community Forum Set for Wednesday in Waterman:

The District Office team at Skaneateles Central Schools will be updating the community on the overall State of the District on Wednesday, January 31 at 7 p.m. in the Waterman Auditorium. The Forum will address district progress including program initiatives, current building projects, the 2018-2019 budget development process, and Project 2021. A question and answer session will conclude the program.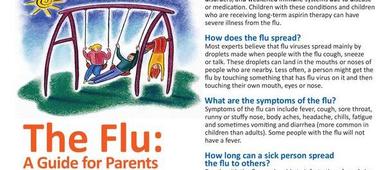 The Flu: A Guide for Parents:

Below are links from the CDC website which include a guideline on flu prevention as well as educational videos. We hope that these resources are helpful to our parents, students, faculty, and staff. VIDEO - Fight Germs, Wach Your Hands (3:00) VIDEO - Wash Your Hands (:30) The Flu: A Guide for Parents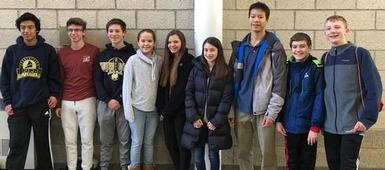 SCS Students Take Part in All-County Music Fest:

A host of 7th-9th grade students from Skaneateles Central Schools recently took part in the 2018 Junior High All-county Music Festival at Eagle Hill Middle School in Manlus. Each student auditioned among hundreds of other young musicians throughout Onondaga County to qualify for the festival showcasing their music talent, high degree of discipline, and commitment. Selected students from Skaneateles Central Schools are: 7th grade: Charlotte Millman (Chorus) Cade Lamphere (Chorus) 8th grade: Amelia Musso (Chorus) Christopher Patterson (Chorus) Emil Sander (Chorus) Mac Tourcotte (Orchestra - Viola) Lili Winkelman (Band - Trumpet) 9th grade: Nate Azzam (Chorus) Colin Cox (Chorus) Parker Glowacki (Chorus) Mason Michel (Chorus) Josh Pickup (Orchestra ...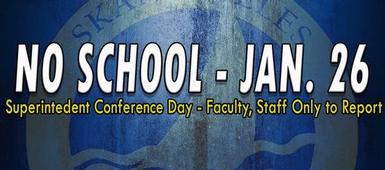 Superintendent Conference Day Friday; No School:

REMINDER: School will not be in session tomorrow (January 26) for students as it is a Superintendent Conference Day for faculty and staff. ONLY faculty and staff are to report to school tomorrow. Thank you and we hope our students enjoy their three day weekend!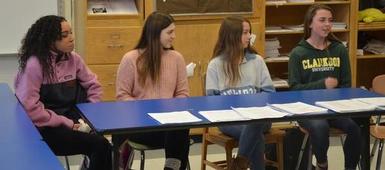 SHS Students Talk Careers with Eighth Graders:

Skaneateles High School students became mentors and advisors for eighth graders this week when they shared some of their career exploration experiences in Colleen O'Hara's Family and Consumer Science (F.A.C.S.) classes. Eighth graders had just finished a unit about careers when O'Hara had the high schoolers speak. She asked the older students to remember back to what career they researched in eighth grade, and to talk about how their ideas have changed (or not changed) since then. The high schoolers urged eighth graders to explore in any way possible while in high school, by job shadowing, talking with adults in various careers, attending camps and programs, and stopping by the counseling center to hear career speakers. "Take ...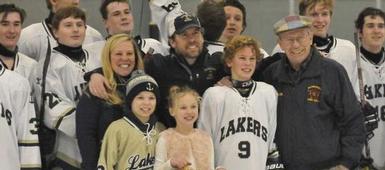 Mr. 300: Coach Major Earns 300th Hockey Win:

Mitch Major has coached the Skaneateles Lakers Varsity hockey team for 18 years, and on Tuesday reached a historic milestone, collecting his 300th career victory with a 6-2 win over Oswego. "You don't think about the wins ... you think about the players and just helping them get better every day," Major said. "It was a nice gesture tonight and I really appreciate it, but there's no way I'd be around this long without the great players and the tradition here in Skaneateles." Click HERE to read the full story from auburnpub.com.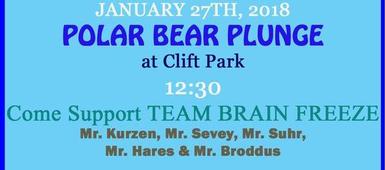 SCS Teachers to take Polar Bear Plunge Saturday:

SKANEATELES, NY (January 23, 2018) – A group of five Skaneateles Central Schools teachers will once again take the Polar Bear Plunge into Skaneateles Lake from Clift Park on Saturday, beginning at 12:30 p.m. Known as Team Brain Freeze, teachers Bob Broddus, Josh Hares, Dan Kurzen, Brian Sevey, and Justin Suhr will all take the plunge benefitting SAVES, the Skaneateles Fire Department and the Skaneateles Education Foundation. Team Brain Freeze has been the top fundraiser in the Polar Bear Plunge for the past five years, raising over $1,600 prior to last year's plunge. Registration for the plunge will begin at 11 a.m. For more information on the Polar Bear Plunge, visit the Skaneateles Polar Bear Club Facebook page. Keep in touch ...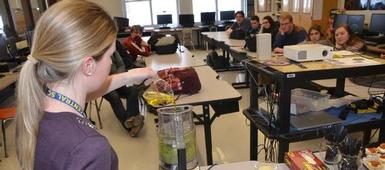 Hydroponics Leads to Pesto at Skaneateles High:

On thursday afternoon School Lunch Director Emily Cullen, visited Scott Stagnitta's Principles of Applied Technologies class, otherwise known as Hydroponics, for a food demonstration. Cullen used the basil currently being grown in Hydroponics to put together a fantastic pesto sauce which was used on pizza and with bruschetta. This served as yet another way that students could see how their work and effort in Hydroponics is put to use in everyday applications. We don't know if a technology class has ever smelled so good!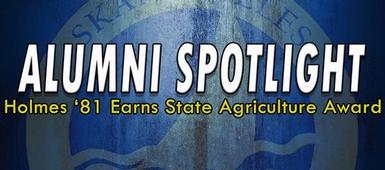 Alumni Spotlight: Holmes Earns Agriculture Award:

Jacqueline (Hole) Holmes, Class of 1981, recently earned the Florida Agriculture in the Classroom's (FAITC) Excellence in Teaching about Agriculture Award for 2018. Holmes uses a school garden to teach her students science, reading, writing, math and engineering. Her students currently have eight tower gardens they use to grow produce for the salad bar in the cafeteria. Her school garden project was such a success last school year that Lake County Schools got a grant to start gardens at 30 other schools in the district. To learn more click HERE to read the full article! Congratulations Jackie!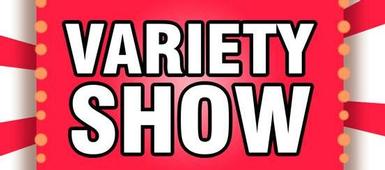 Middle School Variety Show in HS Auditorium, 7pm:

The Skaneateles Middle School Variety Show is tonight! Don't miss this opportunity to see the talents of our middle school students shine inside the high school auditorium at 7 p.m. Admission is just $2 or bring a canned food to donate to the food bank and get in for just one buck!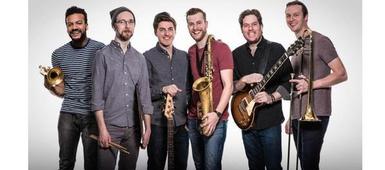 Huntertones to Perform at SHS on February 2:

SKANEATELES, NY (January 16, 2018) – The Huntertones, a world-class jazz ensemble, are set to perform at Skaneateles High School on Friday, February 2 at 7 p.m. presented by Arts in Education and the Skaneateles Music Guild. From Brooklyn, NY, the Huntertones will spend an entire day in the Skaneateles Central School District, performing for elementary students in the morning, middle school students in the afternoon; with improv workshops taking place later in the day with the middle school jazz lab and high school jazz ensemble. To round out the day the Huntertones will perform a free community concert in the high school auditorium at 7 p.m., which will include performances by the district's jazz ensembles. The Huntertones bring people together ...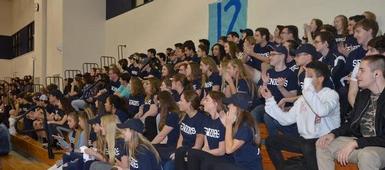 Pep Rally, Wellness Day Conclude Spirit Week:

SKANEATELES, NY (January 12, 2018) – Snow Much Pride Week at Skaneateles High School and Skaneateles Middle School came to a conclusion on Friday afternoon with a high school Pep Rally and Wellness Day for students. A full week of pride was shown with Monday's Twin Day, TV Show Tuesday, Wednesday's Jersey Day, Thursday's Laker Pride Day, and Class Color Day on Friday. At 12:20 p.m. on Friday, students in both the high school and middle school gathered in their respective gymnasiums to rally school spirit, and rally they did. The Skaneateles High School gym was filled with students and faculty in all grade levels, as each class was pit against one another in friendly, yet competitive, games of tug of war, relay races, pie eating contests ...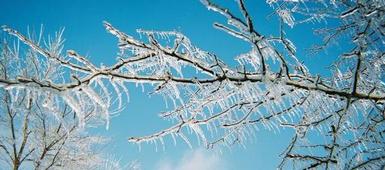 Friday Night Games, Weekend Activities Canceled:

All games for tonight have been canceled. Teams and clubs may practice until 6 PM. Please coordinate with your respective supervisor for scheduling. For tomorrow (January 13), all activities including practices, all county music festival, Blizzard Ball, and Section 3 track meet are canceled. Please stay safe and warm this weekend.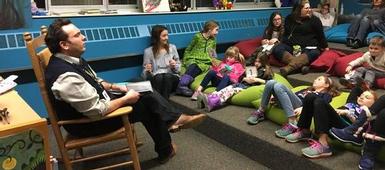 Students, Families Enjoy Family Reading Night:

Last night, the teachers at State Street Intermediate School, the Skaneateles Elementary PTC, and school principal Christopher Casler-Goncalves, welcomed State Street families to State Street Intermediate School's inaugural Family Reading Night. The goal of the evening was to answer the following questions... How can I inspire my child to read more at home? How can I begin to instill a love of reading in my child? How can I support my child's literacy development in a fun way? Family Reading night o ffered some creative answers. In alignment with the goal of continually partnering with families to improve students' literacy outcomes, ...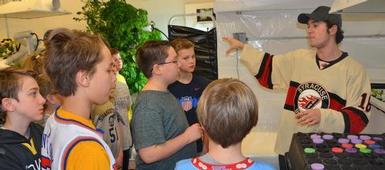 Sixth Graders Learn High School Hydroponics:

SKANEATELES, NY (January 11, 2018) – Cross-curricular opportunities are a fantastic avenue for students to work with other students, and in this case learn about courses that could be in their future. On Wednesday afternoon students in Colleen O'Hara's sixth grade Family and Consumer Science class visited Scott Stagnitta's high school hydroponics class, where they received a personal lesson from high school students on vertical hydroponics. "This is certainly a unique cross-curricular activity for our students," said Stagnitta. "We are fortunate to have a program such as this in the high school and we enjoy getting it in front of our district's younger students as soon as possible. Today the sixth graders ...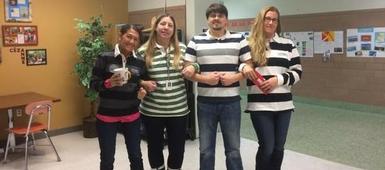 Snow Much Pride Week Revs Up Skaneateles High:

It's Snow Much Pride Week at Skaneateles High School as students and teachers rev up and re-energize for the second half of the school year! The student derived spirit themes for the week are: Monday: Twin Day Tuesday: TV Show Tuesday Wednesday: Jersey Day Thursday: Laker Pride Day Friday: Class Color Day (Freshman - red, Sophomores - green, Juniors - white, Seniors - blue, Teachers - yellow/gold) There will also be a Pep Rally held as a part of the week which will look to inspire class pride and school spirit. All extra-curricular groups, clubs, and sports will be recognized with activities such as tug of war, relay races, a pie eating contest, and much more all taking place. REMINDER: The Blizzard Ball semi-formal is this Saturday, January 13 at the ...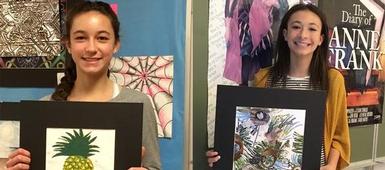 Middle School Students Earn CNY Scholastic Awards:

SKANEATELES, NY (January 8, 2018) – Skaneateles Middle School students Kelsey Rutledge and Madeleine Wright have earned CNY Scholastic Art and Writing Awards. Rutledge, an eighth grade student, received the award of Honorable Mention for her reduction print titled, "Tropical Pineapple." Wright, a seventh grade student, received the Silver Key award for her collage titled, "Emerald Feathers." The Scholastic Art and Writing Awards are the nation's longest running and most prestigious recognition program for creative teens in grades 7-12. Each year more than 300,000 works of visual art and writing are submitted to Scholastic with more than 90,000 being recognized and celebrated at the regional level through local exhibitions ...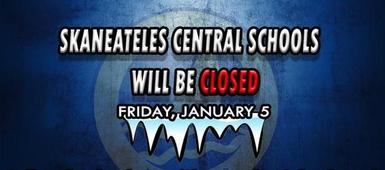 SCS Schools Will be CLOSED on Friday, January 5:

UPDATE: Skaneateles Central Schools will be CLOSED tomorrow (Friday, January 5). Regarding weekend activities, we will be notifying parents once conditions have been evaluated and decisions have been made.
<< Previous Next >> Viewing 201 - 220 of 620 stories