Health Links

Below is information that will be helpful to parents regarding various frequently asked questions

:

1) Lice FAQ's and helpful video
Quite often the Nurses in our Health Offices hear that parents don't know what Lice or nits (their eggs) look like. Even though Lice have existed for a very long time many families have not been exposed to them.

Lice facts:
Lice are a parasite that do not cause disease. They infest hair by crawling (they do NOT jump or fly) and feed on blood from human scalp.
You cannot get Lice from animals nor can you give Lice to an animal...your family pets are safe from Lice.
Hygiene has nothing to do with Lice and in fact they prefer cleaner hair since it's preferable to 'glue' their eggs or nits to.
If you are told by your school nurse that your child has Lice, please consult with your family physician to determine the best method of treatment.
Only treat family members that have been diagnosed with Lice since the incorrect use of pesticides for the treatment of head Lice poses a greater risk to your child's health than the Lice.
If your child has been diagnosed with Lice, he or she will be sent home from school for treatment (as determined by your physician). All bedding, child outerwear and stuffed animals and toys should be washed and dried in a hot dryer for at least 20 minutes each day until it is determined that the Lice is gone. Upon return to school the following day, please escort your child to the Health Office to follow up with your school nurse and discuss next steps.
The Skaneateles Central School district does not have a 'no nit policy'. Upon initial treatment of a student, the student may return to school and the family will work collaboratively with the school nurse to remedy the Lice issue.
Lice Video showing what Lice and nits (the eggs) look like:
https://www.youtube.com/watch?v=mAsfE8AWxzU&feature=player_detailpage


2)When to keep your Child home from School: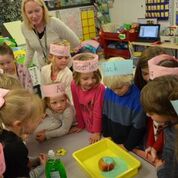 Many parents ask, "When is my child sick enough to stay home from school?"
Sometimes this is not an easy question to answer! We hope that these tips can help.
Fever in the past 24 hours that is greater than 100 degrees orally without medication
Vomiting or Diarrhea in the past 24 hours
Sore Throat or Strep Throat (must be taking antibiotics for 24 hours to return to school)
Bad cold with a very runny nose or bad cough that is disruptive to sleep and other students
Red, runny eyes or large amounts of nasal discharge especially if accompanied by facial pain or headache
Severe ear pain or drainage from the ear
Any condition that is serious or can be contagious to other students or staff
Unidentified rash that could be contagious to others
Head lice- until your child has been treated according to your school nurse's instructions
3)Flu Facts
The flu or Influenza is a contagious illness that generally spreads through our community between the months of October and May.
The flu is caused by a virus and is mainly spread through droplets via coughing, sneezing and close contact.
The flu will have a sudden onset as opposed to the common cold which is generally felt getting worse gradually.
Some symptoms include: fever/chills, sore throat, severe muscle aches, severe fatigue, cough, headache and a runny, stuffy nose.
The flu can be very dangerous for young children, older adults and anyone with certain health conditions or weakened immune system issues.
All children 6 months and older and all adults should receive a flu vaccine each year to help from contracting the illness.
If you suspect that your child has the flu, please inform your school Health Office and please keep your child home until the symptoms resolve.