Physical Examinations:
Per New York State law, Physical Examinations are required for all students in Grades K, 1, 3, 5, 7, 9 and 11 and all new entrants to the school district. Exams
should be dated within the twelve-month period prior to the first day of school and completed by a New York State licensed physician. A report of the
health exam should be provided to the Health Office by the first day of school for entering Kindergarten and within 30 days of entrance for other required grades.
BMI or Body Mass Index must be included per New York State law which is based on a student's height and weight. Should New York State select our school district to be part of their yearly BMI survey, only summary information will be provided without names or other personal information. Parents may request to have their child's information excluded from this survey summary.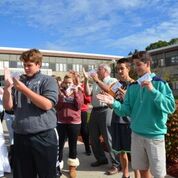 Dental Certificates:
Health Screenings are expanded to include the request of a dental certificate. Dental certificates should be submitted at the same time as the Physical Examination paperwork to the Health Office.

Immunizations:
There are numerous immunizations that are required by New York State law for school entrance and attendence. Immunizations are also ongoing at various grade levels. Proof of immunizations are required before the first day of school for all new entrants to the school district, students entering Kindergarten as well as ongoing immunizations as communicated from your child's school nurse. Please provide copies of immunization documents to the Health Office by the first day of school each year when required. If your child is entering mid year from another school in New York State or from a different state, please see the school nurse regarding requirements for attendance.

The school nurse will notify parents if a student is lacking any required immunizations. According to New York State law, failure to comply to a required immunization within 15 days from notification could result in suspension from school.

Physical Examinations for Sports:
Physical examinations are also required if a student is participating in interscholastic sports. Sports physicals are offered at school for students lacking a physical exam dated within twelve months prior to the start of the specific sport's season. Please either refer to your district calendar for the dates scheduled or contact your school's Health Office for information.