District News
<< Previous Next >> Viewing 41 - 60 of 1082 stories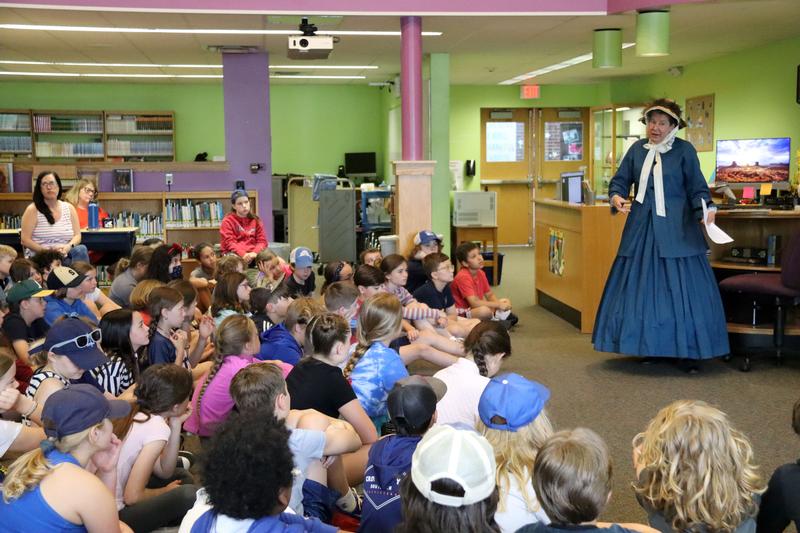 Retired Skaneateles Teacher Returns to State Street for Civil War Presentation:

Fifth-grade students recently saw a familiar face in the State Street library, as retired teacher Nancy Fortais returned to the building to teach students about the roles of men and women in the Civil War. Fortais, who has always been interested in the history of the Civil War, also spoke about the background of a book the students recently read: The Boys' War by Jim Murphy. Fortais explained that many young men- boys, even- in the war played in the band, while women baked goods and knitted clothes for soldiers. Fortais was dressed up in a traditional women's outfit for the presentation: a bonnet, traveling dress, hoop skirt, detachable sleeves, and boots. Fortais also told the students about the significance of Memorial Day. In 1866, Americans wanted to honor the ...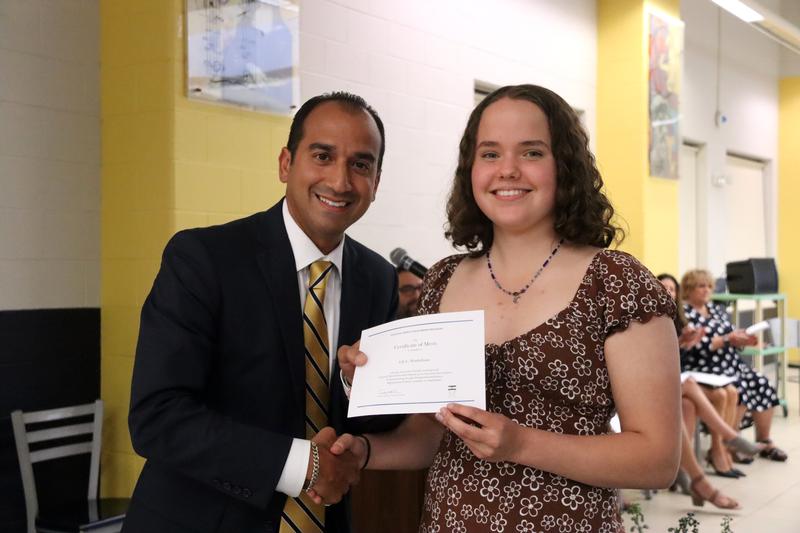 Skaneateles High School Recognizes Exceptional Students at Annual Honors Convocation:

On Tuesday, May 23, dozens of exceptional Skaneateles High School students and their families attended the annual Honors Convocation in the High School cafeteria. As students arrived, they were greeted by administrators and entered the cafeteria to the sounds of superb music performed by orchestra students. High School Principal Greg Santoro addressed the audience at the beginning of the ceremony. "This is always a very special evening as we recognize the accomplishments of our students," said Santoro. Santoro announced awards for the evening, along with Art Coordinator Heather Buff, Music Coordinator Michael Major, Humanities Coordinator Francine Grannell, STEM Coordinator Brian Cohen, and High School Counselors Brittany Manuel, Mary Lou Ingram, and Jessica Walsh. ...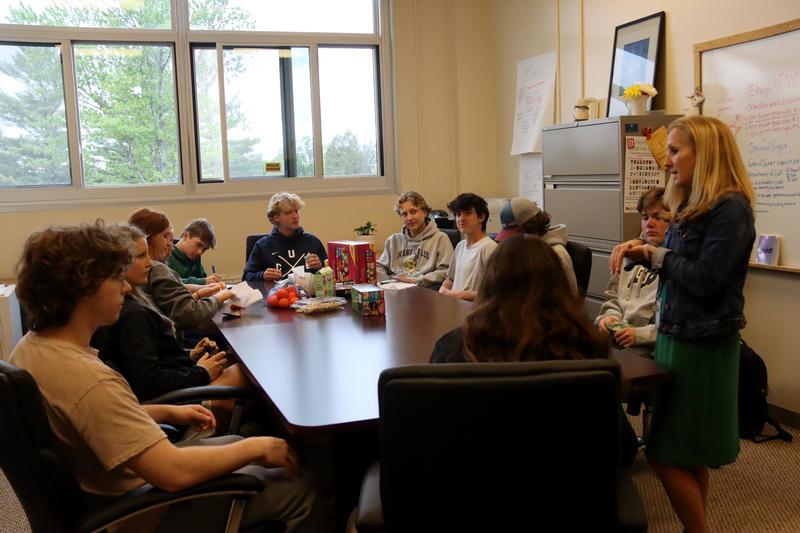 New Peer Group Collaborating on Initiatives for Mental Health Awareness at Skaneateles CSD:

The school year may be winding down, but a group of Skaneateles students are just beginning an important task: creating an open dialogue about mental health. Advised by the Office of Student Support Services, the group is Skaneateles' own version of Morgan's Message, an organization that strives to eliminate the stigma surrounding mental health within the student-athlete community. The Skaneateles group is comprised of student-athletes in grades eight through 11 who are passionate about increasing mental health awareness in the school community. Although the students in the group are student-athletes, they are determined to create a safe space where all Skaneateles students can discuss mental health. The group has met two times this year. At the start of each meeting, ...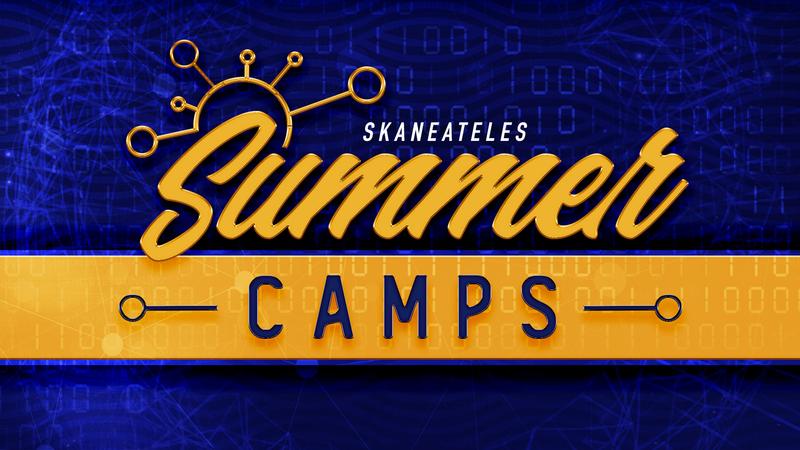 REMINDER: Register for Summer Camps!:

Many of our 2022 Summer Camps still have space to register. Click HERE to see the catalog for descriptions of our summer camps. Click HERE to register.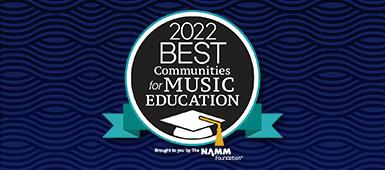 District Named a Best Community for Music Education:

Skaneateles Central School District has been honored with the Best Communities for Music Education designation from The NAMM Foundation for its outstanding commitment to music education. Now in its 23rd year, the Best Communities for Music Education designation is awarded to districts that demonstrate outstanding achievement in efforts to provide music access and education to all students. "Skaneateles has traditionally had a music faculty of very dedicated and hard-working teachers," said Karen Veverka, Skaneateles Middle School/High School Orchestra Director. "It has been my privilege to teach in the district for 32 years, having the support of parents, colleagues and administration." Research into music education continues to demonstrate educational/cognitive ...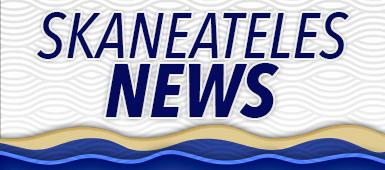 Universal Pre-Kindergarten Family Interest Survey:

May 11, 2022 Dear Skaneateles family, Given additional Universal Pre-Kindergarten funding allocations in the coming school year, we are exploring the possibility of adding a pilot Universal Pre-Kindergarten program this fall. This program will serve 14 students chosen by lottery who meet the criteria detailed in the survey below. Skaneateles CSD Universal Pre-Kindergarten Family Interest Survey (google.com) Please complete this survey for each applicable Universal Pre-Kindergarten age child as participation in this program will be determined by community interest. In addition, we appreciate your help in sharing this information with any Skaneateles families not already connected to our school community who might be interested in participating. Thank you for your assistance ...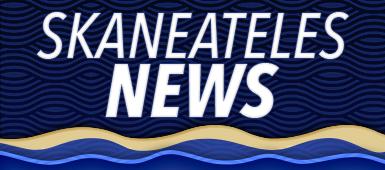 Skaneateles CSD Presents the Mental Health Month Speaker Series, May 19 and May 24:

The Skaneateles Central School District will hold a Mental Health Speaker Series during May. Session One, entitled "Warning Signs, Strategies & Resources, will be held Thursday, May 19 from 6 to 7 p.m. in the high school auditorium. Session Two, entitled "What Would You Miss? A Candid Conversation Around Suicide Prevention" will be held Tuesday, May 24 from 6 to 7 p.m. in the high school auditorium. Please sign up at the QR code below to RSVP, or at the following link: https://docs.google.com/forms/d/e/1FAIpQLSfoq6IVktrfUoDfGU0B2UTvnH1i3kI6Hi5DhMV4G4PQ9dSzPQ/viewform?fbclid=IwAR3A8EdHHjkhbML9T3CWreW3M64BS-sPBFo4r-q-92VmMNwlbGL3vbYZW8g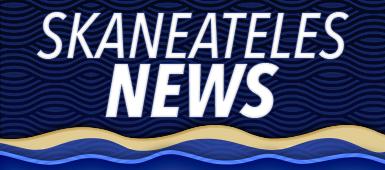 Summer Camp Opportunities for Middle School Students:

The Skaneateles Middle School is excited to offer 2 Summer Camp opportunities. SpeakWell is a youth leadership and public speaking program that helps build stronger students. The structured curriculum teaches students to build growth mindsets, confidence, self-esteem, focus, productive speaking, listening, wellness and life skills, but most importantly- it's fun! SpeakWell delivers its services through award-winning programs, taught by international speaker and entrepreneur, Patty Kennedy; SpeakWell basketball camps with retired NBA NY Knick and former Syracuse University player John Wallace; and SpeakWell acting camps with 'Homeland' and '13 Reasons Why' Actress, Amy Hargreaves. We are excited to be able to offer these camps and because of our partnership ...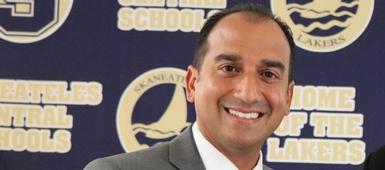 Long-time Skaneateles High School Principal Brings Leadership and Passion to New Role as Director of Personnel and Operations:

In June 2014, Skaneateles High School Principal Greg Santoro attended the school's Commencement ceremony for the first time. He stood on the gazebo at Clift Park and took in the beautiful scene unfolding before him: the boats gathering around the lake, the energy radiating from the village, and, most importantly, the pride exuding from Skaneateles graduates and their families. "I knew right then and there that I could see myself here for a long time," said Santoro. Now Santoro is bringing his leadership and passion to a new position in the Skaneateles Central School District. On Tuesday, May 3, the Skaneateles Board of Education approved Santoro's appointment as Director of Personnel and Operations, beginning July 1. Superintendent Eric Knuth said ...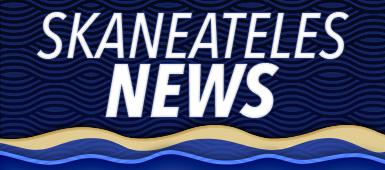 LISTEN: Middle School Staff Featured on Literacy Podcast:

Two Skaneateles Middle School staff members were recently featured as guests on the Melissa & Lori Love Literacy Podcast. On this episode, librarian Kelly Gunderson and ELA teacher Seth Benjamin shared their collaboration in-service of building students' knowledge. Listen to the episode at the following link: https://www.literacypodcast.com/podcast/episode/78b151b2/ep-104-ela-teacher-school-librarian-knowledge-building-dream-team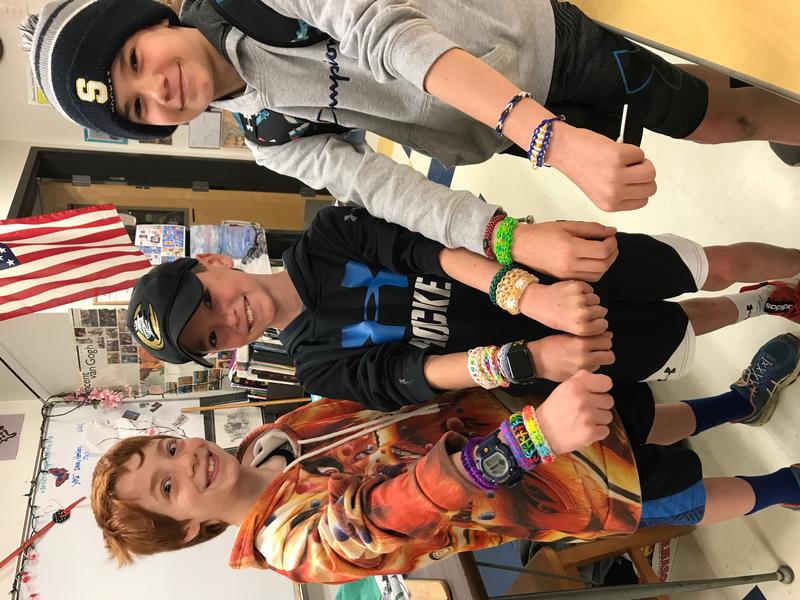 Fifth-Grade Students Show Off Creativity With Monster Bands:

Two students in Mrs. Hendrick's fifth-grade class at State Street School have started a new fashion trend. Isaac Franks and William Clancy have put their hard work and creativity into their business, "Monster Bands." So far, they have made around ten different types of colorful Monster Bands! Those who are interested in ordering a Monster Band can see Isaac and William at State Street!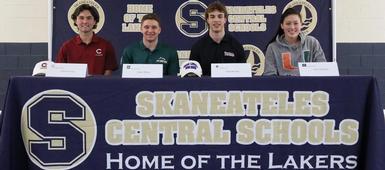 Four Seniors Participate in National Letter of Intent Signing Ceremony:

Four Skaneateles athletes recently committed to playing college sports next Fall. Athletes participated in a National Letter of Intent Signing Ceremony at the Skaneateles High School cafeteria, where they were recognized for their contributions to Skaneateles Athletics. Afterwards, athletes, their loved ones, and coaches were treated to a reception. The following athletes will take their talents to the next level: Owen Cheney- Soccer, Colgate University James Musso- Baseball, Lemoyne College Luke Renaud- Lacrosse, UMass Lowell Hana Spaulding- Swimming, University at Miami These athletes are part of only a select few throughout the nation who have earned the opportunity to play at the next level.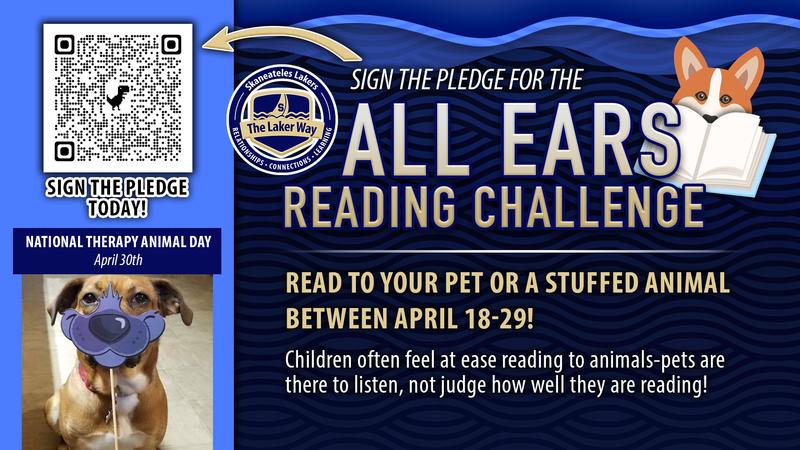 Sign the Pledge for the All Ears Reading Challenge:

Did you know that reading to a pet or stuffed animal can help children feel more at ease? We are encouraging all Lakers to sign the pledge for the All Ears Reading Challenge via the QR code, or at the following link: https://docs.google.com/forms/d/e/1FAIpQLSf8y0aSghxsQrikbyU7V8rLp8wfLXOh892Cbf8q2yX-FNGwPw/viewform?fbclid=IwAR1vSc8ZrTVd_zjLWmvs_XRUO9BpFEIkbJHBUcA1N1Ln2fEXTFVvBA_PTS8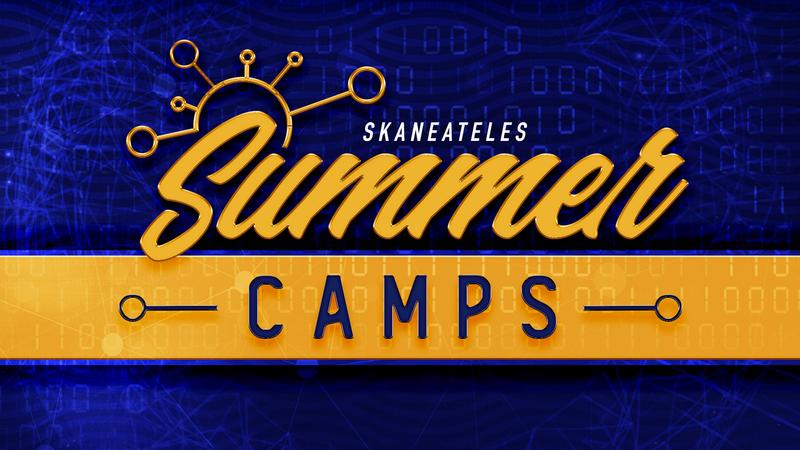 District Announces 2022 Summer Camp Offerings:

Skaneateles CSD is excited to announce our 2022 Summer Camp offerings! Registration for all of the camps will open at 9:00 a.m. on Tuesday, April 19. Please see the below catalog for details about the offerings.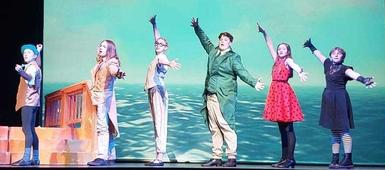 Middle School Drama Department Presents James and the Giant Peach Jr:

The Skaneateles Middle School Drama Department is proud to present Roald Dahl's James and the Giant Peach Jr! Show times are listed below: Thursday, March 24 at 3:30 p.m. Friday, March 25 at 7:30 p.m. Saturday, March 26 at 2 p.m. and 7:30 p.m. Tickets are $8 and can be purchased at the door or from any cast/crew member.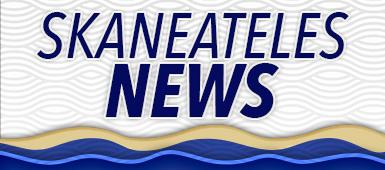 Notice of Annual Meeting:

NOTICE OF ANNUAL SCHOOL DISTRICT MEETING OF THE VOTERS OF THE SKANEATELES CENTRAL SCHOOL DISTRICT NOTICE IS HEREBY GIVEN that a Public Hearing of the qualified voters of the Skaneateles Central School District will be held in the District Office, 45 East Elizabeth Street, Skaneateles, on Tuesday, May 3, 2022 at 7:00 p.m. prevailing time, for the presentation of the budget. NOTICE IS HEREBY GIVEN that the Annual Meeting of the qualified voters of the Skaneateles Central School District will be held in the District Office in said District on Tuesday, May 17, 2022 between the hours of 7:00 a.m. and 9:00 p.m. prevailing time at which time the polls will be opened to vote by ballot upon the following items: To adopt the annual budget of the School District ...
<< Previous Next >> Viewing 41 - 60 of 1082 stories