Fifth graders explore SU library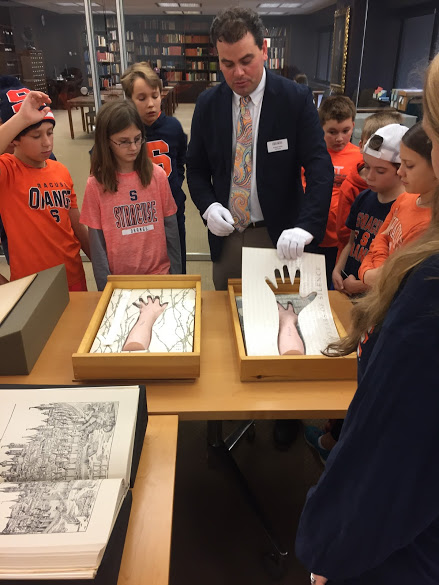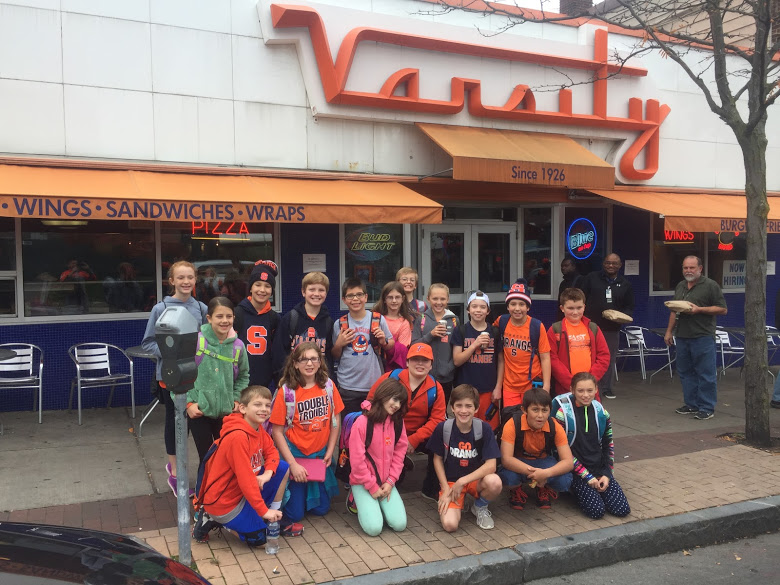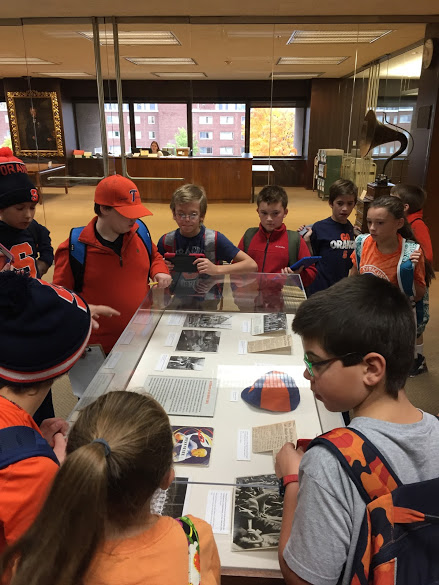 Seth Benjamin's students were the Skaneateles fifth graders to visit Bird Library at Syracuse University as part of an effort to expose students to college libraries.
"They were like sponges that day," said State Street School Librarian Karen Watson. "They were great. It was so amazing. They asked such thoughtful questions."
Benjamin was thrilled to see his students spend a day as mini college students. "The kids were enthusiastic, respectful, and great representatives of State Street School," he said in an email.
"Chief Curator Andrew Saluti gave a tour of the library and then led us to the Special Collections level. We took part in the Ancient World Writing Systems program....wow! We were able to view and use as resources cuneiform tablets from 4000BC, papyrus fragments from Ancient Egypt, Japanese scrolls, a Papal book of Canon Law and so much more."
Watson said the earlier that students are exposed to libraries, the more likely they will be to really use them in high school and college.
Benjamin said the group discussed the history of written communication, how it has changed, and compared and contrasted with current digital writing technologies. "As the 5th grade social studies curriculum is focused on the Western Hemisphere, we also discussed our founding documents such as the Declaration of Independence and US Constitution as primary sources, what they are and how to interpret them in order to understand the past. A truly amazing experience," he said.
Watson said she had the idea after a meeting with Superintendent Ken Slentz in which librarians discussed the importance of exposing students to college libraries before their freshman year in college. "I'm an alum and spent many hours at the special collections library studying these artifacts myself. I knew the students would benefit from this experience," she said.
After the library visit, the class headed to the Varsity and then on to the Melo Center. "We were met by a student intern who gave us a tour of the entire facility and shared the history of SU basketball and how the student-athletes use this facility for class, studying, and practice. We had the chance to meet Coach Hopkins and Eric Devendorf...they greeted us and gave a great message about working hard. They stressed that 'student' comes first in 'student-athlete'," Benjamin said.