"We are a sum of the choices we make"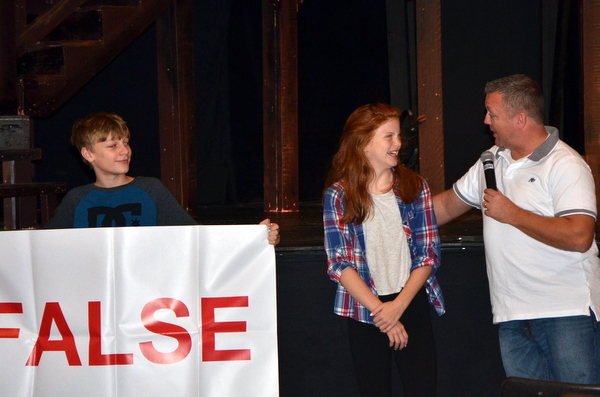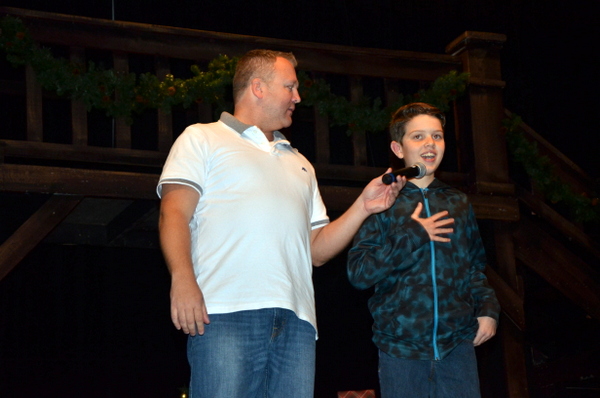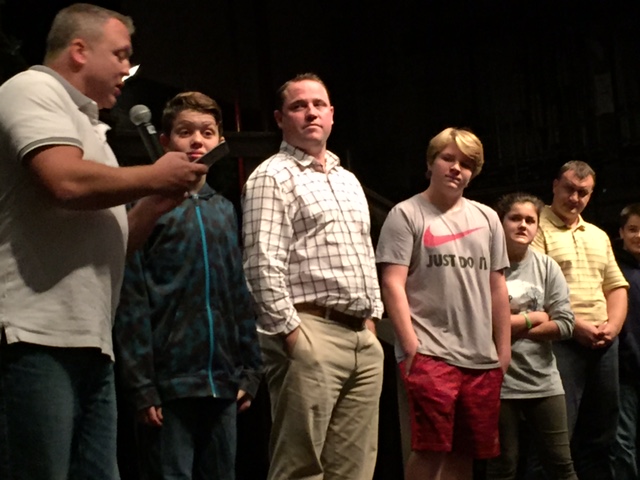 The day after talking with parents about raising the "Snapchat generation," Jerry Ackerman spoke to Skaneateles Middle School students and High School students during two lively assemblies.
He didn't need to teach students how to use social media, as he did their parents. Instead, he worked hard to show them why they must use it very very carefully. Realizing that teenagers might just roll their eyes over conversations about internet safety, Ackerman used one dramatic example after another to show the magnitude of what might seem like small choices.
He showed how small choices could impact their own future selves, and he gave examples of how small choices could destroy another person or serve to make a wonderfully positive difference in someone's life. "Everything is about choices. You have choices. We are the sum of the choices we make in life."
"What you are doing online with social media is building your resumé," Ackerman said. "What you put on there is going to dictate your future."
In a lively game show format, he had the entire auditorium respond to true and false questions.
"40 percent of 11-18 year olds give their name, gender and email address over the internet if they think they will win something. True or False?" The audience was mixed between true and false … many not believing that 40 percent would respond to something "that is just designed so that they can get your data." The answer? "False!" That's because "80 percent will give their personal information to win," he said. "We don't think about what we are doing. We aren't careful about who we get connected to," he said.
Other statistics used in the quiz: 86 percent of college admissions offices admit to checking students' social media content. 43 percent of young drivers admit to texting while they drive.
Ackerman lives outside Indianapolis, IN, with his wife and five children. He has been a teacher, youth pastor, author of six books, and for the last twelve years, has been traveling the country as a motivational speaker. He is a regular speaker for the Navy SEALS, has appeared on Sirius/XM radio, and shared the stage with NFL stars. He has spoken to over 1 million people.
An expert in social media, Ackerman gave real examples of how improper use of social media can endanger lives. His own children had the "it can't happen to me" mentality and didn't believe his stories about people on the internet who are not who they say they are. He designed an experiment while they watched around the kitchen table. He created "Missy Adams" and within two months, "Missy" had 500 friends. "And she doesn't even exist."
He told about a girl named Hayley, a class president and all-American kid, who shared her story with him after a recent assembly. She said she had messaged on Facebook with someone very briefly before realizing she didn't know them. "It was a short two minute conversation," he recalled her saying. "Two months later, the police called her house and said 'we believe your daughter is being followed.'" Hayley and family agreed to have her wiretapped. She helped them as they apprehended a man who had been stalking her at the mall and other places, whom she'd first messaged on Facebook. He was 68 years old. "She had been walking around unaware, but in clear and present danger," he said.
"I am not anti-social media," he said, adding that he cannot stress enough how important it is to use it with caution.
He told a moving story about how the constant bullying of a student named James became the focus of a visit he made to a northern Wisconsin school district. James had been bullied so much and for so long that he felt despondent. A leader in the school named Zach heard the story and led his group of friends to make a difference for James. The principal recently wrote to say how the situation that Ackerman inspired has become a positive legend at the school.
"Realize the choices you make often don't just involve you," he urged. They can actually save a life.
Middle School Principal Gary Gerst spoke spontaneously to his students after Ackerman was finished.
"This is absolutely one of our biggest concerns," he told students about social media and bullying. "We talk about it, read about it ... and we hear a different story every day."
He told students that their nervous laughs during the presentation show "you know what is going on."
Gerst said that when one student bullies another on social media, "the thing that breaks my heart is the number of 'likes' that go underneath" the heartless words. He then needs to investigate. While discipline is a part of the follow up, his mission goes beyond that, he said. "I want and need to get help for the student who is posting."
Gerst said that no matter how much school administrators try, "we haven't done enough so you can fully understand the impact you have on other kids." He said he hopes the assembly with Ackerman, and the examples he provided, will help get through to students.
"There are so many of you in this room who could do the exact same thing Zach did in that story," and put an end to someone's suffering from bullying, and help to change a life, Gerst said.