Mother's visit enriches classroom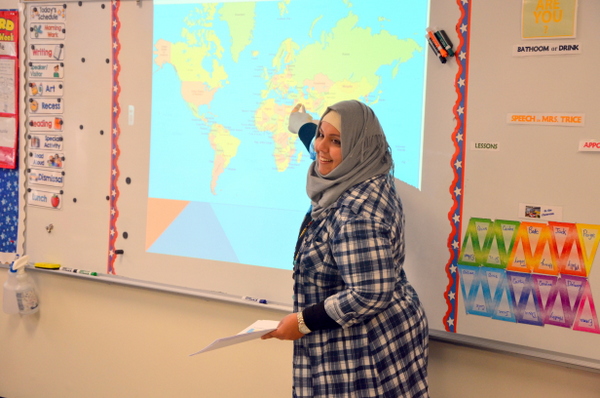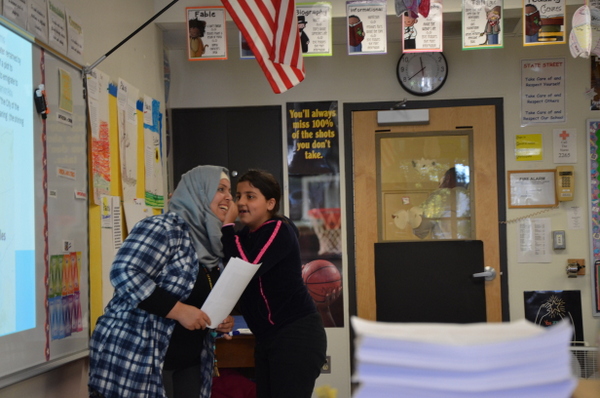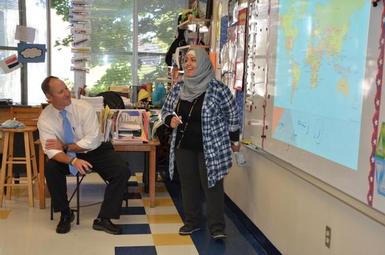 Zubaidah Alkhazraji visited her daughter Maryam's fourth grade class at State Street School recently to speak about the culture, religion and customs of Iraq. The family moved to Syracuse from Baghdad in 2014 to flee ISIS. They moved to Skaneateles before school started this fall. In addition to Maryam, the family includes a daughter in fifth grade and twin boys in second grade.
She thanked teacher Pete O'Connor "for giving me this great opportunity to share with you our culture and religion. We are really happy to share with you."
As she began her presentation, she focused on the similarities between Christians and Muslims rather than the differences. The foundations involve "taking care of each other and treating others with respect." She added: "We have to respect other people and we have to not care about their colors or how do they look. Taking care of others: that is our job. We do not live alone in this world."
Students were captivated as the friendly young mom talked about the ancient history of Iraq, the 28-letter alphabet and "the Hijri year" or the "lunar year" calendar, where it is 1438 ah. She showed pictures of the moon to illustrate how that calendar works.
She said her family was forced to leave Iraq by ISIS, because her husband was considered "a cheater" for working with the American army. Students asked about Baghdad, which she described as a great and clean city before 2003. Now, she said, it is bombed, "and there is no calm."
O'Connor said the visit turned out to be much more than he ever expected. Something that was initiated to create connections and acceptance for his new student turned into "an amazing cultural learning opportunity for my students." His students wrote thank you letters "and I was blown away by how much they remembered and how interested, compassionate and thoughtful they were." He said he hopes to continue the connection with "Ms. Z," as they call her.
Ms. Z described herself as the wife of Ashraf Aboalsbah and the mother of Sally, Maryam, Fadhl, and Saleh. They are lucky to be in Skaneateles, she said, with many thanks to her friend Michele Tarnow of Skaneateles, whom she met when they both worked to help a new Syrian refugee family.
She works to help other refugee families because she knows the hardship of immigration. Her plan is to become an ESL (English as a Second Language) teacher for adults who are new to this country, "because I know how hard it is when parents can't speak the language … and their children don't respect them."
Zubaidah's children are perfecting their English in Skaneateles schools, with extra help from Amy Tormey, the ESL/ENL (English as a New Language) teacher. While Zubaidah feels lucky to be here, she sometimes worries about fitting in and she worries about misconceptions others might have about her family.
And that is one reason she will continue to speak whenever she is asked, she said. As she spoke to the students, she apologized for her language skills, which are quite good. It was obvious none of the children had difficulty understanding her as she warmly and enthusiastically shared her story. Instead, they were engaged. And they learned, as she started off her presentation explaining, that similarities are stronger than differences.