Lessons about 9-11-2001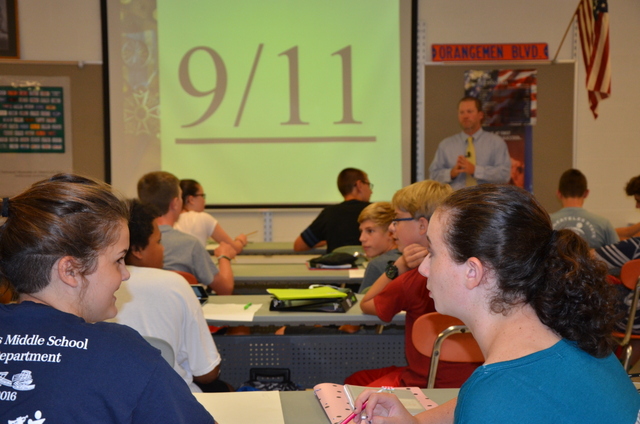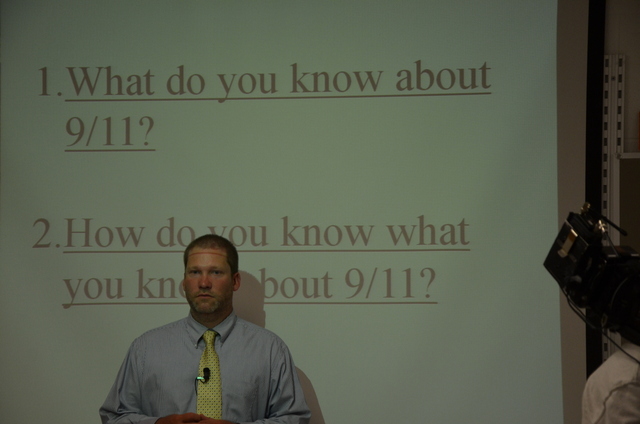 What does 9/11 mean to eighth graders who weren't alive on that day in 2001? Skaneateles Middle School Social Studies Teacher Jim Ryan asked his students to share words that came to their minds: Heartbreaking, horrific, tragic, awful, evil, terrifying.
He then showed them the video "The Man in the Red Bandana" and they added these words: United, heroic, honorable, brave. The film features Welles Remy Crowther (May 17, 1977 – September 11, 2001), an American equities trader known for saving at least a dozen lives before losing his own that day.
Andrew Donovan of NewsChannel 9 captured the conversations in one of Ryan's classes. His report will air tonight (Friday, September 9) at 5, 5:30 or 6 p.m.

Donovan wanted to hear from students who were not even alive on that day. As Ryan said to the students, "we lived the events as they unfolded … but you weren't even here yet." He asked them what they know and how they know it. It turns out that they know a lot. They provided Ryan and the news crew with accurate details. They said they have learned through books, the internet, television, parents, documentaries and school. They said they have learned an increasing amount about September 11 every year in school.
Ryan tasked them with this homework: "This weekend, ask three adults where they were when 9/11 happened." Through this, he said, students will see how every person knows and remembers exactly where they were. He hopes the question sparks conversation about history.