Evan Bille's graduation speech
When I first started writing for Skaneateles Life, I didn't think a monthly magazine about a single town could survive for very long. It was inevitable that we'd run out of Hockey and Lacrosse stories eventually, and the magazine would fold. But over the past two years, Skaneateles Life has not only survived, it's thrived. It's told the unique stories of neighbors, musicians, and volunteers from across this community. Over time, I've realized that everyone has a story to share, and it's those stories that we all share that bring our community together and make it unique.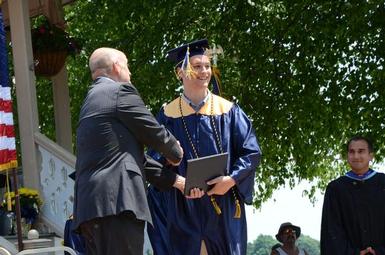 Photo by Leah King

Now I'm not talking about the stories like how I caught my first Smallmouth Bass. It's an exciting story, but I'm talking about your story. The story of where you come from, of why you get out of bed every morning, it's the story of you. You take these experiences, and you realize how much they've shaped your identity. For me, it's the story two new kids, me from Ohio and him from Virginia, meeting on a bus in Kindergarten and becoming best friends or it's the story of how a Latin class of kids from every background imaginable becomes a second family. Those experiences are a part of who I am, and I will never forget the people or their stories.
The more I thought about this, the more I thought about the Canterbury Tales. Now before you groan and tune me out because I mentioned something from English class, I think everyone here can relate to a story about an arduous journey that for so long had no end in sight. Chaucer's pilgrims made it because their stories brought them together. As each one shared a story, the rest learned something about the storyteller, and about themselves. Throughout our own journey through high school, we've come together because the experiences we've shared have created that same connection.
So after today, when you're in a lecture hall with more students in it than our entire graduating class, when you're on a crowded subway with everyone staring at the icy metal panels or at their smartphones, remember that every person there has a story to tell. They are on their own journey. And as they are just as nervous as you in that first lecture or just as uncomfortable as you on that subway, you are forming a connection from that shared experience.
And that experience might not seem like a lot, but it creates understanding. It creates an opportunity to see the world through someone else's eyes, and that creates change. For the last 12 years, we've all come together because our stories are so interconnected. We're all friends with the same people we played on the playground with. It's not a bad thing; in fact it's quite unique. But after today, you will be surrounded by people who won't know your story, and you get to choose whom you tell it to. Unless you're going to Cornell- then you'll have to find the one kid who isn't from Skaneateles to tell your story to. But in all seriousness, there's power in telling your story. The power to choose how you see the world, and how you can change it. So in the style of the Canterbury Tales, I challenge each and every one of you: on your journeys ahead, whatever and wherever they might be, to not only tell your story, but also be there to listen to others. Because your story might change someone, and someone's story might change you. But there is one thing I can say with 110% certainty, the story of the class of 2016 has only just begun.