Salutatorian tells what matters most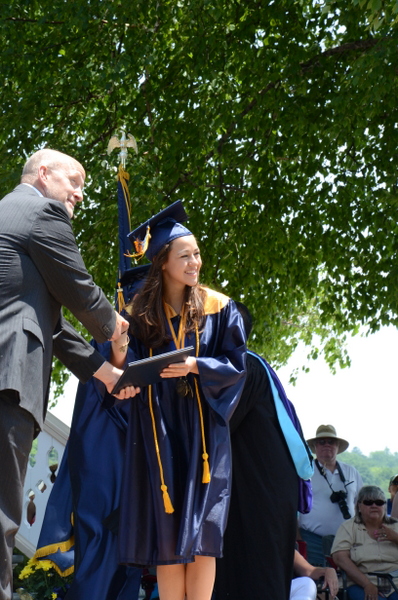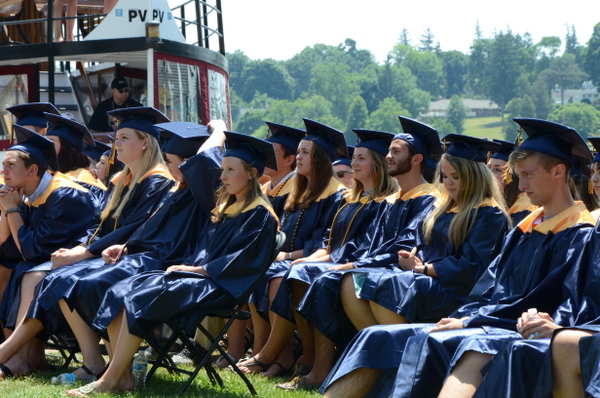 After welcoming everyone to graduation, Salutatorian Aimee La France said this about education:

At the end of my junior year I was seeking the advice of Dr. Blair about next year's courses. For those of you who don't know, he's the slightly intimidating, incredibly sarcastic director of technology who has a knack for making you feel quite foolish. Unsurprisingly, he and I get along very, very well. So we're discussing my course selections, and he brings up AP physics. My response was something along the lines of, "No way in hell, Dr. Blair." When asked why, I earnestly lamented my fear of inevitable stress and jeopardizing my GPA. His response was one full of disappointment and incredulity. He asked me, "When has the difficulty of a challenge ever stopped you from overcoming it?" See, physics makes you think in a different way and understand the world in an entirely new light. We both knew there was no way I was going to major in physics in college, but that wasn't the point. The point was my fear of failure was inhibiting my opportunity to seek more out of my education. This isn't a speech advocating AP physics. AP Physics is symbolic of any learning experience that pushed you beyond your comfort zone, tested your mental capacity, and changed you as a person in the process. Because in the end, our education isn't about passing, it's about surpassing – surpassing the expectations set by your teachers, your parents, and yourself.
Furthermore, it's not the actual information that matters in the long run, it's about how you learned that information that will be applicable for the rest of your life. Mr. Pickup taught us contextualization, Mr. Guy constantly explained synthesis, Mrs. McConochy had us utilize visualization, Mr. Kurzen would hand us a paper clip, a magnet, and a piece of string and tell us to calculate the mass of the sun. That may be a slight exaggeration, but he did allow us an incredible amount of independence to solve problems. Mr. Garrett stressed the importance of problem solving with little to no directions. We would internally writhe in pain at the unstructured nature of his activities, but the discomfort was necessary for our growth as intellectuals because there are no directions in life. We may not remember how to calculate centripetal acceleration in a month. We probably won't remember who Frederick the Great was. I can already feel all of AP Calculus leaking out of my brain. But we are effective communicators, adequate leaders, and powerful strategists. We are an incredibly impressive, well rounded student body with the most NHS inductees ever seen and an insatiable drive for success. Success as we define it. Maybe it's travelling the world, catching a small mouth bass, finding a job you love, "winning" a Socratic Seminar (technically you can't win a Socratic seminar but I beg to differ).
We are incredibly lucky to live in the community that we do, a community that values the power of an education and makes immense efforts to give us the best education possible, and from what I can tell, I believe we have used the opportunities presented to us meritoriously. I stand before my peers today with the goal of sharing a single perspective of the greater picture that is a Skaneateles education. I cannot impart wisdom nor can I teach them anything because I do not possess the experience to do so. But I am honored to be a representative voice, and I hope I have demonstrated their ambition to those present as well as they have demonstrated their ambition to me. I conclude my speech today urging this graduating class to fight – fight for your place, fight for your dreams, fight for the person you hope to one day be – and do so with the same grace and dignity that your teachers, peers, and parents have demonstrated to you. We are the class of 2016, and we have not only passed, we have surpassed. Thank you.