Artists inducted into honor society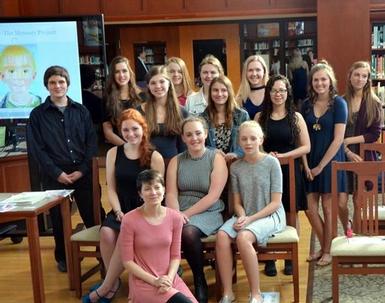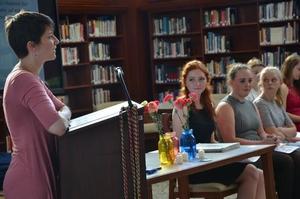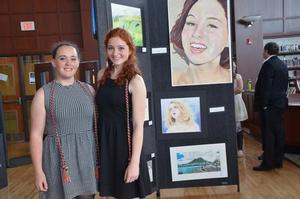 Skaneateles High School institutes new Art Honor Society

A tradition was started Monday evening when 11 students with "creative spark" were inducted into the Skaneateles High School Art Honor Society.

Art teacher Jessica Sawchuk praised the three student officers who helped create the new organization from the ground up: Seniors Chloe Strang (president) and Nicole Barry (vice president), and junior Lily Datz (secretary/treasurer). She also thanked the PTC for making it possible.

"I think it is important to say that each individual we are inducting tonight has a creative spark which results in a sense of commitment," Sawchuk said as she introduced her students. "It takes courage and dedication to finish a piece of artwork- to see it through to the end, to evaluate the process and then to start again; willing to take what you've learned, and to do better the next time. All of these students have done this many times, and it is inspiring to see. Each one of them deserves this recognition for all of the hard work they have done this year."

Sawchuk said her goal "was to create a sense of community in the Art Department, as well as to build a supportive environment, where all students who wanted to create could feel that they had each other to turn to for advice, inspiration, and motivation."

She said the inductees have "contributed their time, energy, and ideas to each other, and their community, and I am very proud of what they have accomplished. From volunteering to teaching young children to paint, to helping me recycle clay, each student has found their own way to contribute their energies. In addition, they have made time in their busy schedules to go out into the world to explore museums and creative events, which ultimately ends up helping them develop their ideas further."

In addition to the induction, she recognized the following:
Strang, Barry and Datz for helping to found the organization
Mary Teixeira and Ali Grant for their sketchbooks
Jaicey Jones for overall achievement and dedication to her work.

To join the Art Honor Society, students must be in their sophomore year (or more), maintain a cumulative average of 80 or above (with 90s or above in art classes), commit to 5-10 hours of art-related community service, and participate in four art-related activities (field trips through the art department count!) Students do NOT need to be taking an art class to join!
"Please come chat with me about joining in Room 226, and we look forward to meeting you next year!"

Check out this news and more by following Sawchuk's blog: http://skaneatelesartroom.weebly.com/ The blog can also be found by going to the district website and clicking on Humanities under QuickLinks. www.skanschools.org