Art show continues Wednesday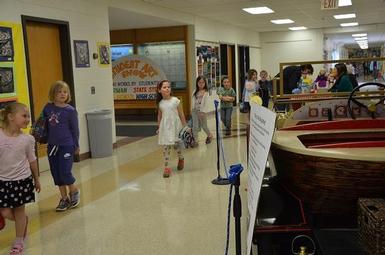 The flying car from Chitty Chitty Bang Bang is one of many interesting things on display at Waterman School today during the District Budget Vote and Board Election today (polls close at 9 p.m.). Waterman students are enjoying the display as they travel their school hallways.
The vote is in the Waterman School auditorium. One need not be a registered voter but only a district resident (owner or renter) within the last 30 days to vote.
The annual school budget vote and board member election is the first school election in many decades in which lever voting machines are not used, as the law allowing their use expired last December. As a result, Skaneateles will return to a paper ballot system.
There are four School District Propositions on the ballot, as well as one proposition for the Skaneateles Public Library (unrelated to the school district but required by NYS law to be on our ballot). To see a sample ballot, look here:
http://www.skanschools.org/tfiles/folder274/2016-2017%20Ballot%20Propositions.pdf
For a simple explanation of the propositions and what they mean, see pages two and three in this document:
http://www.skanschools.org/tfiles/folder274/Budget%20mailer%20draft%203.22.16.pdf
And for a great overview of the budget and our district, see the Shareholders Report:
http://www.skanschools.org/tfiles/folder273/ShareholderReport.pdf
To hear Superintendent Ken Slentz discuss the budget and the future, watch this student-created video which is on our website along with four others. http://www.skanschools.org/districtpage.cfm?pageid=358
There is a great Student Art Show in the Waterman School gym and throughout the hallways. The art show will continue for part of the day Wednesday as well. Stop to see the works of artists from elementary school through high school. From 4 to 7 p.m. today, a student showcase will inform residents about some of our programs and projects.