Ithaca trip takes art students around the world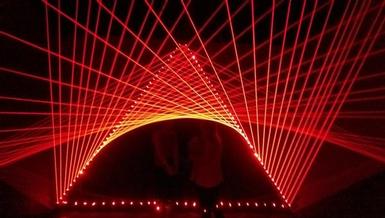 Skaneateles High School art teacher Jessica Sawchuk recently took 25 students in grades 9 through 12 on a creative journey that spanned countries and centuries.
On a visit to the Johnson Museum at Cornell University, students saw, felt, discussed and interacted with the works of ancient and modern artists. The students were from her studio art, advanced art, independent study and ceramics courses.
"Sometimes you lose sight of why you make art to begin with. There can be deep historical and spiritual reasons," said Sawchuk. She hopes students understand this through seeing and experiencing the art created by other people – from decades/centuries ago to the present . "I hope it opens their minds and gives them something more to work with. I hope it helps them feel a deeper connection to their own work, and their own history."
In the morning students were able to see and talk about multiple styles of Buddha sculptures on the fifth floor of the museum dedicated to Ancient Asian artifacts and sculptures as well as contemporary pieces. Even better: they sat and drew what they saw.
The focus was on Southeast Asian art. The fifth floor was designed with Chinese landscape paintings as inspiration, resulting in long scroll-like windows looking out over all of Cornell's campus, and beyond to the lake.
"As someone who has always been interested in ancient histories, it was very interesting to learn about different aspects of Buddhist cultures through art," said junior Maddie Bohrer.
This part of the experience was brought full circle by exploring a temporary exhibit created by a modern Thai artist who created a large interactive piece, inviting observers to take off their shoes and sit on giant pillows while watching a collage like video. The piece pulled from many ancient aspects of Southeast Asian culture, and made commentary on present day issues while linking to ancient myths. "It was challenging and made the students think," said Sawchuk.
Across from the museum at Lincoln Hall (the music building), students learned about traditional Indonesian music called Gamelan from Chris Martin, a professor who teaches a group that plays Gamelan professionally and performs at Cornell. Gamelan is a percussive ensemble from Java and Bali in Indonesia which is made up of instruments similar to xylophones, and gongs. "Not only did the students learn about the various instruments, but they got to play them. By the end of the hour, they were producing some pretty beautiful sounds," said Sawchuk.
"Learning about playing the instruments was fun," Madie Rhoad, a sophomore shared, "because usually when you go to a museum you can see things, but not get to interact with them."
For the second part of the day, students saw the mind-blowing merger of technology and art at the Matthew Schreiber exhibit entitled Crossbow, which is an ever- changing dynamic piece of installation art. "You are in the space someone created. It is immersive. It is really enlightening to interact with art," Sawchuk said. "I had them write about it … they had many interesting ideas. There was also a whole range of emotions felt in response to the experience. I would leave a group of three inside, and 15 minutes later they would still be in there, sitting in silence, or quietly talking."
"It was captivating walking in and you got to change it-it was a cool concept. I wanted to stay there for the rest of the time," Rhoad said.
Elizabeth Nodine, a freshman wrote, "At first it was scary to open the door and see pitch black, until the red lights were everywhere and you could walk through them. After being in there for a while, I felt excited and did not want to leave."
Students had a few hours to explore the museum on their own. They also stopped at a few notable buildings with unique and inspiring architecture: Olin Library, known for its winding staircases, and Sage Chapel, which had gorgeous mosaics, sculpture, and stained glass. Mary Teixeira a sophomore, and Conor Driscoll, a junior, said Olin library was like something one would see in a fairytale or a cartoon and that it would surely inspire their own artwork in the future.
The day ended at Taste of Thai for dinner, "to stay in the theme," Sawchuk said. In all, the students were away from Skaneateles for nearly 12 hours: from after 8 a.m. until 8 p.m. In that amount of time, although the bus only went from Skaneateles to Ithaca, it felt more like they had traveled to other parts of the globe and through several centuries.