Business teacher repeats history at Dinosaur
Students learn entrepreneurship at Dinosaur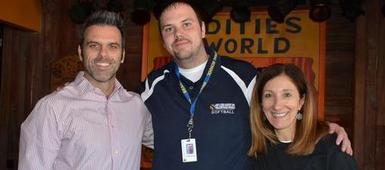 Dan Mulroy went back to Dinosaur BBQ on Wednesday and ended up in a "sandwich."
He stood between the students he escorted there from his business classes in Skaneateles and the teachers who had inspired him when he was a student at CNS High School. He enjoyed being sandwiched between the past and the future, he said, because he still remembers the impact that the visit had on him when he was in high school.
Mulroy first visited Dinosaur 13 years ago as a junior in high school.
During the visit, he was inspired by the legendary John Stage, who started the restaurant with some buddies in 1988 (in just one location). Now, the restaurant spans from here to NYC on the east to Chicago to the west.
Mulroy wanted his students to meet and feel inspired by the success story as he was. Although Stage himself had to cancel, students from both high schools were welcomed, treated to lunch, and invited to ask questions of the general manager.
After lunch and a Q and A session, students from CNS High School and SCS went across the street to Stage's new restaurant called Apizza Regionale, a Neapolitan-style pizza place, restaurant and wine bar.
There, they heard about how two-thirds of the restaurant's ingredients are from New York State: from the stone-ground flour from Ithaca to the pork and beef from the Adirondacks.
They heard one major key to success: surrounding oneself with good people and great workers.
Mulroy joined the high school staff this year and is teaching nine business classes over the course of the year, ranging from Entrepreneurship to Accounting. He said he wants to expose his students to as many real business experiences as possible.