Calling a snow day from the car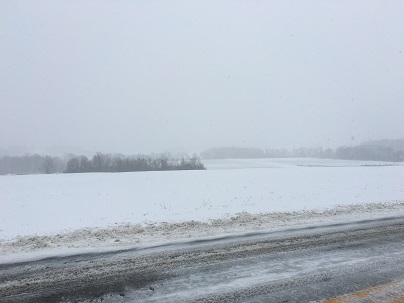 Ken Slentz took this photo during his early morning travels on Monday

Happy April
Winter system hits three days after April Fool's Day

Just days after mowing his lawn in a pair of shorts, Skaneateles Superintendent Ken Slentz put on his winter coat, hat and boots and climbed into his truck in the early morning darkness Monday to check out the condition of some of the twisting and turning 77 square miles of roads in the school district.

He hadn't slept well before his alarm went off about 4 a.m. because he was on guard. Before bedtime, he had known the region was under a weather advisory.

And like other superintendents in rural districts covering many miles, he knew the call wouldn't be easy to make. Well into his second winter here, Slentz knows how totally changeable conditions can be from one part of the district to the other.

He knows that roads can be clear in some areas and downright treacherous in others as three different lakes impact both visibility and precipitation – with hills that add extra dangers. That is why he followed his routine of checking out the roads himself on Monday, after carefully studying three radar models.

Sunday's storm already had buried daffodils and crocuses, leading people throughout the region to say "April Fools!" And just one week prior to this blustery Monday, students and staff in the district had enjoyed a Monday off because of a returned snow day. The district hadn't had a full snow day all year.

Slentz hadn't gone far in the dark Monday when he knew this wasn't ordinary snow. "If it was just snow, I wouldn't have had an issue," he said of the freezing rain he hit while hunkered down, windshield wipers and defrost/heat blaring so he could see.

He began hearing reports from his most reliable sources: the dedicated highway superintendents from all corners of the district, and a handful of school district staff members spread out across the 77 square miles. He needs broad perspectives because there are "five to six different weather patterns within the district," he said.

And he himself, out there before the buses and the cars, was hitting ice as he headed from Owasco towards Sennett. With every mile, he was looking through the lenses of experienced bus drivers, inexperienced 17-year-old drivers, and parents with three or four kids in the car.

"I was originally anticipating we'd be open," he said of the radar he had studied at home. "The roads told me otherwise."

As he often does, he credits his wife, Katie. "She has been doing this for a long time and finally told me 'Go out and drive.'"

It is what he has always done, and it is the surest way to know. The only time he didn't do it was the time he failed to call a snow day this winter. He still feels bad about that call, and it's why he'll always be out there, driving the roads and checking in with his best sources.

So students and staff in the district had a real snow day Monday, exactly one week after having had a faux snow day they hadn't used their snow days this year.

What everyone wants to know: What about May 27, the Friday before Memorial Day that was given off for the same reason? Will it have to be "returned" because of Monday's snow day? No. With unused snow days still available, students will still have the 27th off "…. unless there is an unforeseen circumstance between now and then," Slentz adds.

With the unpredictability of local weather, one can never be sure.