DECA students win, go international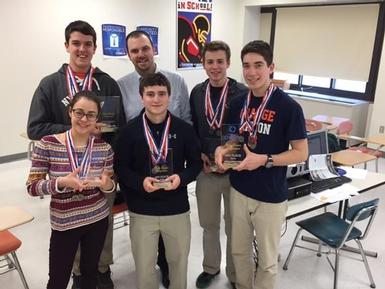 The Skaneateles High School students who won big at the DECA State Conference will head to Nashville, TN, in April to compete against top 18,000 top scoring students in the world. They told the Board of Education this week that the rewards of competing in the program have already exceeded the awards.

The best part, they said, is that they have found their passion.
"The competition has given me a better idea about myself and where I want to go in the future," said senior Aimee LaFrance.

Board members and administrators praised the team and teacher Dan Mulroy for getting the program off the ground in Skaneateles. In its first year ever for competing, the Skaneateles High School DECA team placed eight members at a regional competition at Lemoyne College. At the state competition, five of those students scored in the top 10 (out of 2000 students).
"It is a huge accomplishment. I am extremely proud of them," Mulroy said.
Many of the thousands of students who compete from around the region and country each year have been preparing and competing for years, with schools that have participated for decades.
Mulroy started the DECA club when he joined the high school staff this fall.
"DECA has existed for 50 years. This was our first year with a new club and new kids," said Superintendent Ken Slentz. "this is remarkable.
Senior Christopher Niebuhr credited Mulroy with providing the learning opportunity and the challenge. "I don't think I've ever had more fun on a school related trip," he said of the unique challenge that competing posed.
Senior Ben Russell told how Mulroy helped them prepare for the tests and the verbal competition. "These are such good skills to be learning for the competition and in life," he said. "I'm an athlete and I've been on teams my whole life. DECA is so inclusive and is such a good learning environment," he said.
Kyler Viggiano, a junior, said the DECA experience was "so cool" because it involved learning in a very realistic way and not "sitting at a desk."
LaFrance said that competing at DECA has helped her realize her goal of going into business. She said she and all of her teammates discovered that the DECA challenge was something that came naturally to them. "It felt so good to have a topic I was not only good at but something I really liked," she said.

Board member Julie Abbott-Kenan praised Mulroy for the way he already is impacting students' lives. "You are really making a difference."
Board President Tom Lambdin expressed surprise at "how quickly you've mobilized theis chapter," and Slentz told the students and Mulroy "you've made us all proud."
DECA is a student-centered educational organization designed to enhance the education of students with interests in marketing, management and entrepreneurship.

If the students didn't totally realize their accomplishment at the time, the have since then as they've talked with adults who knew the program. Teachers and neighbors and others have told how they competed for years in DECA in their own high schools, and never made it to the state competition.
Mulroy said that Skaneateles High School out performed all CNY schools that were at the state competition in Rochester, including much larger districts that had larger numbers competing.

All eight of the Skaneateles participants at the state competition qualified by placing first or second at the regional competition. They went to Rochester to compete with 2000 students from across the state, described by teacher Daniel Mulroy "some of the brightest and best business students in the state."
Heading on to the international competition are Chris Niebuhr (finance), Aimee LaFrance (business administration), Ben Russell (marketing), and the duo Kyler Viggiano and Reggie Buell (financial analysis team).


Here are their accomplishments at the state competition in Rochester:
Chris Niebuhr - Principles of Finance - Top 10 Role Play, Top 10 Test Score and Top 10 Overall. He finished 2nd overall and qualifies for the International Conference.
Aimee La France - Principles of Business Administration - Top 10 Role Play, Top 10 Test Score and Top 10 Overall. She finished 4th overall and qualifies for the International Conference.
Ben Russell - Principles of Marketing - Top 10 Role Play, Top 10 Test Score and Top 10 Overall. He finished 3rd overall and qualifies for the International Conference.
Kyler Viggiano and Reggie Buell - Financial Analysis Team Decision Making - Top 10 Role Play, Top 10 Test Score and Top 10 Overall. They finished 3rd overall and qualify for the International Conference.
"We honestly did much better in qualifying students and placing in the top four than any other school in our region," Mulroy said with pride. "It's an amazing accomplishment."

Mulroy started the Skaneateles chapter when he started at Skaneateles High School this fall and has been amazed at how well his students have done.

Working hand-in-hand with the education and business communities, DECA's goal is for its student members to develop a "Career Success Kit" to carry into their business and personal lives after graduation, one that includes career competencies, job skills, leadership skills, ethical values and an understanding and appreciation of civic responsibility. To accomplish this, DECA uses on-the-job experience, chapter projects, and a competency-based competitive events program in more than 35 specific occupational areas. DECA emphasizes academic and career excellence and helps to demonstrate the all-important direct relationship between marketing education and the real needs of business and industry.