Lessons in sharing and giving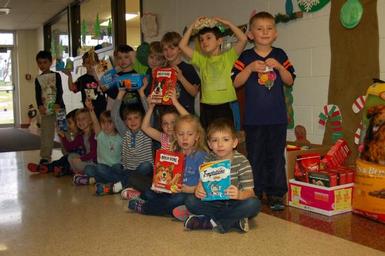 When he met with kindergartners just last year, Marvin McQuaid talked about the importance of caring for animals through the winter. And he talked about the importance of sharing -- and giving -- in general.
"All we ever have in this life is what we share. That's all you ever have — what you share," he said when visiting.
This year, in his honor, kindergartners made donations to the Pet Food Pantry in Auburn that he started with his wife, Marylou McQuaid.
McQuaid died in August. He had visited Skaneateles kindergartners for five years to read books, discuss the needs of animals and collect food for pets over the holidays. His wife is continuing the mission along with some helpers, said teacher Kristin McKee, who has helped coordinate the pet food drive at Waterman School each year.
"Mr. McQuaid always told the children that January and February are when people have the hardest time feeding their animals and keeping them warm," McKee said recently. "So this year, people donated pillow cases and blankets as well as food."
The kindergarten teachers felt it was an important mission to continue, McKee said. Kindergartners brought in food for two and a half weeks before the collection was delivered to the pantry in Auburn.
Last year, McQuaid told kindergartners that he and his wife started the Pet Food Pantry 18 years ago when they learned of pet owners who could not afford to provide for their animals — and often had to give them up — because ordinary food pantries offered only items for people.
McQuaid said then that the Pet Food Pantry services between 150 and 200 animals each month to assist pet owners in need of some help.
Each year, McQuaid and the students discussed the benefits of owning a pet. "They (pets) teach us a lot," he said. "They teach us about love. Love is important. They teach us about unconditional love. They love you without anything in return. So you want to treat your pets like family."