Two advance in Poetry Out Loud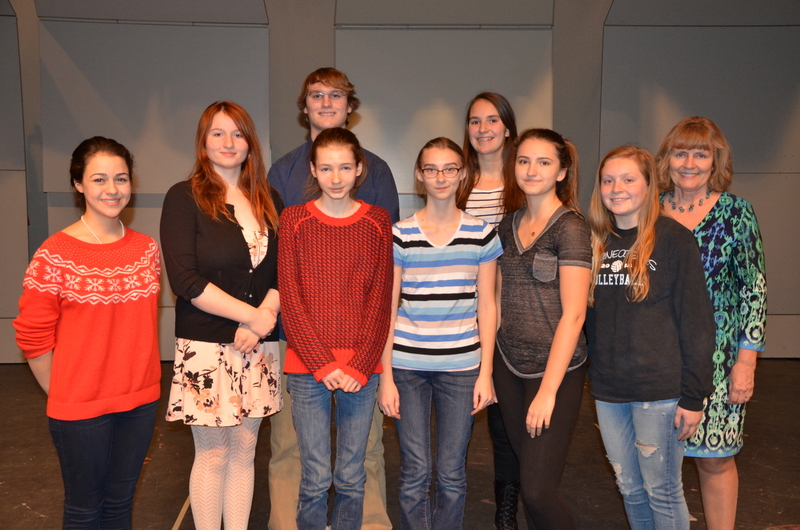 Skaneateles High School seniors Aimee LaFrance and Allison Priest took first and second places in the recent in-school contest for Poetry Out Loud: National Recitation Contest. The two winners go on to compete in the regional POL Contest at Storer Auditorium at Onondaga Community College at 6 p.m. on Tuesday, February 23. The NYS competition will be Monday, March 14, at the Everson Museum in Syracuse.

The competition, presented in partnership with the National Endowment for the Arts, and the Poetry Foundation, is part of a national program that encourages high school students to learn about great poetry through memorization, performance, and competition.

Nine students participated in the third annual Poetry Out Loud school contest at Skaneateles High School – the most ever, said Deb Covell, library media specialist who organizes the competition. She said the two winning students have participated for all three years of the contest. She was especially delighted with the number of participating freshmen this year, and encouraged them to continue.

Poetry Out Loud is a national arts education program that encourages the study of great poetry by offering educational materials and a dynamic recitation competition to high schools across the country. Poetry Out Loud uses a pyramid structure: from the local school level and ultimately to the National Finals in Washington, DC.

Over the past 10 years, Poetry Out Loud has reached nearly 3 million students, more than 9,500 schools, and thousands of teachers across the country. At Skaneateles High School, students recited works they selected from an anthology of more than 900 classic and contemporary poems. Judges evaluated student performances on criteria including voice and articulation, evidence of understanding, and accuracy.

To learn more and to view some moving presentations, visit www.poetryoutloud.org.