Squires gives encore, says goodbye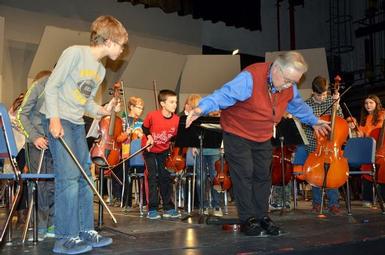 Terrance (Terry) Squires took a final bow with his string students at the State Street School December 8 annual holiday concert. He has been teaching young musicians in Skaneateles nearly 20 years, after a previous long career with the Syracuse Symphony Orchestra.
At the conclusion of the evening concert for parents, Squires and his beginner orchestra received a standing ovation after playing "Twinkle, Twinkle Little Star", and so they performed an encore. This time, the students played the song again and Squires sang along, with the words to the ABC song.
Superintendent Ken Slentz said it was so perfect and touching to see the "elementary school professor of music" singing with his students that he (Slentz) and others sat there grinning from ear to ear. "My face nearly hurt from smiling."
The other elementary music teachers dedicated their ensembles' performances to Squires. Band Director Kristin Mulcahy said her own children, now in their 20s, benefited from Squires' teachings and still play their instruments (violin and bass).
"Terry treats his students and colleagues like family," Mulcahy said. He would truly do anything for anyone. We will also miss his 'Mr. Fix-It' abilities. He has every tool known to man in his room and knows how to fix broken instruments, cases, furniture, etc. State Street will not be the same without him."
At the evening concert, Squires' family, including his wife, three daughters and their families, sat in the front row. He told the audience that "Toyland," performed by the fourth and fifth grade orchestra, was performed at his first holiday concert in the district 20 years ago.
"Terry is about the kids and exposing them to music. He has great success getting children to join orchestra and getting them involved in our music program. He has always demonstrated great passion and energy and he will be greatly missed," Principal Steve Widrick said after the concert.
MS and HS orchestra teacher Karen Veverka has worked with Squires through all of the years, and first knew him while playing with the Syracuse Symphony Orchestra."Terry has been a fantastic teacher and has helped the string program grow over the years. Students have loved his innovative and caring approach to teaching," Veverka said.
The concert was, as Veverka said, a great celebration of Squires and his work.
Widrick presented him with a special baton, which he used to conduct. A reception was held after the concert. Many friends, students and former students and colleagues (including retired music teachers Dick Cangemi and Dave Wilber) congratulated him on his long and successful career.
Squires glowed during his final concert … and still glows when he talks about his career.
"No way after four years of college was I, in my eyes, ready to teach. You build on your experiences as a professional musician every day. By the time I had a performed with the Syracuse Symphony (among others) for 33 years, I felt I was finally ready to teach," he said. "I love the young kids and their first attempts at making sounds on their instruments. It has been an amazing and fulfilling 20-year run, and I wouldn't have it any other way."
Downloads