Celebrations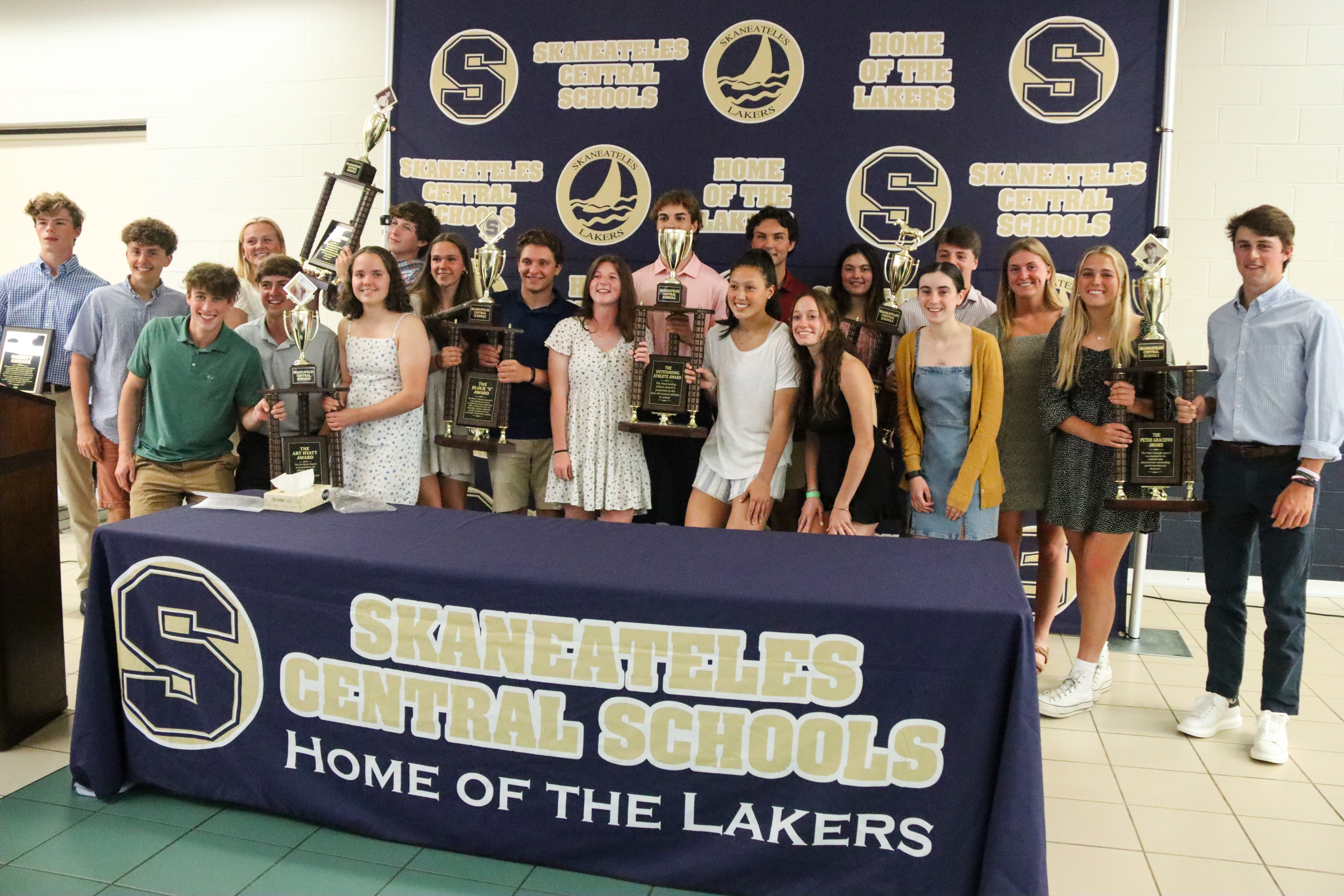 2021-22 LAKER CHAMPIONSHIPS
Boys Soccer, 2021

Girls Ice Hockey, 2022

Kyla Palmer, Girls Track & Field Division 2 400m dash, 2022
Regional Champions
Boys Soccer, 2021

Girls Ice Hockey, 2022

Girls Lacrosse, 2022
Sectional Champions

Football, 2021

Boys Soccer, 2021

Girls Soccer, 2021

Swimming, 2021

Girls Tennis, 2021

Volleyball, 2021

Girls Ice Hockey, 2022

Boys Ice Hockey, 2022

Girls Lacrosse, 2022
League/Division Champions
Boys Cross Country, 2021

Football, 2021

Boys Soccer, 2021

Girls Soccer, 2021

Girls Tennis, 2021

Volleyball, 2021 (Co-Champs)

Boys Ice Hockey, 2022

Boys Basketball, 2022 (Co-Champs)

Boys Lacrosse, 2022 (Co-Champs)

Girls Lacrosse, 2022

Boys Tennis, 2022 (Co-Champs)
SPRING SCHOLAR-ATHLETE TEAMS
| | |
| --- | --- |
| BASEBALL | 93 AVG |
| GIRLS GOLF | 94 AVG |
| BOYS LACROSSE | 94 AVG |
| GIRLS LACROSSE | 96 AVG |
| SOFTBALL | 92 AVG |
| BOYS TENNIS | 94 AVG |
| BOYS TRACK & FIELD | 90 AVG |
| GIRLS TRACK & FIELD | 97 AVG |
Spring 2022
Season Highlights
Baseball-
14 win season including 3 over teams from Ohio and a walk off, 4-3 victory vs. Homer
Once again, participated in the ALS tournament at NBT Stadium which raises awareness for ALS (Lou Gehrig disease)
Emil Sander was one of the top hitter in all of section 3, as he was in the top 3 in hits, batting average, and homeruns.
James Musso, the ace of the staff, finished the season with 46 strikeouts in 32 innings pitched.
Girls Golf-
Jillian Scott and Lili Winkelman were medalist at our league tournament. We placed third at leagues, which was impressive for having such an inexperienced team. Our seniors played well this year, and our two 8th graders worked hard to learn the game. Our 8th graders provided us with great contributions towards the end of the season. Jillian Scott was named to the first team all-league and most valuable player on the team. Lili Winkelman was named to the second team all-league.
Boys Lacrosse
finished 12-6 overall and the season as OHSL Patriot League Champions. The team had big league wins over rivals Marcellus and Cazenovia. Seniors Luke Renaud, Drew Goethe, and Colin Morrissey were named 1
st
team All-League. Overall, we graduate 11 seniors who finish with great careers.
The
Girls Lacrosse
team had an outstanding season with a record of 19-4. They won their 15th sectional title with an exciting 1 goal win over South Jefferson. They made their 10th trip to the state final game and lost to Bronxville. Julia O'Connor and Kathryn Morrissey have both been named 2022 All American.
The
Softball
team had a fantastic season! We were sectional semi-finalists beating 2 state ranked teams to get there. One major highlight was ending the Mexico game with a triple play and beating a strong Tiger team 4-3! Our seniors were huge contributors all season with Laci Gaidis on the mound amassing over 100 K's and Natalie Yokom behind the plate catching for her and calling every game. Nat also made many defensive plays and had a .378 batting average. Faith Wagner returned after taking some time off from softball to stand strong fighting through a mid-season injury at first-base. Carlee Pitman did an excellent job at running the outfield as she has done for her career. The future is bright for Skaneateles Softball!
Boys Tennis-
Finished the season 11-2. OHSL Liberty Champions. Hatcher Gutchess and Marcus McClanahan are Section 3 Champions at 1st Doubles. 1st Team all-league Jake Salzhauer, Fr, Marty McNeil, Sr., Hatcher Gutchess, Sr., Marcus McClanahan, Sr.
Boys Track & Field-
Very successful season, 4 seniors, 9 juniors, 6 sophomores, 5 freshman
3-1 record
Individual Sectional Champions:
HJ -Max Paciorek
Shotput-Will Feeney
Individual League Champions/1st team All-League
HJ-Max Paciorek
Shotput -Will Feeney
3200 meters-Aidan Ward
Second Team All-League
400 meters-Jack Phillips
3200 meters-Braden Gryzlo
4x400-Seamus Fogerty, Nolan Gryzlo, Max Paciorek, Jack Phillips
State Qualifier meet athletes
200-Max Paciorek, Jack Phillips
400-Jack Phillips
4x100relay-PJ Kennedy, Max Paciorek, Heschel Eidel, Jack Phillips
4x400 relay- Seamus Fogerty, Max Paciorek, Heschel Eidel, Jack Phillips
4x800 relay- Seamus Fogerty, Braden Gryzlo, Aidan Ward, Nolan Gryzlo
Shotput-Will Feeney
High Jump - Max Paciorek
Girls Track and Field
-
Great Season...Lots of new athletes...Girls really stepped up and won our division of the league and brought us back from an 8th place finish at sectionals last year to second place this year...
Finished with 4-0 League Record - Division Champions
1st Team All-League - Kyla Palmer, Lucy Fleckenstein, Gianna Caraccio, Lillian Coleman, Annabel Wells, Cate Comer, Tobi DiRubbo, Maddie Wright
Placed Second at Section III Class B2 championships
Individual Section Champions
100, 200, 400 - Kyla Palmer
800 - Lillian Coleman
7 Girls Qualified for Events at State Qualifier
100, 200, 400 - Kyla Palmer
High Jump, Pentathlon - Maddie Wright
4x800 Relay - Lillian Coleman, Lucy Fleckenstein, Tobi DiRubbo, Cate Comer, Grace Conan
2 Girls Qualified for NYS Championships
200m - Kyla Palmer - 3rd Division 2
400m - Kyla Palmer - Division 2 Champion
High Jump - Maddie Wright - 18th Division 2
WINTER SCHOLAR-ATHLETE TEAMS
| | |
| --- | --- |
| BOYS BASKETBALL | 92 AVG |
| GIRLS BASKETBALL | 93 AVG |
| BOYS ICE HOCKEY | 94 AVG |
| GIRLS ICE HOCKEY | 98 AVG |
| BOYS INDOOR TRACK | 98 AVG |
| GIRLS INDOOR TRACK | 95 AVG |
Winter 2021-22
Season Highlights
The Boys Basketball team were Liberty League Co-Champions!
Led by a strong senior class and a talented group of juniors, the 2021-22 Lakers put together a very successful season in a very talented and difficult Class B field. Finishing the year with a 17-5 record overall their 9-2 league record earned them a league title that they shared with Westhill. Their season included an 11 game win streak, big wins over rivals Marcellus and Westhill, and the Skaneateles Holliday Classic tournament Championship. Their season ended with a hard fought sectional defeat to the #1 seeded Chittenango Bears.



The Girls Basketball team finished the season with 13 wins and 9 losses. The team played great defense all year allowing 39 points per game. The team was led by its 3 seniors: Margaret Cowden, Maeve McNeil and Faith Wagner. The team would like to thank their families and fans for a great year.



The Boys Hockey team went 14-0 in league with a 20-2 record winning the sectional championship with Garrett Krieger leading the league in points. The Lakers record breaking unbeaten streak stretched as high as 66 games this season… an unbelievable accomplishment.



The Girls Hockey team had amazing season. The team finished the season with a record of 14-1-1 and winning both the section 3 championship along with the State Championship. The team outscored their opponents 86-22 throughout the year. With the team's success numerous players were recognized.
Congrats on a truly remarkable season!



Boys Indoor Track
Outstanding season , small but powerful team
Sectional Champions
Jack Holst -Weight Throw
Alex Moro -Poke Vault

4x800 relay 2nd place
Nolan Gryzlo
Ethan Goldberger
Michael Galbato
Will Girzadas

300 m 2nd place
Jack Phillips

600 meters 2nd place
Jack Phillips

1000 m 3rd place
Nolan Gryzlo

1600 m 4th place
Will Girzadas

Each meet we had multiple people achieving and establishing person records or moving those records forward.



It has been 2 years since the Girls Indoor Track & Field team had an opportunity to compete at our regular indoor venues. We had a small, but competitive team. The girls worked hard and had some great performances. Several personal records were set each meet.

At the Large School OHSL League championships the girls placed 5th out of 12 teams. At the Class B2 Sectional championships the team placed 3rd out of 9 teams.

Section events were won by Kyla Palmer (300m), Kyla Palmer (600m), and the 4x200m Relay of Kyla Palmer, Rory Comer, Grace Conan, Annabel Wells.

At the State Qualifier Meet Kyla Palmer won the 300m dash and remained undefeated in Section 3 this season.

Kyla Palmer's top accomplishment came at the State Championship where she place 3rd in NY state and 4th in the Federation championships with a school record time of 40.69.



FALL SCHOLAR-ATHLETE TEAMS
| | |
| --- | --- |
| BOYS CROSS COUNTRY | 97 AVG |
| GIRLS CROSS COUNTRY | 98 AVG |
| FOOTBALL | 92 AVG |
| BOYS GOLF | 94 AVG |
| BOYS SOCCER | 95 AVG |
| GIRLS SOCCER | 96 AVG |
| SWIMMING & DIVING | 95 AVG |
| GIRLS TENNIS | 95 AVG |
| VOLLEYBALL | 94 AVG |
Fall 2021 Season Highlights

The Girls XC team finished 3rd overall in OHSL Liberty League Meet and 2nd in the National division portion of the race. For the regular season they were 5-1 taking 2nd place in the Liberty National Divison.
8th grader Lucy Fleckenstein and Freshman Tobi DiRubbo have been very strong all year and earned 1st Team All-League honors.
Lily Yengo (Sr), Grace Conan (Sr), Sophia Aureden (Jr) and Caroline Wells (Jr) earned 2nd Team-All League.
The Boys XC team finished 2nd overall in the OHSL Liberty League Meet yesterday and won the National division portion of the meet. For the regular season they were 6-0 in dual meets and won the OHSL Liberty National Regular Season Title.
Will Girzadas (Sr), Seamus Fogerty (Sr), Nolan Gryzlo (Sr) and Aidan Ward (Jr) earned 1st Team All- League Honors. Will has been one of the top runners in Class C all season.
Both teams exceeded expectations at Sectionals on a chilly 30 degree Saturday morning at VVS. The girls had their best finish since 2014, finishing in third place. The boys took second place for the third straight year. Both teams were projected 4th-6th coming into the race. Individually, 8th grader Lucy Fleckenstein and senior Will Girzadas both qualified for the state championship meet. Lucy is the first girl to qualify since 2015 and Will gives the boys a third consecutive year with a runner going to states.
The state meet was held November 13th at beautiful Chenango Valley State Park. Lucy Fleckenstein ran well and finished in 65th place. Will Girzadas also ran a great race in a fast field and finished 54th to cap off a career which saw him work tremendously hard each year with the reward of earning a trip to states.


Boys' Varsity Football capped off an undefeated regular season with its 3rd Sectional Championship since 2017. The Lakers head to States with 9-0 record outscoring opponents by a margin of 380 to 102. The 2021 team has embraced the ALLIN! Philosophy as it endeavors to keep the season going.


Skaneateles Boys Golf finished 12-3 this season. The team was lead by OHSL First Team All-League Players Tyson DiRubbo, Jack Marquardt, and Shawn Luce. Tyson DiRubbo also earned All CNY Golf Team honors.
DiRubbo, Marquardt, and Luce all qualified for the State Championship Qualifier to be held next spring at Seven Oaks.
The most exciting moment of the season was during our final match against Cazenovia. We were competing for the league championship. After the round, both teams finished tied at 213. A sudden death match play was used to break the tie. Shawn Luce played against the number one player from Cazenovia while the coaches caddied. Both players made par to extend the sudden death playoff. This time, it was Marquardt playing in a one hole match against the #2 player from Cazenovia. After a couple more pars, DiRubbo was next to play in the one hole match for the league championship. After lipping out for the win, the playoff was extended to a 4th hole. Cazenovia edged out a victory on this 4th hole, as Ben Orbach, from Cazenovia, hit a miraculous shot from the trees to 8ft for the win. This 4 hole sudden death playoff for the league championship was hands down the most exciting hour of golf any of these kids have ever been a part of!


Boys Varsity Soccer had an unbelievable season! The kids were fantastic.
We won:
League Championship
Finger Lakes Cup Tournament (11 year Hosting)
Sectional Championship
Regional Championship
State Championship!
A special thanks to Aaron Moss and John Dower for the leadership over the past many years. Their dedication to the craft and the children is immeasurable. We wish them all the luck in retirement!


The Varsity Girls Soccer team had a history making season! After starting the regular season 1-5, the girls rallied off 10 straight wins to finish the regular season 11-5 winning the OHSL liberty 2 league championship. After earning the 4 seed in sectionals, the girls went on to win 4 games in a row giving them the first sectional championship in school history for girls soccer! In the 4 game span, they beat the 1st and 2nd seeded teams and beat clinton in the sectional championship who was on a 29 game win streak and at that point, 3rd in the state. The team proceeded onto the sub regional game where the met the 2nd ranked team in the state Schalmont and won a thrilling 4 ot game to advance to the regional championship!
The team broke so many team and individual records this fall and put the Skaneateles girls soccer program back on the map! Congrats on an outstanding season!


Girls Varsity Swimming won Sectionals scoring 556.5 points topping 2nd place team Lowville 358.5 points.
Won 10 of the 12 Events
Broke 5 Section 3 class C records
Hana Spaulding Broke the 50 and 100 Overall Section 3 Records
Hana Spaulding is currently All American Consideration in the 50 freestyle with a time of 23.26
Hana received Swimmer of the C meet and Swimmer of the State Qualifier Meet on Sunday
Hana will compete at the State Meet at Ithaca College on November 19th and 20th in the 50 Free, she is currently seated first in the state, and the 100 Free where she is currently seated second in the state.
Alice Spaulding will compete at the State Meet in the 50 Free and the 100 Butterfly
Alice and Hana will join Elizabeth Springer and Cate Comer to compete in the 200 Freestyle Relay, Currently seated 8th in the State.


Once again, the Skaneateles Girls Varsity Tennis team had an outstanding season. After a 26 game winning streak, the Lakers finished the regular season with an 11-1 league record and a 14-2 overall record. The team highlight for the season was becoming the Section III, Class C champions for the 2nd year in a row. Other outstanding accomplishments included Lily Miller winning the Section III, Division III, Individual Sectionals in singles and the doubles team of Ella Danforth and Sophia Soderberg winning the Individual Sectional Doubles title. We concluded our successful season with 4 players advancing to the State Qualifier Tournament: Kenna Ellis, Lily Miller, Ella Danforth and Sophia Soderberg.
2021 OHSL Girls Tennis All League Team:
1st Team: Kenna Ellis, Lily Miller, Ella Danforth, Sophia Soderberg, Sofia Capozza, Rachel Hackler
2nd Team: Isabelle Soderberg, Kelsey Rutledge, Emma Whipple


The 2021 Girls Volleyball team had a very successful season capped off by its third sectional championship title in a row. The team finished with a 17-3 record and a league championship. The Lakers were led by a tremendous group of seniors including team captains: Rory Comer and Libby Raymond. Rory Comer was chosen as the Co-Player of the Year in the league and was given an All-CNY selection. Laci Gaidis was chosen as the league's Libero of the Year and is also an All-CNY selection. The future is also bright with the emergence of sophomore Ayla Pas'cal and freshman Alice Bender who both also received league honors. SGV wants to thank all the family, students, alumni and fans that supported us this year, thank you!