Middle School students are Santa's helpers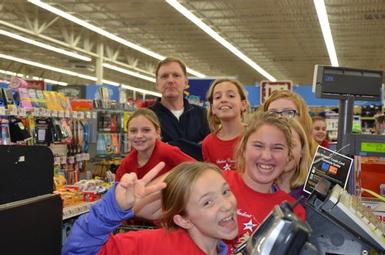 This is the sixteenth year that the Middle School Student Council has spread cheer by buying gifts for countless children and families.
How to define the results of the annual Skaneateles Middle School shopping spree at Walmart?
25 feet of receipts
More than 65 carts filled to the brim with games, puzzles, dolls, Play-Doh, sleds, skateboards and other toys.
Nearly $14,000 spent, thanks to donations from Todd's Fund, Dave Pirro Foundation and the Skaneateles Middle School Student Council (with special discounts provided by Walmart).
A busload of tired but happy students and chaperones who worked in 13 groups to carefully select toys and other items for the children on their lists (spending an average of $1,000 in 90 minutes, with each item under $15.
Grateful organizations (including Peace, Inc.) which will distribute the toys to countless families and children in need this season.