State Street Students Provide Cheer with Artwork for Crouse Hospital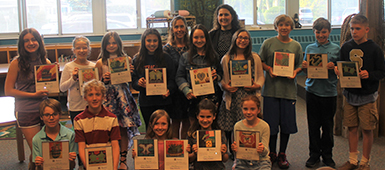 Fifth grade students from State Street Intermediate School donated over a dozen pieces of artwork recently as part of a collaboration with Crouse Hospital.
The artwork will be on display throughout the hospital and surrounding buildings for employees and patients to enjoy. Students were honored for their work at a reception at State Street School, where they were awarded certificates in a ceremony featuring speakers from Crouse Hospital.
The collaboration between State Street and Crouse began in 2010. Students submit their artwork in class, and a group of entries are selected each year to be permanently displayed.
"This is a program that is two-fold," State Street Art Teacher Susan Barry said. "Students learn how they can help others by using their talents, and Crouse visitors, patients and employees benefit from the beautiful artwork displayed throughout the hospital and their buildings."
Since the partnership's inception, there have been over 100 pieces of artwork donated by the students. The colorful art pieces provide joy and cheer to both employees and patients alike that face high-stress situations daily working in the healthcare field.