National Art Honor Society Inducts New Members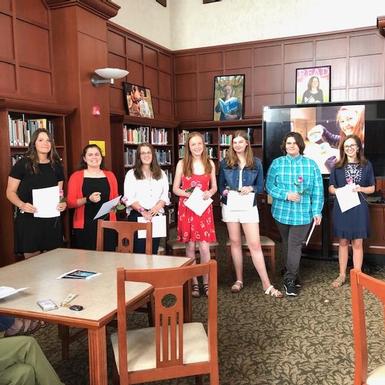 SKANEATELES, NY (May 31, 2019) – Skaneateles High School's National Art Honor Society recently inducted 11 new members.
New inductees included Hannah Blowers, Sophia Wingfield, Ally Sell, KC Clark, Sophia Cattalani, Kevin Bean, Tori Baker, Grace Bailey, Livi Hall, McKenna Len and Anna McGlynn.
In 1978, the National Art Education Association began the NAHS program to inspire and recognize students who have shown an outstanding ability and interest in art. The program supports members in their efforts to attain the highest standards in art scholarship, character, and service, and to bring art education to the attention of the school and community.
Skaneateles High School's chapter of the NAHS is in its fifth year and inducts new members each spring.
In order to remain members of NAHS, students must maintain an 80 or higher overall average and complete 5-10 hours of art related community service throughout the school year. They must also be involved in at least four art related activities such as attending art department field trips and going to local galleries and museums.
Current President, Taylor Carr, and Vice President, Maddie Anna, are members of the Class of 2019 and will be graduating.
Fellow graduating seniors include Zoe Franciamone, Hannah Blowers and Kevin Bean.
New officers for next year are: President – Meg Benedict, Vice President – Ally Sell, Treasurer – Maggie Newton and Secretary – Georgia McSwain.
If anyone is interested in joining NAHS next year, stop in to room 226 and speak with Ms. Sawchuk or speak with one of our officers. Applications will be handed out in September 2019.
Keep in touch with events and happenings in relation to the Skaneateles Central School District by visiting online at
www.skanschools.org
or following the district's Facebook page at www.facebook.com/Skaneateles.Schools/.