10th Grade Learns Survival Skills through SEF Grant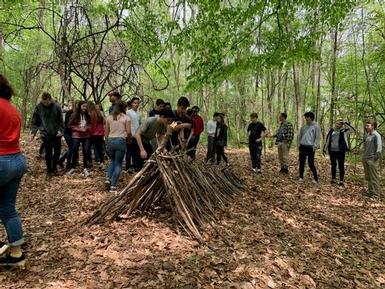 Five Skaneateles High School students (Mia Bigham, Ireland Walker, Campbell Torrey, and Eva Vitsaxaki) wrote a grant through the Skaneateles Education Foundation to supplement a study of "Into the Wild".
The students thought it would be important to learn the basic skills that many readers feel Chris McCandless lacked or ignored.
Shane Hobel, owner of Mountain Scout Survival School, facilitated two 2.5 hour wilderness survival sessions on the seven primary arrows of survival: Shelter, Water, Fire, Food, Tracking, Awareness, and Movement at the Skaneateles Conservation Area.
All tenth grade students participated. What an experience! More photos are located on our Facebook page at www.facebook.com/Skaneateles.Schools.