2019-2020 Budget Passes; Board Members Elected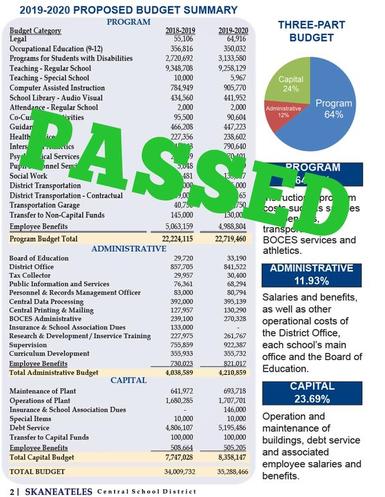 SKANEATELES, NY (May 22, 2019) – The 2019-2020 Skaneateles Central School District general fund budget passed as a result of Tuesday's district voting by a margin of 423-116, with nearly 79% in favor.
The overall budget of $35,288,466 will maintain and enhance the programming instituted under state regulations and the district's own strategic plan.
Aside from the general fund budget, voters also passed a second proposition continuing the bus replacement plan initiated three years ago, with a favored margin of 438-99.
The community support for the 2019-2020 school budget is much appreciated and the Skaneateles Central School District looks forward to serving the community in the coming school year.
The school board election, also held on Tuesday evening, saw two candidates elected.
Incumbent Thomas Lambdin was re-elected to a three-year term with Danielle Fleckenstein elected as a new member of the Skaneateles Central Schools Board of Education.
The Skaneateles Central School District congratulates Thomas and Danielle on their election and thanks Margaret Usdansky Niebuhr for her service on the Board of Education since 2013.
Keep in touch with events and happenings in relation to the Skaneateles Central School District by visiting online at
www.skanschools.org
or following the district's Facebook page at
www.facebook.com/Skaneateles.Schools/
.