Run for Fund$ Raises Money for Elementary PTC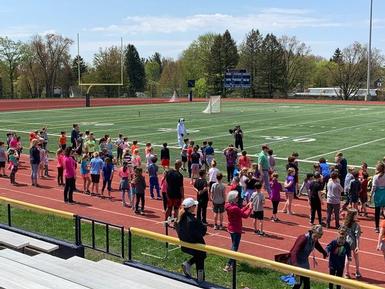 The annual Elementary PTC Run for Fund$ took place on Wednesday morning for all elementary grade levels on the Skaneateles High School track.

Each grade level ran independently on the track for as many as 20 minutes at a time, helping to raise funds for the Elementary Parent Teacher Committee. Miles the Dog joined students on track as blue skies and sunshine welcomed all participants.

The Run for Fund$ is the largest fundraising event for the Elementary PTC.
Before the Run for FUNd$ event took place, students were asked to seek sponsors. They brought a letter home and distributed it to their parents, relatives and friends.
The students aimed to challenge themselves to run a certain distance or to stay moving for a certain period of time.

We will update when all fundraising numbers come in. Congratulations to all on a great afternoon!