Eight OOTM Teams Advance to State Competition on March 23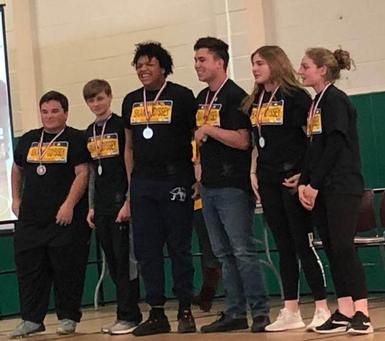 SKANEATELES, NY (March 11, 2019) – Of the twelve Skaneateles Central Schools teams to take part in the Odyssey of the Mind Regional Competition held on the Cayuga-Onondaga BOCES campus on March 9, eight of those teams have advanced to the NYS Competition to be held in Binghamton on March 23.

Odyssey of the Mind is a creative problem solving competition that teaches students how to think divergently by providing open-ended problems that appeal to a wide range of interests. Students learn how to identify challenges and to think creatively to solve the problems at hand.

Skaneateles Central School teams in Odyssey of the Mind are open to students in grades 3-12, and consist of seven members per team.

Teams that finish first in the regional competition or receive a lottery slot are invited to take part in the NYS Competition.

A total of six teams from State Street Elementary School are advancing to the NYS Competition, with one team from Skaneateles Middle School and a team from Skaneateles High School also advancing.

Full results are below.

The 12 Skaneateles Central School teams (nine from State Street School, two from the Middle School, and one from the High School) were formed in the fall and have been working on their problems since. Meeting one to two times per week to prepare, solutions for the problems are devised totally by the team members.
This year's Skaneateles High School team consisting of Devin Churchill, Lexie Cottrill, Emma Tidd, Alex Moro, Marc Saparetto and Conor Kenan also earned the OMER award, which goes to a team in recognition of outstanding sportsmanship, exemplary behavior or exceptional talent.

Teams are coached by volunteer parents and teachers, but all work is hands-on for kids and hand-off for adults.

Each year Odyssey of the Mind provides a set of problems for teams to take on. This year's problems are titled "Leonardo's Work Shop," "OMER to the Rescue, Again!," "Hide in Plain Sight," "Opposites Distract," and "Structure Toss."

Specific descriptions of the problems can be found online at www.odysseyofthemind.com.

Keep in touch with events and happenings in relation to the Skaneateles Central School District by visiting online at www.skanschools.org or following the district's Facebook page at www.facebook.com/Skaneateles.Schools/.

2019 Skaneateles Central Schools Odyssey of the Mind Teams

State Street Teams

Placed 1st at Regionals – Moving onto the NYS Competition on March 23
OMER to the Rescue, Again (Coached By: Chad Rogers, Kathy Herr)
Celia Rogers
Madison Rossi
Jack Miller
Oliver Jirousek
Owen Herbst
Izzy Rogers
Nathan Bellamy

Placed 3rd at Regionals
OMER to the Rescue, Again (Coached By: Shannon Gardner, Kristen Brutosky)
Connor Gardner
Magnus Arroyo
Vanessa Herbert
Rachelle Berube
Taylor Harvey
Sophia Dowhy
Charlie Brutosky

Placed 1st at Regionals – Moving onto the NYS Competition on March 23
Hide in Plain Sight (Coached By: Amanda Latreille, Curt Coville)
Joanna Latreille
Chase Coville
Tritan Boulher
Piper McAllister
Scarlett Georgianna
Kathryn Neuenschwander
Parker Stuart

Placed 2nd at Regionals – Moving onto the NYS Competition on March 23 due to a Lottery Slot
Leonardo's Workshop (Coached By: Beth Moro, Janet Blados)
Rob Moro
Amelia Blados
Faith Azzam
Owen Leonardis
Nolan Bradley

Placed 1st at Regionals – Moving onto the NYS Competition on March 23
Leonardo's Workshop (Coached By: Kelly Barnes, Corrie Carroll, Michelle Ederer)
Walker Barnes
Lucy Fleckenstein
Declan Pfau
Coco Carroll
Hugh Carroll
Nova Smith
Cole Ederer

Placed 3rd at Regionals
Leonardo's Workshop (Coached By: Melissa Johnson, Peter Hawley)
Mia Johnson
Piper Keehfus
Charlotte Carroll
Tabitha Whitney
Eve Chilson-Wood
Addison Zieler
Libby Carroll

Placed 2nd at Regionals – Moving onto the NYS Competition on March 23 due to a Lottery Slot
Structure Toss (Coached By: Greg Lantier)
Ida Lantier
Augusteen Lantier
Cal Johnson
Luca DeBartelo
John Rossi
Peter Fleckenstein
Bryce Krauter

Placed 1st at Regionals – Moving onto the NYS Competition on March 23
Structure Toss (Coached By: Lee Buttolph, Kelly Gunderson)
Charlotte Buttolph
Cate Gunderson
Landen Brunelle
Clara Johnson
Joe Delmonico
Charles Kissel
Carter Muprhy

Placed 3rd at Regionals
Opposites Distract (Coached By: Jennifer Vitsaxaki, Michelle Mashia)
Sophia Vitsaxaki
Emily Long
Colton Kemp
Emma Mashia
Elizabeth Mashia
Noah Soderberg
Ellie Tennyson

Middle School Teams

Placed 1st at Regionals – Moving onto the NYS Competition on March 23
Leonardo's Workshop (Coached By: Karen Kreidler, Angela Daddabbo)
Georgia Kreidler
Maura Leonardis
Kevin Torrisi
Heschel Eidel
Addison Badami
Mathew Leonardis
Nico Moro
Placed 2nd at Regionals
Opposites Distract (Coached By: Whitney Barnes)
Regan Barnes
Vivian Carroll
Case Pavlus
Alaina Walker
Alejandro Alvarez
Alyssa Franciamone
Aldo DeBartelo

High School Team

Placed 1st at Regionals – Moving onto the NYS Competition on March 23
OMER Award Winners
Leonardo's Workshop (Coached By: Kelley McQuiggan, Tami Rigling)
Devin Churchill
Lexie Cottrill
Conor Kenan
Alex Moro
Marc Saparetto
Emma Tidd