AP Chill Zone Coming to Skaneateles High School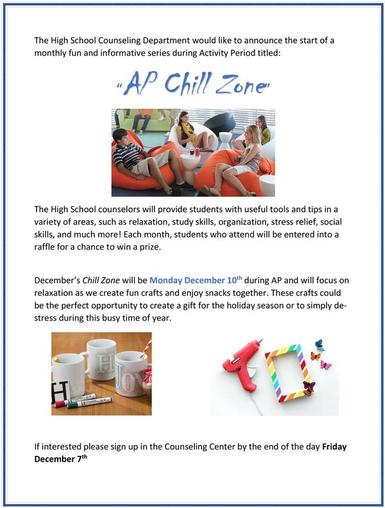 SKANEATELES, NY (December 4, 2018) – The Skaneateles High School Counseling Department is pleased to announce the start of a monthly and informative series during Activity Period, known as AP Chill Zone.

The AP Chill Zone will see high school counselors provide students with useful tools and tips in a variety of areas, such as relaxation, study skills, organization, stress relief, social skills and much more.

Each month, students who attend will be entered into a raffle for a chance to win a prize.

December's AP Chill Zone will take place on Monday, December 10 during AP and will focus on relaxation with fun crafts and snacks on the agenda. This craft making time would serve as a perfect opportunity to create a gift for the holiday season or to simply de-stress during this busy time of year.

If interested in joining the first AP Chill Zone, please sign up in the Counseling Center by the end of the day on Friday, December 7.

Keep in touch with events and happenings in relation to the Skaneateles Central School District by visiting online at www.skanschools.org or following the district's Facebook page at www.facebook.com/Skaneateles.Schools.