Skaneateles Athletics Secures Three Sectional Titles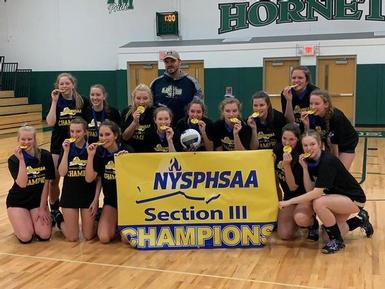 SKANEATELES, NY (November 5, 2018) – The Skaneateles Lakers Athletics program scored a Sectional Championship hat trick over the weekend with Girls' Swimming & Diving, Girls' Volleyball and Football all earning championships.
The Lakers Swimming & Diving program won seven events at the sectional meet including all three relay events in the Skaneateles YMCA on Friday.
Grace King led the way for the Lakers by winning the 100 butterfly and the 500 freestyle.
Lakers relay wins went to Lily Buchholz, Rory Comer, King and Elizabeth Springer in the 200-medley; Buchholz, Comer, Lexis Cottrill and Alice Spaulding in the 200-freestyle; and Springer, Caitlin Comer, Spaulding and King in the 400-freestyle.
Buchholz also won the 100 backstroke with Spaulding claiming the 100 breaststroke.
For the first time since 2002, the Girls' Volleyball team won sectionals by defeating Hannibal in three sets.
Jessica Patalino led the Lakers with 13 kills, 11 digs and six aces. Lily Delasin had a team high 23 assists.
For the second consecutive year, Skaneateles Football is a sectional champion.
The Lakers topped Cazenovia 41-10 on Saturday for the Class B Championship, improving their undefeated record to 10-0. The victory avenges a 51-0 loss to Cazenovia the last time the Lakers played in the Class B playoffs.
Patrick Hackler threw for 200 yards and four touchdowns, while also rushing for 66 yards. Nick Wamp and Nate Wellington each caught two touchdown passes while Areh Boni ran for 137 yards and a touchdown.
Hackler and Luke Viggiano also hauled in intercetpions.

The Lakers victory sets up a state playoff matchup this Saturday at CNS versus Section IV champ Chenango Forks. Chenango Forks is ranked first in the state, while the Lakers are ranked second.
The Boys's Cross Country team finished second in Class C Sectionals on Saturday, their best finish since 2002.
Caleb Bender finished fourth overall and will run in the State Championship on Long Island this weekend.
For the upcoming Skaneateles High School Lakers sports schedule visit https://www.schedulegalaxy.com/schools/92.
Keep in touch with events and happenings in relation to the Skaneateles Central School District by visiting online at www.skanschools.org or following the district's Facebook page at www.facebook.com/Skaneateles.Schools.