SCS Takes Part in Fire Prevention Week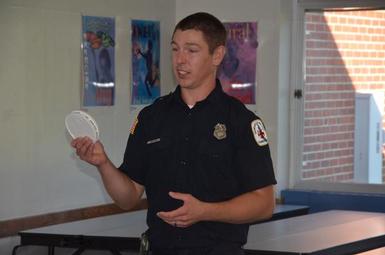 SKANEATELES, NY (October 10, 2018) - Skaneateles Central Schools are taking part in Fire Prevention Week from October 7-13, with students in Waterman Primary School learning from local firefighters.

Today, Waterman first graders not only learned about smoke detectors and detector maintenance, but also had a chance to see two firefighters dress in full gear. The Skaneateles Firefighters stressed the importance of trusting your local firefighters and not being frightened of their gear or their arrival. They are coming to help you in the event you cannot escape on your own.

At the end of the 30-minute class, students also had the opportunity to practice their stop, drop and roll and ask questions.

Kindergarten students received their training on Tuesday, with second graders next on Thursday.

To learn more about Fire Prevention Week, visit online at www.nfpa.org.