SRP Training for Parents Set for Wednesday at Skaneateles High School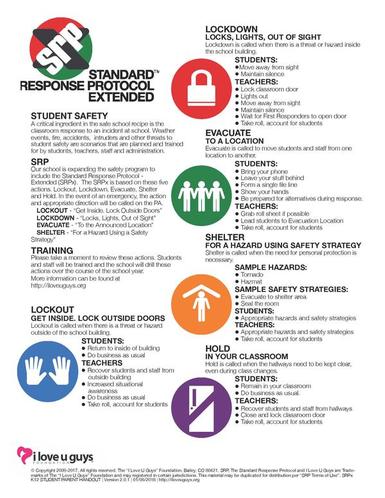 SKANEATELES, NY (October 9, 2018) – Skaneateles Central Schools will be hosting a Standard Response Protocol training for parents in the Skaneateles High School auditorium on Wednesday, October 9 at 6 p.m.
Introduced in 2009, the Standard Response Protocol is a proven enhancement to school safety planning. Thousands of schools in the US and Canada have adopted the program.
This training will provide parents with knowledge on individual response scenarios that could arise in our schools such as a lockout, lockdown, evacuation and shelter. Each are important terms for parents to understand when receiving communications about what is happening at school.
SRP helps to standardize the vocabulary of certain scenarios so that parents can better understand what is happening.
The benefits of SRP become quickly apparent. By standardizing the vocabulary, all stakeholders can understand the response and status of the event. For students, this provides continuity of expectations and actions throughout their educational career. For teachers, this becomes a simpler process to train and drill. For first responders, the common vocabulary and protocols establish a greater predictability that persists through the duration of an incident. Parents can easily understand the practices and can reinforce the protocol. Additionally, this protocol enables rapid response determination when an unforeseen event occurs.
Keep in touch with events and happenings in relation to the Skaneateles Central School District by visiting online at www.skanschools.org or following the district's Facebook page at www.facebook.com/Skaneateles.Schools.