BOE President Addresses Class of 2018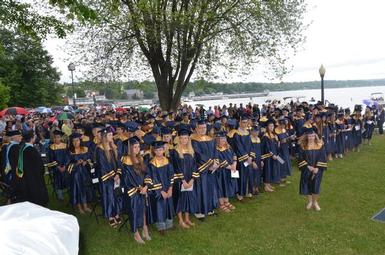 Due to weather in the area on Sunday, June 24, the Class of 2018 Commencement Ceremony was accelerated to ensure that diplomas were handed out in the most efficient manner possible. As a result, Skaneateles Central Schools Board of Education President, Sue Murphy, was unable to deliver the following address. We wanted to be sure to post Sue's remarks so that the students and families of the Class of 2018 and our community members could share in her thoughts and best wishes!

Good afternoon graduates - future alumni!
On June 22, 1980, I sat where you are now - the only few things different from then to now are - your gown are much lighter than the heavy curtain-like gowns we wore, we were warned not to jump in the lake or we wouldn't receive our diplomas; and I wasn't wearing "cheater glasses" to read anything. Thirty-eight years ago I graduated from SCS too. There have been very few BOE presidents who can stand up here and say - welcome alumni, but I can, and I am extremely proud to say it.
After you jump in the lake in a few minutes, you'll close a chapter of your life and open a new one. Tomorrow, you'll have put away your lunchboxes and pulled out your tool boxes, literally for some of you with hammers, screwdrivers and measuring tapes. But I am referring to your toolbox of knowledge, skills, and experiences that you have been building since you were at Waterman school. You added more tools each year at State Street. And when entering Middle School your toolbox began to change a bit as you began to set your own paths. In high school, your toolbox was customized, by you, and the specific tools you wanted and needed to put in it. Some of you may have more science, math or drama in your toolbox, while others may have more language, arts and sports. But you all have been building a toolbox from Skaneateles Schools with tools you will need to be successful.
Your toolbox should never be full or heavy. As you leave Skaneateles to do whatever wonderful things you plan on doing, you will continue to build your box. You will find that your box may have more tools than other students, colleagues, or new friends. Share with them tools they don't have, and in turn, you may not have a tool that others may have, and they will share that tool with you. Even now, at my age, I am still building my toolbox and getting out of my comfort zone. With thanks to those colleagues sitting behind me, and many in the community, who were kind enough to share their tools (knowledge, skills, and expertise) with me when I was afraid to pull out and use those tools I learned long ago - I continue to learn and grow - and I can't thank them enough.
When you do use your toolbox and look way down in, you will find some tools that your forgot you had (like i did), you will find tools you didn't think you will ever need again. And still deeper are a few tools that you were given a long time ago, and yet still very important today. Tim McGraw reminds us of this in his song Humble and Kind -
- "remember to hold the door, say please, say thank you, don't steal, don't cheat, and don't lie, We know you got mountains to climb but always stay humble and kind. When the dreams your're dreaming come to you, when the work you put in is realized, let yourself feel the pride, but always stay humble and kind when you get where you're going don't forget to turn back around and help the next one in line. Always stay humble and kind."
This community has done just that for all of you, they have turned around and helped. We are confident you will do the same when that time comes. You have so much ahead of you, and the places you go, will be totally up to you. Remember - the moon already has footprints on it, so go further. Your toolbox has all been set - take it, use it with pride - you have all that you need to start building - and remember to come back sometimes, we want to hear from you, and learn from you, because we are already proud of you .... and we'll keep the light on.
Congratulations graduates - future alumni - our very best wishes go with you.